California's population falls in first-ever yearly decline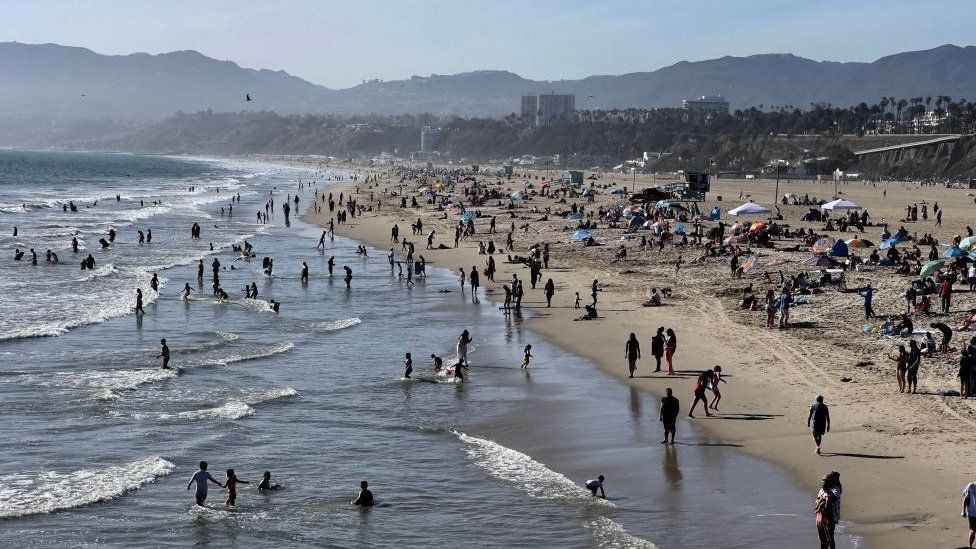 California's population fell between 2020 and 2021 in the first yearly decline ever reported since officials began counting the figure.
On Friday the state's Finance Department said the population now stands at just below 39.5 million residents, - a drop of 182,000.
The reasons are varied but involve the pause on migration due to the pandemic, officials say.
It comes after the once-in-a-decade US census recorded slowing state growth.
The decline of 0.46% came between January 2020 and January 2021. The loss represents approximately twice the population of the city of Santa Barbara.
Since joining the US in 1850 amid a gold rush, California has become the most populous in the country.
Officials say this is the first time the population has declined since 1900.
The Golden State's growth began to slow after the end of the Cold War and as US defence spending declined. For the last thirty years, more people have moved out of the state than in, demographers say.
The recent decline comes as the state sees an increase in yearly deaths due to the coronavirus and as the US birth rate continues to fall.
The state also saw negative numbers of international migration last year, such as new university students from abroad, which officials attributed to Trump administration policies.
Friday's estimates used sources including the number of new driver's licences, tax forms and school enrolments.
Finance Department spokesman HD Palmer told the New York Times changing migration policies and more Covid-19 vaccinations would likely help boost the state's population.
"When we do this same estimate this time next year, our demographers expect we'll have returned to a slightly positive growth rate for 2021," he said.
Earlier this month, census officials announced that California would lose a seat in the US House of Representatives - for the first time ever - after other states such as Florida and Texas were found to have grown at a faster rate.
Only 2.2m people were added to the state in the decade ending in April 2020.
The number of residents leaving California has taken on political significance as Republicans are seeking to oust Democratic Governor Gavin Newsom in a recall vote.
Speaking from a private airplane hangar in Malibu earlier this week, reality TV star and recently-announced gubernatorial candidate Caitlyn Jenner said that her friends were fleeing the state due to the homeless population.
"My friends are leaving California," she told Fox News on Wednesday.
"The guy right across [from my hangar], he was packing up his hangar and I said, 'Where are you going?' And he says, 'I'm moving to Sedona, Arizona. I can't take it anymore. I can't walk down the streets and see the homeless.'"