George Floyd: Four police officers charged with violating civil rights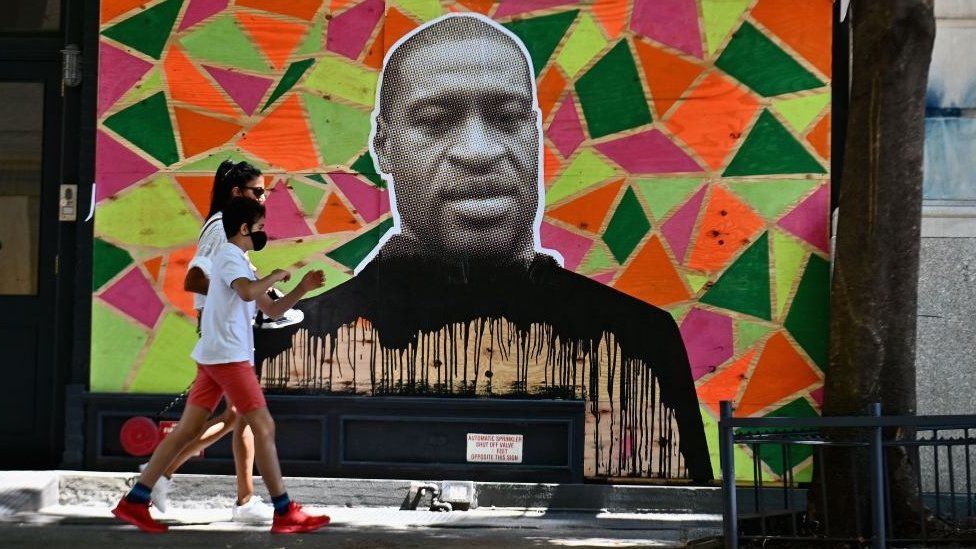 Four ex-police officers have been charged with violating the civil rights of African-American George Floyd, whose murder in Minneapolis last year sparked global outrage.
A federal grand jury in Minnesota indicted the four - who include Derek Chauvin, the officer convicted in April of Floyd's murder.
Prosecutors say they wilfully "deprived Mr Floyd of his constitutional rights".
Chauvin was filmed kneeling on Mr Floyd's neck for over nine minutes.
The former policeman was found guilty of murder and manslaughter, in a criminal case filed by the state of Minnesota
What are the new charges?
According to a Department of Justice statement, four officers - Alexander Keung, Thomas Lane and Tou Thao, as well as Chauvin - are accused of infringing Mr Floyd's civil rights.
Count one alleges that when Chauvin knelt on Mr Floyd he broke his "constitutional right to be free from the use of unreasonable force by a police officer".
The second count accuses Mr Keung and Mr Thao of failing to intervene that day, while the third count alleges that all four "saw Mr Floyd lying on the ground in clear need of medical care" and failed to help him.
Chauvin has also been charged with two charges for an incident in September 2017, the statement said.
The former police officer is accused of holding a 14-year-old by the throat and hitting him "multiple times in the head", as well as allegedly kneeling on his neck and upper back "after the teenager was lying prone, handcuffed, and unresisting".
All the federal charges revealed on Friday are separate to those filed against the four officers by the state of Minnesota.
Mr Kueng, Mr Lane, and Mr Thao are due to stand trial together later this year over Mr Floyd's death.
What happened to George Floyd?
The 46-year-old bought a pack of cigarettes at a convenience store in May 2020. A shop assistant believed he had used a counterfeit note and called police after Mr Floyd refused to give the cigarettes back.
When officers arrived, they ordered Mr Floyd out of his parked car and handcuffed him. A struggle ensued when officers tried to put a screaming Mr Floyd in their squad car. They wrestled him to the ground and pinned him under their weight.
Chauvin pressed his knee into the back of Mr Floyd's neck for more than nine minutes.
As he was being restrained, Mr Floyd said more than 20 times that he could not breathe, pleading for his mother and begging "please, please, please".
When the ambulance arrived, Mr Floyd was motionless. He was pronounced dead about an hour later.