Up close with Biden and Trump's top diplomats
By Barbara Plett Usher
BBC State Department correspondent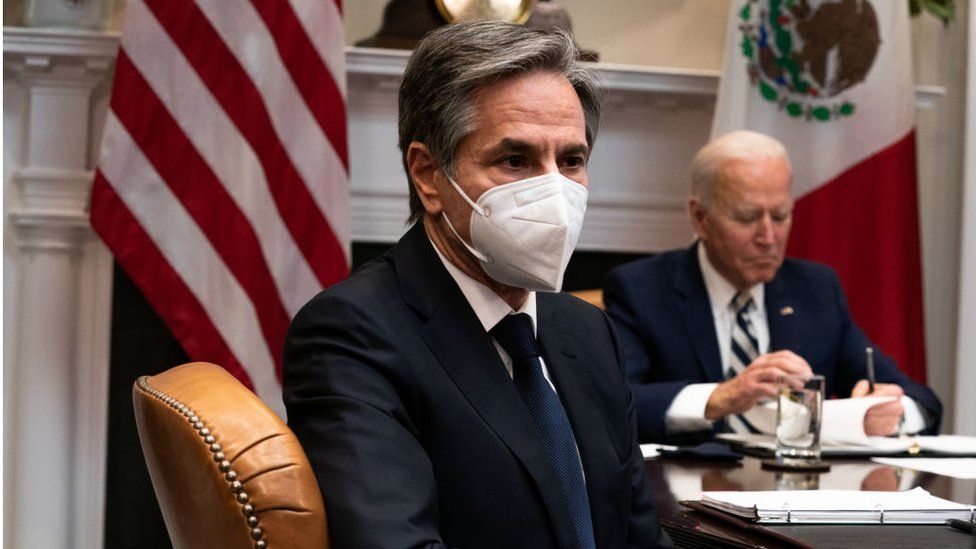 During the G7 foreign ministers meeting in Britain this week, state department officials showered us with "C-words" to describe the atmosphere.
"The phrases I heard throughout the day were about coherence, about collaboration, about co-operation," said one.
"C-words abound," agreed another, adding "consensus" and "convergence."
So yes, they thought it went well. And after all, why wouldn't it?
What better platform than a gathering of the world's richest democracies to showcase the core of President Joe Biden's foreign policy: an aggressive multilateralism with "like-minded" countries to combat global threats such as pandemics and climate change. And to "defend democracy" in the face of what's described as rising challenges from autocracies such as China and Russia.
It's a foreign policy vision drafted by Biden's mild-mannered Secretary of State Antony Blinken, a veteran diplomat who received a warm welcome from allies relieved to be putting four years of Donald Trump's erratic unilateralism behind them.
No doubt some of them also felt a bit more "like-minded" with Blinken than they did with his predecessor, Trump's point man Mike Pompeo. Pompeo was a politician with a powerful intellect but a short temper. His advocacy for his boss' nationalist agenda in international fora could sound more like an ultimatum than diplomacy.
Pompeo's close ties to Trump guaranteed him a seat at the table, but that didn't always translate to access for the state department's travelling press corps. In fact, given his determination to never upstage his boss, sometimes it was the opposite.
To be fair, we had been warned there wouldn't be much for us to do if we accompanied the secretary of state to Trump's 2018 summit with the Russian President Vladimir Putin in Helsinki - that it would be a White House show.
But still, we didn't expect to spend part of the afternoon of their much anticipated press conference hanging out in a nearby pizza restaurant until a holding space in the building could be cleared for us!
Staying on the same page as the unpredictable Trump sometimes required Pompeo to engage in verbal gymnastics. Antony Blinken, on the other hand, has an even closer relationship with the current president because it is founded on a meeting of minds after decades of working together.
We are still finding out what sort of access this means for us. Biden's national security team is both skilled at drafting policy and at tightly managing the message, weaving talking points into answers to questions so frequently that some have begun to sound like mantras.
Indeed, chaos at the top during the Trump administration could turn the traditional world of geopolitical power politics into unexpectedly newsy headlines.
I remember how Pompeo's trip to the Middle East in January 2019 became a high stakes damage control mission after Trump announced without warning that he was pulling all US troops out of Syria.
I also remember when word of Trump's decision to recognize Israel's annexation of the occupied Golan Heights started to leak while we were waiting for a press conference at the residence of Benjamin Netanyahu, Israel's prime minister. As a journalist, I wouldn't have wanted to be anywhere else.
The aim of the Blinken/Biden foreign policy agenda is to revert back to a more conventional, less turbulent, rhythm of international relations.
And yet, I'm reminded of that rare burst of diplomatic fireworks at Blinken's first meeting with his Chinese counterparts in Alaska. They were apparently offended by what they saw as condescending remarks from Biden's team.
President Biden's approach to China is more coherent than Trump's, but still confrontational, in the name of defending values as well as interests.
What better way, though, to draw a line between the two than this week's trip to Ukraine, the country caught up in the former president's first impeachment.
Trump's defining relationship with Kyiv was trying to link US military assistance to extracting political dirt on Biden, an effort led by his private lawyer, Rudy Giuliani. Giuliani also orchestrated a smear campaign that ousted the US ambassador to Ukraine, a career professional whom Pompeo refused to support.
Blinken made clear he was coming to show "unwavering support" for Ukraine's pro-Western government, rattled by Moscow's recent military build-up on its border and eager for Washington's full engagement to counter Russian "aggression."
By coincidence, an FBI raid on Giuliani's flat had catapulted him into the news again. But when I asked President Volodymyr Zelensky about any continuing fallout in Ukraine from Giuliani's activities, he dismissed the notion.
"I don't want to waste your time on the past," he said. "Let's talk about the future."
"It's irrelevant," a senior state department official added later for emphasis, "they're not thinking about that. They wanted what the secretary was proposing, which was to rejuvenate the relationship."