California condors swoop on home and 'declare war'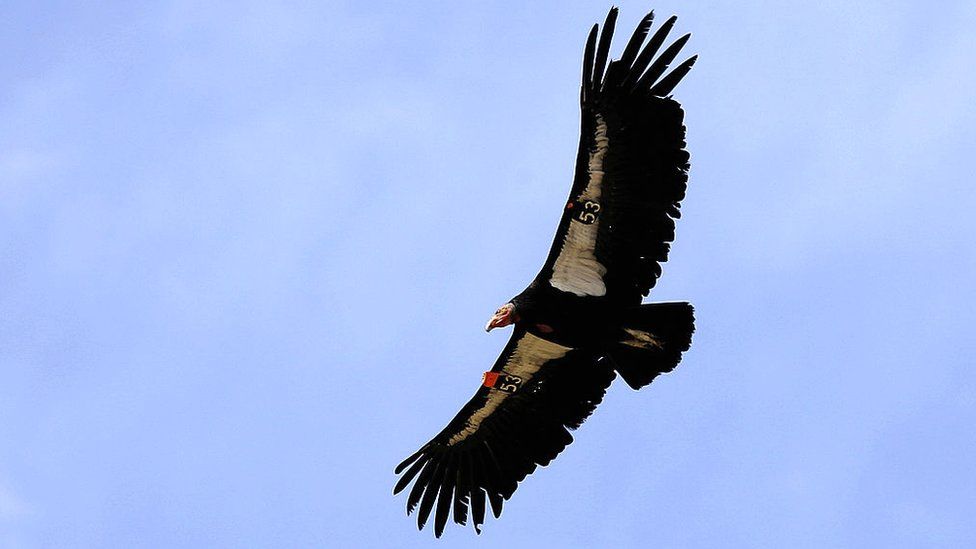 A flock of endangered California condors has laid claim to a home in the US state, "declaring war" with the property owner, the family says.
At least 15 of the birds reportedly descended on Cinda Mickols' house in the city of Tehachapi at the weekend.
"They still haven't left," her daughter Seana Quintero tweeted, adding that they had "absolutely trashed her deck".
There are believed to be fewer than 500 such condors in the US, and only about 160 have been recorded in California.
The large protected birds, for which a collective noun is a "scarcity" are anything but, according to Ms Quintero, who has been tweeting updates since the condors first dropped in on her mother and started "hanging out ominously".
"My tiny little mom was staring down a bunch of birds half her size from less than 10ft [3m] away trying to shoo them," she wrote. "They keep hanging out on her roof and railings messing with stuff and pooping everywhere."
Her tweets have included images that appear to show damage at the property with several of the condors perched outside on railings.
Over the weekend ~15 California condors descended on my moms house and absolutely trashed her deck. They still haven't left. It sucks but also this is unheard of, there's only 160 of these birds flying free in the state and a flock of them decided to start a war with my mom 😭 pic.twitter.com/bZyHsN58Bk

— Seana Lyn (@SeanaLyn) May 5, 2021
Neither Ms Quintero nor her mother object to the presence of the birds, she said.
The issue was the damage - knocked-over plant pots, scratched paintwork and vandalised screen doors.
Mom had to run errands and leave the house. Thankfully they didn't trash it the moment she left but she did return home to 6 circling overhead. Our theory is they go off to do condor things like look for food during the day but they always return for cocktail hour in the evening pic.twitter.com/LNvb4qDhWK

— Seana Lyn (@SeanaLyn) May 7, 2021
"If this happens again, hazing to preclude them from causing damage and habituation is encouraged. This includes using methods that will not harm them such as water hoses, yelling, clapping, shouting or using other preventative measures such as scarecrow sprinklers," the agency added.
She does think this is pretty amazing but also the worst. They don't have to leave her property but leave the house alone. They keep hanging out on her roof and railings messing with stuff and pooping everywhere. Trees are fine but not the house please 🙏 pic.twitter.com/QhE9XVERZF

— Seana Lyn (@SeanaLyn) May 5, 2021
Ms Quintero said that her mother had followed the advice and given a couple of the condors on her roof a "shower" with a hose. "Now they're back chilling with the rest of the flock on her tree. Watching. Waiting. Doing condor things," she said.
The California condor, one of the world's largest birds of prey, has been protected as an endangered species by US federal law since 1967 and by California state law since 1971, according to the California Department of Fish and Wildlife.
You may also be interested in: