Biden Carter: What's going on in this picture?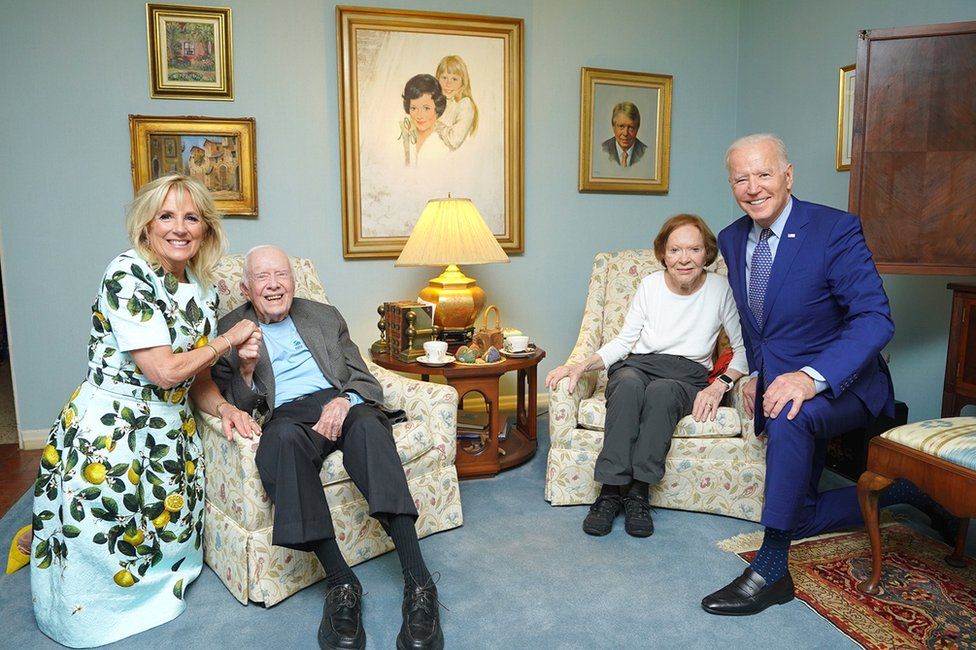 This odd-looking photo of the current US president on a visit to the 39th president has been causing something of a stir online.
It seems to show Joe Biden and his wife Jill towering over ex-President Jimmy Carter and former First Lady Rosalynn Carter at their home in Plains, Georgia, last week.
Whilst Mr Biden is indeed slightly taller than Mr Carter, the image seems to be the result of distortion caused by using a wide-angle lens, says BBC picture editor Phil Coomes.
This has resulted in those close to the edge of the frame being enlarged, whilst pushing back those in the middle.
It's an optical effect that photographers can use to their advantage, or as in this case, it can create an artificial rendering of a scene.
The effect is also exaggerated by the fact that Mr Carter is leaning back, while Mr Biden is kneeling some way in front of Mrs Carter.
The resulting effect has sparked much mirth and amused comments on social media.
This user decided to try to swap the respective sizes:
While this one commented on the apparent physical superiority of the Bidens:
We voted for Biden because he's a decent human being with sound policies but also because he and Jill are giants who will crush you if you make them angry.

— Sister Celluloid (@sistercelluloid) May 4, 2021
At the age of 96, Jimmy Carter is the longest living president in US history; his wife Rosalynn is now 93. Like Mr Biden, Mr Carter was a Democratic president.