Coronavirus: Five signs that show how bad El Paso's outbreak is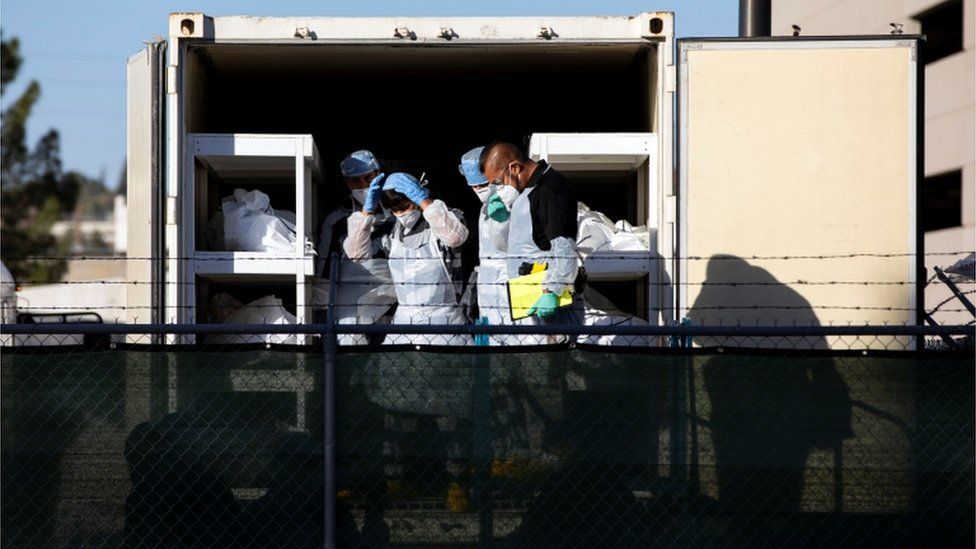 The US had just over nine million Covid-19 cases when November began - now, just weeks later, the country is topping 11 million. And one west Texas county has emerged as the latest American epicentre.
Right on the border with Mexico, El Paso in Texas is known for its desert landscape, military complexes and plentiful sunshine. Now, it's making a name as one of the worst hit regions in the nation.
Covid-19 patients account for more than half of all hospital admissions in the county of El Paso, and the case count continues to trend upwards.
Here are five symptoms of the unfolding crisis.
With cases going up by more than a thousand every day in El Paso, some 76,000 people have now been infected. That's about the same number of confirmed cases as in the whole of Greece or Libya.
Data shows 1,120 El Paso residents are currently in hospital with the virus, and this number is expected to rise. That means that of all the Covid patients in hospital across the state of Texas, one in six is in El Paso, according to the latest figures. A total of 782 people are known to have died.
Both hospitals and staff are struggling to cope. An El Paso University Medical Center spokesman said the hospital recognised the "physical and emotional" toll the pandemic was taking on healthcare workers.
As officials race to keep up with the rapidly increasing number of sick people, El Paso city's convention centre was recently converted into a makeshift hospital to provide extra beds. Some facilities are so overrun that patients are being airlifted to other cities in the state.
On Monday, El Paso County Judge Ricardo Samaniego said the county had opened 500 extra hospital beds so far, but at the rate the virus was spreading, those beds would be full by next week.
As hospitals grapple with too many patients, El Paso's morgue has been unable to keep up with the county's rising death toll. As a result, officials are turning to refrigerated trailers. Ten of these mobile morgues have been requested in recent weeks.
The mobile facilities are set up outside the county's medical examiner's office, which has been handling more than 150 bodies in the last week.
Earlier this month, the US defence department deployed medical teams to assist local health workers.
Even the county's funeral homes are feeling the strain. One manager, Jorge Ortiz, told KERA News he has had to convert the home's chapel into a makeshift cooler. Mr Ortiz said the peak back in the summer is "nothing compared to what we're living right now".
The city continues to face a shortage of staff, and officials have faced criticism for turning to local prisons for help.
Inmates have been pictured handling the bodies of Covid victims at the medical examiner's office, helping load them into the mobile morgues.
A sheriff's office spokesman said the inmates - who are minor offenders in minimum security prisons - are being compensated $2 (£1.5) an hour. The work is voluntary and they are being provided with protective gear, but the move has still shocked many.
County Judge Samaniego called using inmates a last resort.
"If there's no personnel, no one to help out, and there's volunteers, even if they are inmates, then that's what we're left with," he said, according to KFOX14 News.
The judge added that officials were waiting for Texas National Guardsmen to help with the efforts - but the military hasn't confirmed that they could handle the demand.
Six months, six family members
In the last six months, one El Paso woman has lost six of her family members to the virus as the outbreak worsens.
Bonnie Soria Najera told Good Morning America that her uncle was the last to pass away on Sunday. She has also had to bury her parents, two aunts and a cousin.
"They were all being very careful," she said. "They did things that they had to do: grocery stores, went to doctor's appointments."
Ms Najera's mother first tested positive in May. Within three days, her mother was on a ventilator, she said. Her father soon fell ill with the virus too, but ended up at a different hospital.
A week after her mother was admitted, she passed away. An hour later, Ms Najera learned her father was on a ventilator. He would pass away three weeks later.
Ms Najera too, came down with Covid-19, but eventually recovered. As she began feeling better, she learned her cousin and her aunt had both died after contracting the virus. And last week, another aunt also passed away in hospital from Covid-19.
Now, Ms Najera is calling for Texans to practise social distancing properly, like her family tried to.
"You don't want to be in our shoes," she said.
Despite the worries of many El Pasoans, there's no lockdown in sight for the west Texas county.
On Friday, a state appeals court overturned a stay-at-home order after local restaurant owners and the state attorney general sued Judge Samaniego for shutting down the city.
A panel of judges ruled 2-1 that the order to close nonessential businesses until December went against the Texas governor's 7 October reopening guidance. Some businesses resumed operations almost immediately, local media reported.
Attorney General Ken Paxton called Judge Samaniego a "tyrant" over the mandate. The county judge responded that it was "unfortunate" that the attorney general sought "to gloat instead of coming to El Paso to walk along side me by the mobile morgues".
Judge Samaniego added he was disappointed by the decision, but noted that El Pasoans must still adhere to certain restrictions on masks, businesses and gatherings.