Hurricane season: Record number of named Atlantic storms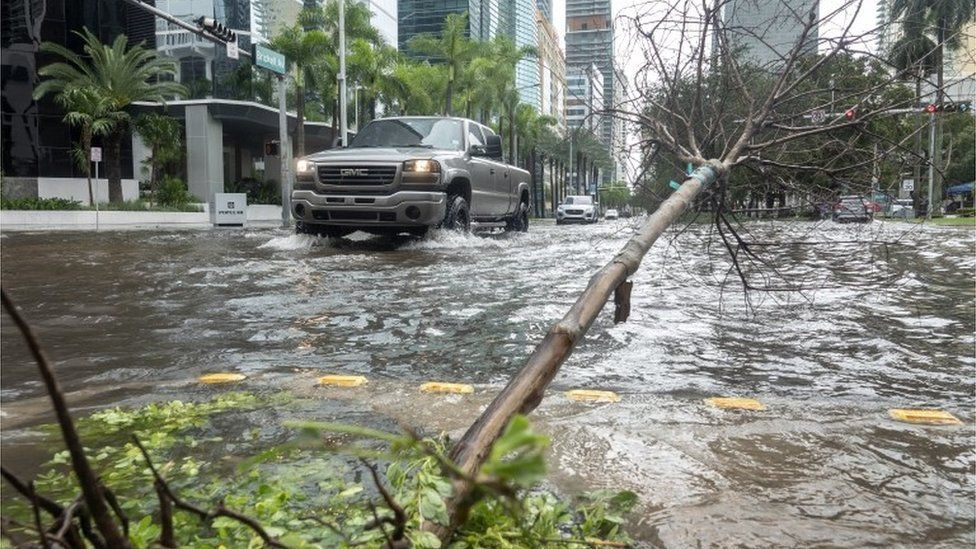 This year's Atlantic hurricane season has broken the record for the number of named storms, the US National Hurricane Center says.
Subtropical storm Theta in the north-east Atlantic is the 29th, breaking the previous record of 28 set in 2005.
Forecasters say another system is forming in the Caribbean which could be named in the near future.
Meteorologists say several factors are behind the increasing number of tropical storms.
Particularly dangerous storms are given names to raise public awareness before they strike.
The hurricane season, which runs from 1 July to 30 November, has produced storms like Eta, which struck Florida at the weekend after causing destruction and killing dozens in parts of Central America.
Zeta hit Louisiana at the end of October, becoming the fifth named storm to make landfall in the state this season.
Subtropical Storm #Theta has developed tonight in the Northeast Atlantic, the 29th named storm of the 2020 Atlantic Hurricane Season.

This breaks the single season record for the most named storms previously held by the 2005 Hurricane Season.

Details: https://t.co/lqZULHcvhJ pic.twitter.com/ZFPgUa5Dmp

— National Hurricane Center (@NHC_Atlantic) November 10, 2020
Theta, not currently a hurricane, is moving north-eastwards towards southern Europe.
Why has 2020 been so active?
There are a number of factors which have contributed to a very active hurricane season, says BBC meteorologist Nikki Berry.
The most influential are very warm sea surface temperatures, low wind shear, increased instability over West Africa and La Nina, she adds.
Sea surface temperatures were consistently 1-2C above normal through the summer months and these anomalies increased to 2-3C during September, especially around the Caribbean, Gulf of Mexico and off the coast of Africa, where many storms start to develop.
Wind shear was extremely low through the summer months and this allows tropical storms to intensify and maintain tropical circulations, rather than being torn apart by opposing winds in the different layers of the atmosphere.
A pulse of enhanced rainfall, known as the Madden-Julian Oscillation, moves eastwards round the equator - when it is located over West Africa, it causes more rainfall and thunderstorms which can give birth to tropical storms over the east Atlantic.
La Niña, a change in Pacific Ocean temperatures with cooler water being pushed eastwards across the equatorial Pacific, has also been more influential. It can affect global weather patterns and one of the effects is an increased number and strength of Atlantic tropical cyclones, especially late in the season.
What about climate change?
While the hurricane season this year has been very active, there is conflicting evidence over whether such storms are becoming more frequent.
However, scientists expect climate change to make these storms stronger. Hurricanes are powered by warm seas and warmer air means that storms can dump more water on land, increasing their destructive power.
This season is also the first since 2005 during which the 21 alphabetical names set by the World Meteorological Organisation (WMO) have run out because of the number of storms. The WMO began using Greek names in September.