US-Canada border to close amid virus crisis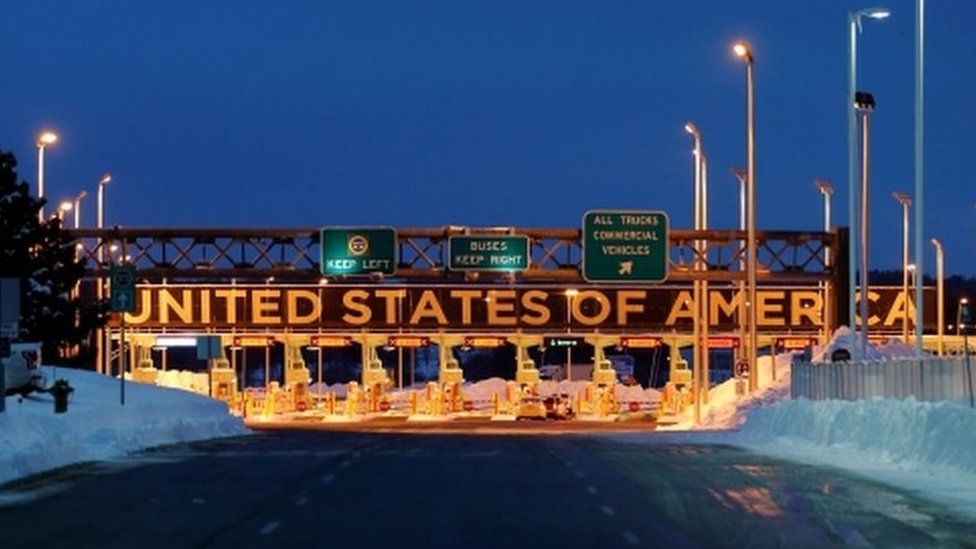 US President Donald Trump and Canadian Prime Minister Justin Trudeau have agreed to close the US-Canada border to all non-essential travel in an attempt to curb the spread of coronavirus.
"We will be, by mutual consent, temporarily closing our northern border with Canada," Mr Trump tweeted.
He said trade would not be affected.
Both countries had already issued sweeping travel bans but had maintained exemptions for each other.
Canada relies on the US for approximately 75% of its exports.
The two leaders discussed the changes on Wednesday, Mr Trudeau said.
"I want to be clear though that essential travel will still continue," he said at a press conference.
"No matter who you are or what you do, this is a time when you should be focused on your health and that of your neighbours. Not: are you going to lose your job, are you going to run out of money for food or medications."
What is in the agreement?
Details of the final deal have yet to be released in writing but both leaders have stressed that cross-border trade will not be blocked.
Supply chains must be preserved so trucking would not be affected, Mr Trudeau said.
"That is something we remain committed to," he added.
About $2bn in goods and services crosses the US-Canada border each day.
Canadians who needed to travel for other "urgent reasons" would also not be impacted, Mr Trudeau said.
There is no set timeframe for how long the border closure will last.
Mr Trudeau's government had previously resisted closing the border to his country's most important trading partner.
"Nearly 200,000 people cross that border every day, and that border and that traffic that goes across that border is literally a lifeline for both the Canadians and the Americans on both sides of that border," Deputy Prime Minister Chrystia Freeland said on Tuesday.
"We get our groceries thanks to truckers who drive back and forth across that border. Very urgently needed medical supplies and medicines go back and forth across that border."
But both leaders had kept the notion of travel restrictions on the table, as both countries have struggled to halt outbreaks of Covid-19.
Earlier this week, Mr Trump warned against discretionary travel and said that "we have very strong emergency powers when it comes to something like this, both on the southern and the northern borders".
What about the US-Mexico border?
During a White House press conference on Wednesday, Mr Trump said his administration would launch a new crackdown on migrants or asylum seekers crossing the US-Mexico border illegally in an effort to stem the coronavirus outbreak.
Mr Trump said he would invoke a statute allowing America's top public health official, the surgeon general, to block people or goods from certain countries or places to prevent the spread of communicable diseases.
The president said the move could happen as soon as Wednesday, but that his administration did not plan to fully close the border with Mexico.
"We're not going to close it, but we are invoking a certain provision that will allow us great latitude as to what we do," he said.
The Mexican foreign ministry did not immediately comment.
Mr Trump has made illegal immigration over the southern border his signature issue in the White House, though deportations under his administration remain lower than during the Obama era.
What's the latest in the US and Canada?
The novel coronavirus has maintained a steady march throughout both countries.
The US has nearly 8,000 cases of Covid-19 across all 50 states and has seen 138 deaths so far.
Canada - which has about a ninth of the population of the US - has 598 confirmed cases, with eight deaths.
President Trump has announced a stimulus proposal that could include sending a $1,000 (£844) cheque to every American.
The president also said that all property foreclosures and tenant evictions were being suspended until the end of April.
He said that his treasury chief's estimate that 20% of people could become unemployed due to the pandemic was only "an absolute, total worst-case scenario".
On Wednesday, Mr Trudeau announced a C$82bn (US$56.4bn) aid package, including $27bn in direct support to workers and businesses.
"Our government will introduce the emergency care benefit, which will provide money every two weeks to workers who have to stay home," he said. This is designed for Canadians without paid sick leave who do not qualify for employment insurance.
Mr Trudeau has so far stopped short of invoking Canada's Emergency Measures Act, but said "all options are on the table".
Mr Trudeau's wife, Sophie Grégoire Trudeau, tested positive for the virus last week. The prime minister has self-isolated in Ottawa, but aides say he has displayed no symptoms.
British actor Idris Elba has also tested positive for the coronavirus after he was photographed hugging Canada's first lady earlier this month at a charity event in London.