Trump impeachment: How Ukraine story unfolded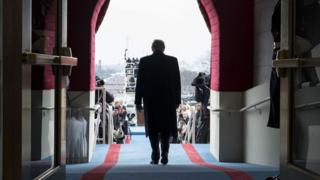 The US House of Representatives has impeached President Donald Trump, setting up a trial in the Senate. How did we get to this point?
Mr Trump is only the third American president to face the threat of being forced from the White House via impeachment.
He is accused of withholding nearly $400m (£327m) in congressionally approved military aid in order to pressure Ukraine's new president into launching an inquiry into his 2020 Democratic rival Joe Biden and Mr Biden's son.
The US president denies doing anything wrong.
This is a complicated story. Here's a simple guide to the sequence of events - in three parts.
The diplomacy
April 2019: A comedian with no political experience, Volodymyr Zelensky, is elected president of Ukraine. Ukraine has been in a conflict with Russia since the annexation of its southern peninsula Crimea in 2014 and fighting between government forces and Russian-backed separatists in the east
23 May: White House meeting between Mr Trump and the self-titled Three Amigos - EU ambassador Gordon Sondland, Energy Secretary Rick Perry and Ukraine special envoy Kurt Volker. The three have just returned from Mr Zelensky's inauguration and they want Mr Trump to call him to offer support and arrange a meeting. But the president, according to testimony, says he is sceptical that Ukraine is serious about tackling corruption and directs the Ukrainians to talk to his personal lawyer, Rudy Giuliani
10 July: Two advisers to Mr Zelensky are told by Mr Sondland in a White House meeting that "investigations" must go forward. US National Security Council expert Fiona Hill later testifies that when she recounted that conversation to National Security Adviser John Bolton, he told her he wanted no part of this "drug deal" and she should report it to White House lawyers
18 July: Military aid approved by US Congress is halted - the reasons for this later become hotly contested
25 July: Mr Trump and Mr Zelensky speak by phone in a call that becomes central to the inquiry. In a rough transcript released by the White House, the US president asks his counterpart to "look into" Mr Biden and his son Hunter, who was a board member of a Ukrainian gas company
26 July: Mr Trump asks about "investigations" into the Bidens, in a phone call overheard by a member of staff of Bill Taylor, the acting US ambassador to Ukraine. Mr Sondland, who takes the call, tells this member of staff the president is more interested in the Bidens than Ukraine
What Trump's Ukraine phone call really means
How easy is it to impeach a president?
A whistleblower comes forward
12 Aug: A CIA officer who learns of the call files a whistleblower complaint (pictured above) with the intelligence community watchdog, the inspector general
Late Aug: Mr Trump is notified about the complaint, according to the New York Times
10 Sept: The House of Representatives asks for information on the whistleblower complaint
11 Sept: US military aid to Ukraine is restarted
24 Sept: House Speaker Nancy Pelosi opens impeachment inquiry
25 Sept: White House releases a rough transcript of the July phone call
26 Sept: Whistleblower complaint is released - it alleges Mr Trump used "the power of his office to solicit interference from a foreign country" in the 2020 presidential election
Who's who in Trump-Ukraine story?
The Trump impeachment story explained
The inquiry
17 Oct: White House Chief of Staff Mick Mulvaney admits military aid to Ukraine was withheld partly to pressure Kyiv to investigate allegations involving the Democrats and the 2016 election. He later backtracks
22 Oct: Bill Taylor, acting ambassador to Ukraine, tells congressional investigators there was a link between military aid and investigation of Bidens
23 Oct: Republicans storm impeachment testimony to protest about closed-door hearings
31 Oct: The Democrat-controlled House of Representatives approves a resolution making impeachment process formal and promises public hearings
4 Nov: The former US ambassador to Ukraine, Marie Yovanovitch, tells the inquiry she felt threatened by Mr Trump
5 Nov: Mr Sondland revises his initial testimony to declare he now remembers saying US aid did depend on an investigation sought by Mr Trump
13 Nov: Public hearings begin, with Bill Taylor testifying about the overheard phone call and the president's alleged preoccupation with the Bidens
14 Nov: Ms Yovanovitch says she is "intimidated" by a Trump attack on Twitter in the middle of her testimony
18 Nov: Mr Trump says he will "strongly consider" testifying to the inquiry "in order to get Congress focused again"
19 Nov: Lt Col Alexander Vindman, a US security official, comes under attack from the White House after testifying that Mr Trump made "inappropriate" political demands to Ukraine
20 Nov: Mr Sondland testifies. In his opening statement, he says there was a quid pro quo - or exchange of favours - in the phone call between Mr Trump and Mr Zelensky
21 Nov: Former White House Russia expert Fiona Hill testifies that Mr Sondland was working for Mr Trump on a "domestic political errand" that diverged from official US foreign policy. She warns lawmakers not to believe the "fictional narrative" pushed by Republicans that Ukraine, not Russia, meddled in the 2016 election
10 Dec: House Democrats unveil two articles of impeachment against President Trump - abuse of power and the obstruction of Congress
18 Dec: The House votes in favour of both charges, impeaching the president and setting up a trial in the Senate in the New Year
How an overheard phone call could damage Trump
Five takeaways from 'explosive' Bill Taylor evidence
Trump's man in Brussels in eye of the storm
Learn more about Trump and the impeachment inquiry