Abu Bakr al-Baghdadi: IS leader 'dead after US raid' in Syria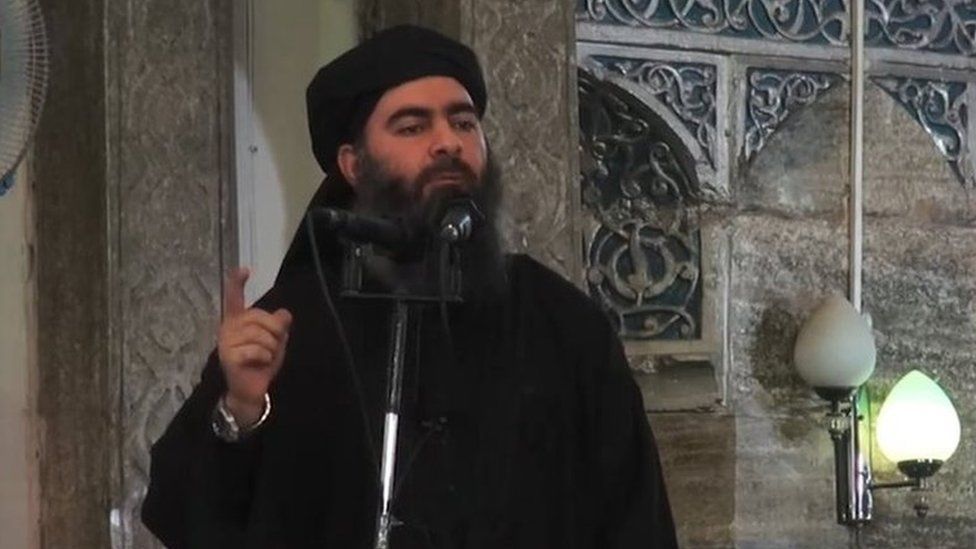 The fugitive leader of the Islamic State (IS) group killed himself during a US military operation in north-west Syria, President Donald Trump has said.
Speaking from the White House, Mr Trump said Abu Bakr al-Baghdadi detonated his suicide vest after fleeing into a tunnel, chased by US military dogs.
Baghdadi came to prominence in 2014, when he announced the creation of a "caliphate" in areas of Iraq and Syria.
IS carried out multiple atrocities that resulted in thousands of deaths.
The jihadist group imposed a brutal rule in the areas under its control and was behind many attacks around the world. Although the US declared the "caliphate" defeated earlier this year, IS militants remain active in the region and elsewhere.
Baghdadi's death is a major victory for Mr Trump as he faces heavy criticism for his decision to pull US troops out of northern Syria and fights an impeachment inquiry launched by Democrats.
In an unusual Sunday morning statement, Mr Trump described the night-time operation in extraordinary detail, saying Baghdadi ran into a dead-end tunnel, "whimpering and crying and screaming", while being chased by military dogs.
Baghdadi killed himself and three of his children by igniting his suicide vest, Mr Trump said, causing the tunnel to collapse. No US personnel were killed but one of the dogs was seriously injured in the explosion.
The blast mutilated Baghdadi's body but, according to the president, an on-site DNA test confirmed his identity. The special forces spent two hours in the area and gathered "highly sensitive material".
"The thug who tried so hard to intimidate others spent his last moments in utter fear, in total panic and dread, terrified of the American forces bearing down on him," Mr Trump said.
Also on Sunday, the Kurdish-led Syrian Democratic Forces (SDF) said IS spokesman Abu al-Hassan al-Muhajir, described as Baghdadi's right-hand man, had been killed in a separate joint operation with the US military near the northern Syrian town of Jarablus.
What is known about the Baghdadi operation?
The location - the village of Barisha in Idlib province near the Turkish border - was far from where Baghdadi had been thought to be hiding along the Syria-Iraq border. Many parts of Idlib are under the control of jihadists opposed to IS but rival groups are suspected of sheltering IS members.
Baghdadi had been under surveillance for "a couple of weeks" and "two or three" raids had been cancelled because of his movements, Mr Trump said, describing the IS leader's move to Idlib as part of a plan to rebuild the group.
An undisclosed number of forces targeted the compound using eight helicopters, which were met with gunfire, Mr Trump said. The commandos managed to land safely and entered the building by blowing holes in the wall, avoiding the main door which was believed to be booby-trapped.
"He was a sick and depraved man," Mr Trump said. "He died like a dog, he died like a coward."
US National Security Adviser Robert O'Brien said Baghdadi's remains should be given the same treatment applied to those of former al-Qaeda leader Osama bin Laden, whose body was buried at sea after he was killed in a raid in 2011.
A "large number" of Baghdadi's followers also died while others were captured, the president said. The dead included two of Baghdadi's wives who were both found wearing explosive vests that were not detonated.
Eleven children were removed, uninjured, from the compound.
The SDF - one of the main US allies in northern Syria until Mr Trump withdrew US troops from the area this month - said they had shared details about the location of high-level IS members, including Baghdadi. Iraqi officials also said they had provided "accurate information".
Mr Trump praised them all, as well as Russia - which opened up the airspace it controls for the operation - Turkey and Syria for giving "certain support" to the operation. He said Russia had not been told about the nature of the US mission.
After the president's address, the White House released pictures said to be of Mr Trump watching the operation from the Situation Room surrounded by Vice-President Mike Pence and top security officials.
While IS lost its territory in Syria and Iraq after a years-long deadly campaign, experts say the group remains a threat, with affiliates active in various countries.
A foreign policy success for Donald Trump
The strategic significance of Abu Bakr al-Baghdadi's death is clear. Removing a skilled and brutal leader from the battlefield will undoubtedly make allied efforts to eradicate IS forces easier. The lasting political benefits for Donald Trump remain to be seen.
Baghdadi was far from a household name in the US, although IS has been a well-known adversary ever since its brutal executions and advance grabbed headlines in 2014. His death will give Mr Trump a signature moment to cite when making the case that his leadership has led to the methodical defeat of IS forces.
It also will help deflect from weeks of sharp bipartisan criticism following the president's decision to remove US forces from northern Syria and tacitly permit a Turkish invasion to drive out US-allied Kurds.
While it is true most Americans only pay attention to foreign policy during times of war, most of Mr Trump's current political headaches have come from actions directed abroad - whether it's the Syrian move or the rapidly unfolding impeachment inquiry into his Ukraine conduct.
Now the president has a clear foreign policy success to tout. It will not solve all his political problems, but it is a start.
How has the world reacted?
Leaders around the world reacted to the news of Baghdadi's death, with many stressing that the fight against the group continues.
UK Prime Minister Boris Johnson said Baghdadi's death was "an important moment in our fight against terror but the battle against the evil of [IS] is not over yet".
French President Emmanuel Macron described the development as a "hard blow" against IS, but said "the fight continues to finally defeat this terrorist organisation".
In a statement, the Iraqi government highlighted its role in finding Baghdadi's hideout, and said it would continue to "relentlessly pursue" the militant group.
Who was Abu Bakr al-Baghdadi?
Baghdadi, whose real name was Ibrahim Awwad Ibrahim al-Badri, had a reputation as a highly organised and ruthless battlefield tactician. He was described as the world's most wanted man.
He was born near Samarra, north of Baghdad, in 1971, and reports suggest he was a cleric in a mosque in the city around the time of the US-led invasion in 2003.
Some believe he was already a jihadist during the rule of former Iraqi leader Saddam Hussein. Others suggest he was radicalised during the time he was held at Camp Bucca, a US facility in southern Iraq where many al-Qaeda commanders were detained.
Baghdadi emerged in 2010 as the leader of an umbrella group that included al-Qaeda in Iraq, and rose to prominence when IS militants captured the Iraqi city of Mosul in 2014, when he declared the creation of a "caliphate".
That was the only time Baghdadi was seen in public. At its peak, IS had eight million people in territories under its control. Baghdadi only reappeared in a video released by IS earlier this year.
In October 2011, the US officially designated him a "terrorist" and offered a reward of $10m (£5.8m at the time) for information leading to his capture or death. This was increased to $25m in 2017.