Joe Biden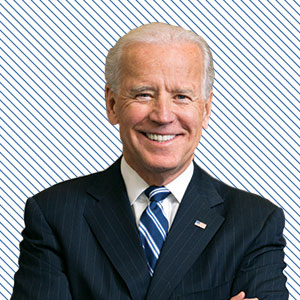 Barack Obama picked Joe Biden to be his running-mate in 2008 because of his supposed folksy appeal to white working-class and middle-class voters - and that's exactly why he could be a formidable candidate in 2020.
The former Delaware senator unsuccessfully sought the Democratic presidential nomination in 1988 and 2008 and declined to run in 2016 after the death of his son from brain cancer.
His long voting record, which includes backing the Iraq War in 2002 and sponsoring a controversial anti-crime bill in 1996, has already drawn criticism from some of his more liberal opponents.
He has sharply criticised Donald Trump for "trashing American values", but he's seen as a Democrat who could work with Republicans.
Anthony's take:
Joe Biden is a front-runner in the Democratic presidential contest, if not the front-runner. He has near universal name recognition, high approval ratings, and the potential to raise vast amounts of campaign money through traditional Democratic donor networks.
Of course, so did Hillary Clinton in 2015 - and we all know how that turned out.
Mrs Clinton's key weakness was her lengthy time in the public eye, leaving a long record for her opponents to pick apart, and binding her to a status quo establishment many Americans had come to distrust.
Mr Biden shares those challenges in spades, and he faces a much more diverse and talented primary field than Mrs Clinton did.
There are also questions about whether the 76-year-old candidate has the stamina to maintain a lengthy and arduous campaign schedule.