California wildfires: Is smoke toxic to the East Coast?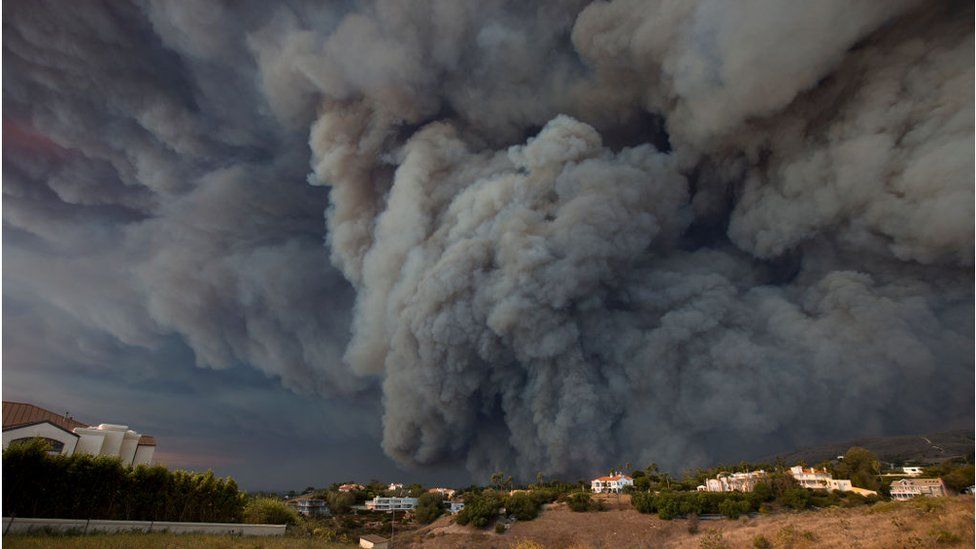 As firefighters work endlessly to control California's raging fires, experts warn of long-term damage from wildfire smoke that could affect millions - and potentially even those on the east coast.
The fires have burned through over 200,000 acres, blanketing parts of California with clouds of thick smoke.
So what are the biggest impacts of wildfires and why is the western US state so susceptible to such deadly blazes?
How dangerous is wildfire smoke?
Wildfire smoke is comprised of water vapour, carbon monoxide and dioxide, chemicals and very small particulates.
Strong winds can carry harmful pollutants for hundreds of miles, and at current levels, the plumes can cause breathing difficulties even in healthy individuals.
Those with pre-existing chronic conditions like asthma or heart disease, as well as children, pregnant women and the elderly are most susceptible to negative health effects, according to the National Institutes of Health.
Yohannes Tesfaigzi, a senior scientist at the Lovelace Respiratory Research Institute in New Mexico, says for those with susceptible lungs, even very low levels of smoke exposure can result in an emergency room visit, and lasting long-term effects.
"The particulates generated by wildfires are very fine, therefore they can penetrate to the lung and they're not really filtered out," Mr Tesfaigzi says.
He says when wildfires occur in California, particulate levels in the air increase threefold in New Mexico, several states away.
"These are levels that we would not smell. If you're actually smelling the fire, you're talking much higher levels," Mr Tesfaigzi adds.
Masks can help mitigate some of the dangers, but only certain kinds can keep out all the toxins, and some California communities are already experiencing a mask shortage, Kaiser Health reported.
According to Mr Tesfaigzi, it is unclear what the lasting impacts of wildfire smoke are on healthy individuals, as those studies are still ongoing.
What's the best way to escape a wildfire?
Once evacuation orders are issued by local law enforcement, residents generally have hours to leave, Kathleen Schori, information officer for the California Department of Forestry and Fire Protection (Cal Fire) told the BBC.
"But in those initial stages of a fire, you may have minutes," she added.
Fleeing in a vehicle is ideal as most wildfires cannot be outrun. But the Camp Fire's especially rapid spread, fuelled by high winds, made the situation even more dangerous.
"This fire moved so fast - I don't think anybody did anything wrong," Ms Schori says when asked whether those forced to abandon vehicles and escape on foot could have acted differently.
"During the initial phases, it was burning 80 miles in an hour."
How do you fight a wildfire?
Sometimes, you do fight fire with fire.
In addition to old-fashioned water and flame retardant (delivered from ground-level and above the flames by aircraft), sometimes firefighters have to burn more to quell the flames.
Intentionally burning areas around a wildfire can help starve the blaze and control its direction. Clearing out brush and flammable material from an area to create "firebreaks" is another way to achieve the same.
"Ninety-eight percent of fires are small and/or suppressed quickly," Prof David Peterson of the University of Washington, a former senior researcher with the US Forest Service, told the BBC.
"The other 2% are very challenging when they get large, and are almost impossible to put out, at least until it rains."
Ms Schori of Cal Fire said that with wind-driven blazes like the Camp Fire, officials often have no choice but to wait for conditions to improve.
"There are never enough firefighters to combat a fire that's moving as fast as this was moving," she says.
Officials define wildfires, or wildland fires, as any fire occurring on undeveloped land. Forest fires are uncontrolled wildfires burning in lands covered at least in part by timber or flammable vegetation.
In nature, two things can spark wildfires: lava and lightning.
About 2% of California's 2,816 wildfires in 2016 were caused by lightning, according to data from Cal Fire. The majority could be attributed to humans, though only 8% were caused by arson.
Determining the cause of a wildfire can be a painstaking process.
From there, officials comb through the area to determine if the blaze was of natural or human origin, looking for pieces of evidence like lightning scars on trees, campfire kindling, or cigarette butts.
Why are California fires so devastating?
According to Prof Peterson, fires in the region have not necessarily increased in frequency in the last 100 years - but the area affected has.
"The area burned annually has been higher during the past 30 years or so," he told the BBC. "It should be noted that 2% of fires burn 98% of the area."
In California, recent years have seen a combination of extremely high temperatures, strong winds, a long drought, and population growth causing lethal, fast-moving blazes.
And straying away from natural burning cycles has also contributed to the lethality of recent fires, Prof Peterson says.
Keeping fires from starting in Western forests has caused fuel to accumulate "far beyond" historical levels.
"When fires occur they can burn hotter," he says. "These high-intensity fires can cause rapid and in some cases long-term changes in vegetation, making it more difficult for the ecosystem to recover."
How do homeowners pay for the damage?
Some of the hyper-wealthy may never see any damage in the first place.
This week, TMZ first reported that Kim Kardashian and Kanye West had a team of private firefighters protecting their cul-de-sac from the Woolsey Fire.
These firefighters for hire are usually affiliated with insurance companies like AIG and Chubb, which have special wildfire protection units.
Damage caused by wildfires has cost $5.1bn in the last decade, Verisk found.
FAIR is comprised of all property and casualty insurers in California and is not run by a state agency.