'Stan Lee is my superhero'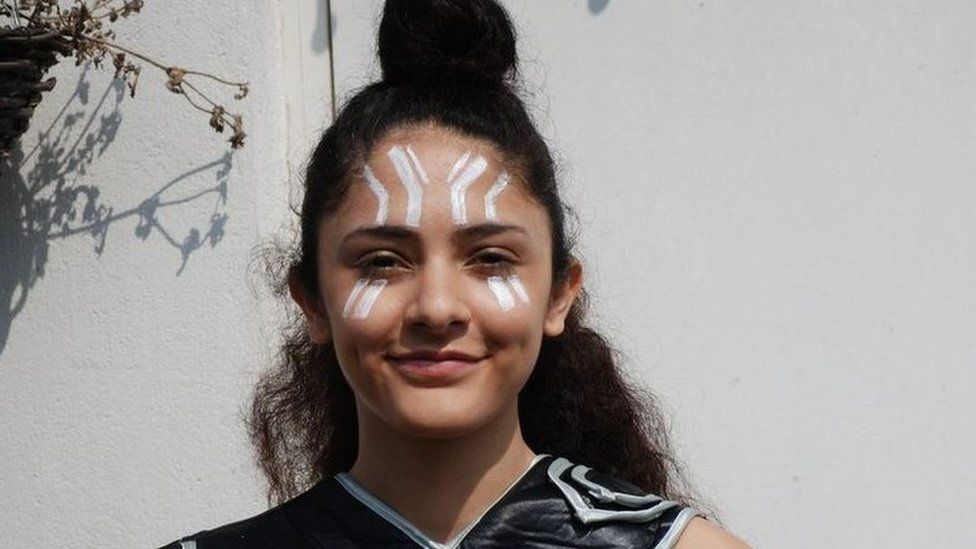 Comic fans have been sharing their tributes to former Marvel president Stan Lee, who has died aged 95.
The American writer has been praised for his inclusive nature and allowing people to be "weird".
"Stan Lee" is currently the most popular search term on Google in the US, with more than 10 million searches, while on Twitter #StanLeeForever has been used 40,000 times since the news of his death was reported Monday evening.
This Marvel cartoon, depicting the character Cable's funeral entitled "everyone came", has been shared on several social media sites, including imgur which has been viewed more than 2.1 million times.
Jessica Balancy, 16, from Bromley, says Stan Lee is her "superhero". She recently dressed as Marvel character Valkyrie at a comic convention.
"Valkyrie is one of the many rare bisexual heroes which makes her inspiring," Jessica said.
"I'm a mere teenager who obsesses over you and your talented skills" she wrote in a blog post published just hours after Stan Lee's death.
Jessica said that her English grades improved because she would wake up each morning inspired and wanting to write.
"You may have written and created superheroes. But you, Stan Lee, you are my superhero."
'I loved his liberal values'
David Thorpe, from Wales, went to New York and knocked on the door of Marvel.
"It was Stan Lee's mind-blowing imagination that inspired me," he said.
"I was blown away by my first Marvel comic when I was eight in 1964.
"It became an addiction and I started writing my own comics, going on to work for Marvel in the 1980s.
"I wrote Captain Britain and edited many of the British editions."
Bob Rose told the BBC: "I am deaf and just want to say thank you for creating these comics, Stan Lee, because deaf people like them. They are easy to read.
"When I was a wee lad I bought the comics. Now I collect DVDs.
"I miss you but I am still Marvel fan."
Posts about the writer on China's popular Twitter-like service Sina Weibo are being widely shared and discussed. Posts on the topic have received more than 530 million hits as of the early hours of Tuesday morning.
Many users said his death was a great loss to the West as Louis Cha's death was to the East. Cha, who wrote iconic Chinese martial arts novels under the pen name "Jin Yong".
Celebrities including entrepreneur Elon Musk and actors Lupita Nyong'o and Seth Rogan are among millions of fans who have been sharing their love for him on Twitter.
Thank you Stan Lee for making people who feel different realize they are special.

— Seth Rogen (@Sethrogen) November 12, 2018
Saddened to learn about the passing of Stan Lee. From watching Marvel films with friends in college to having the privilege to take on one of his characters in @BlackPanther, Stan's creative genius sparked my imagination & left me in awe. His legacy will carry on. #StanLeeForever pic.twitter.com/z6FEnv6tLv

— Lupita Nyong'o (@Lupita_Nyongo) November 13, 2018
Rest in peace, Stan Lee. The many worlds of imagination & delight you created for humanity will last forever.

— Elon Musk (@elonmusk) November 12, 2018
By Victoria Park, UGC & Social News