Cindy Hyde-Smith: Senator's 'public hanging' joke criticised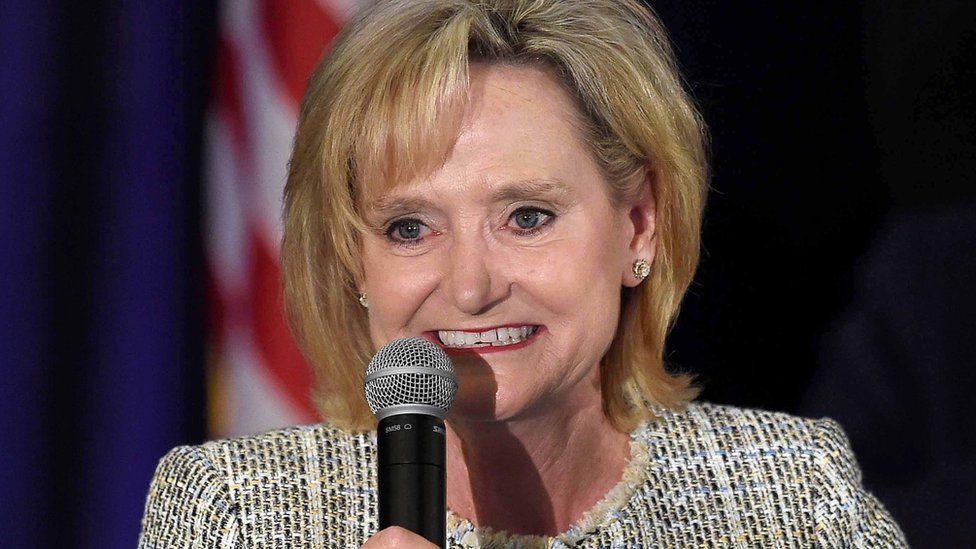 A Republican senator from Mississippi is facing criticism for a joke she made about lynching.
Cindy Hyde-Smith was filmed praising a cattle rancher, saying: "If he invited me to a public hanging, I'd be on the front row."
She is facing a run-off later this month against a black Democrat in a state with a history of race killings.
Her opponent, Mike Espy, called the comment "reprehensible" but she says the reaction has been overblown.
The video was published on Twitter on Sunday by a Mississippi blogger, and showed Ms Hyde-Smith meeting supporters.
No other context for the comment was offered in the clip.
"If he invited me to a public hanging, I'd be on the front row"- Sen. Cindy Hyde-Smith says in Tupelo, MS after Colin Hutchinson, cattle rancher, praises her.

Hyde-Smith is in a runoff on Nov 27th against Mike Espy. pic.twitter.com/0a9jOEjokr

— Lamar White, Jr. (@LamarWhiteJr) November 11, 2018
A spokesman for Mr Espy condemned the remarks, saying: "They have no place in our political discourse, in Mississippi, or our country."
"We need leaders, not dividers, and her words show that she lacks the understanding and judgment to represent the people of our state."
The president of the National Association for the Advancement of Coloured People, Derrick Johnson, released a statement saying: "Hyde-Smith's decision to joke about 'hanging', in a state known for its violent and terroristic history towards African-Americans is sick"
Ms Hyde-Smith defended herself, explaining she "used an exaggerated expression" and "any attempt to turn it into a negative connotation is ridiculous".
Mississippi has had a long history of racially motivated lynchings.
From 1882-1968, Mississippi saw 581 cases - the highest of any state, with the overwhelming majority of victims black, according to the NAACP website.