US mid-terms: Drugs, abortion, voting rights and chickens on the ballot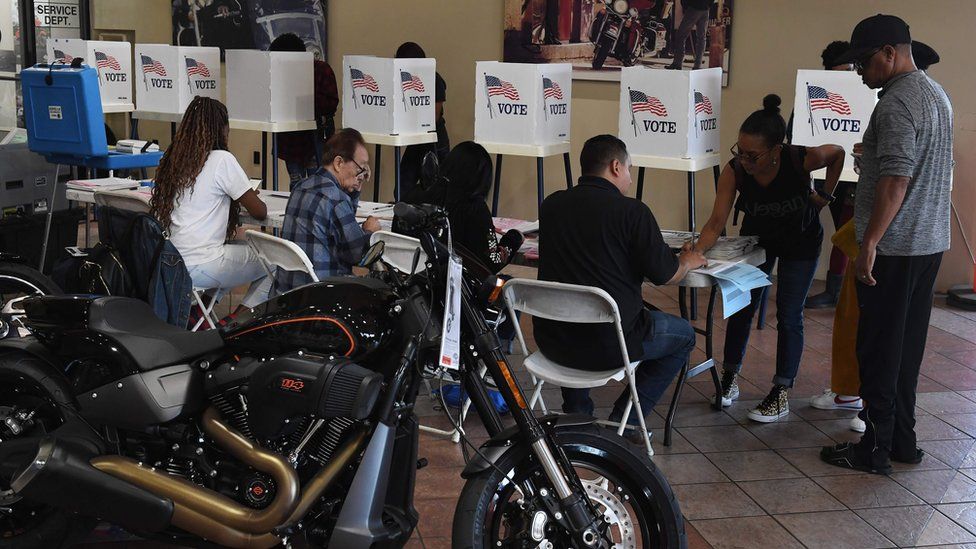 While the focus of the US mid-terms has been on elections to both houses of Congress, as well as governor posts and state legislatures, Americans were also voting on a number of other issues hugely important to their neighbourhoods.
In Florida, residents who had served time in prison regained the right to vote; in San Francisco, a controversial tax on businesses was passed to help the homeless. Abortions may have become harder to obtain in some states, while cannabis smoking will be easier in others. Alcohol, transgender rights and chickens were also on the ballot.
Here are some of the highlights:
San Francisco's tax on tech
Voters in the Californian city have voted in favour of Proposition C - a controversial measure supporters say will greatly help the city solve its crippling homelessness crisis.
It will bring in an estimated $250m-$300m (£190m-£228m) a year in added taxes from about 400 of the city's biggest companies, to be spent specifically on the problem.
Naturally, this means the measure has been seen as a tax on the tech giants which dominate this part of the world - firms that are often blamed for driving up living costs, pushing thousands onto the streets.
More than $7m was spent on campaigning, most of it ($5.7m) in support of the measure.
Prop C's biggest supporter was Marc Benioff, the charismatic chief executive of Salesforce - a firm which would be among those taxed. Benioff, widely suspected of harbouring political ambitions of his own, backed the campaign with about $1m of his own money.
Those opposed included Twitter's Jack Dorsey, who engaged in very public debates with Benioff on, where else, Twitter.
Perhaps surprisingly, one critic of the tax was San Francisco Mayor London Breed. She cited a lack of adequate accountability for existing funds to fight homelessness as a reason not to gather even more.
However, it passed. The money will go to things like rent subsidies, permanent housing help, hygiene measures and more. It won't solve homelessness overnight, but as far as a majority of San Francisco voters are concerned - it's a start.
Many a proposition - including for chickens
Californians were asked to vote on a number of propositions that ranged from housing help for veterans, the elderly and those with mental health issues to approving the renovation of children's hospitals.
They rejected a proposal to limit the amount dialysis clinics can charge patients - prompting a jump in healthcare stocks - and a proposal to repeal gas tax increases approved by lawmakers last year.
But voters agreed to allow the state legislature to decide on daylight saving time, and approved a ban on the sale of meat and eggs from any animals (including chickens) not housed in adequately-sized spaces.
Voters in Alabama and West Virginia approved amendments to their state constitutions that could restrict access to abortion.
With most votes returned, people in Alabama approved by a clear margin an amendment that makes it state policy to "recognise and support the sanctity of unborn life and the rights of unborn children".
The margin was narrower in West Virginia, where voters approved an amendment that says "nothing in this constitution secures or protects a right to abortion or requires the funding of abortion". The measure prevents federal money being used to fund abortions, and could affect women on low incomes.
Voters in Oregon appear to have rejected a similar measure to restrict state funds for abortions, according to partial returns.
Women's rights groups say the measures approved by Alabama and West Virginia could lead to a full ban in those states if the conservative-majority Supreme Court overturns the 1973 ruling that legalised abortion.
A referendum in a number of Georgia communities to introduce an earlier drinking time on Sundays got overwhelming approval.
Some 87 counties and cities across the state, including in the capital Atlanta, voted on what has become known as the "Brunch Bill". Local media reported there was around 75% approval in many of the cities.
It means sales of alcohol can begin at 11:00 on a Sunday instead of 12:30.
Voting rights for Florida's ex-convicts
An estimated 1.2 million Florida residents who served time in prison have regained the right to vote, thanks to passage of a new state constitutional amendment.
Previously, Florida was one of just four states in the US that automatically and permanently revoked voting rights from anyone who had been convicted of a felony-level crime. They could seek clemency, but needed to wait five years until after their release and then apply to the governor's office. Since 2011, Republican Governor Rick Scott has only given the vote back to about 2,000 people.
To be eligible now, former prisoners must have completed their sentences and all the terms of their release, including probation. The language of the amendment excludes those convicted of murder and serious sexual offenses, but supporters still estimate that more than 1 million Floridians who have served time in prison will become newly eligible to vote.
A cross-party, grassroots coalition gathered about 800,000 signatures to get the amendment on the 6 November ballot. The measure needed 60% to pass.
Language stripping the vote from felons was written into the state constitution 150 years ago, during the post-Civil War Reconstruction Era, as a means to prevent African-Americans from voting.
Supporters of the amendment argued for months that preventing former inmates from voting unfairly disenfranchised men and women who had repaid their debt to society, and prevented them from fully integrating back into society. They also argued that such laws disproportionately impact African-Americans.
It had powerful backing, including from celebrities such as singer John Legend and Orange is the New Black author Piper Kerman.
I spent some time in Florida campaigning for this amendment. I was inspired by the grass roots efforts and the beautiful bipartisan coalition that worked for its passage. I'm so happy this amendment passed.

— John Legend (@johnlegend) November 7, 2018
Transgender rights in Massachusetts
Voters in Massachusetts approved a measure that provides protections for transgender and non-binary people - making it the first state in the US to do so.
They agreed to uphold a law, first signed in 2016, that forbids discrimination on the basis of gender in public places.
Voters in four states were asked to decide on the legalisation of cannabis - for recreational use in Michigan and North Dakota, and for medical use in Utah and Missouri.
Not all the votes have yet been counted, but projections suggest only North Dakotans voted against legalising the drug.
If the result is confirmed, Michigan becomes the first US Midwest state to allow adults over the age of 21 to both possess and grow small amounts of marijuana. It will also levy a 10% sales tax on businesses selling the drug.
Utah's measure allows privately-owned chemists to sell cannabis to people with qualifying illnesses while in Missouri, patients have been given permission to grow their own cannabis for medicinal use.
Thirty-one US states have now legalised cannabis for medicinal use, while nine states have approved it for recreational use.
Jury changes in Louisiana
Louisiana, like Florida, also threw out a post-Civil War ruling; this one had allowed for split verdicts in serious felony cases, such as murder or drug dealing.
Voters overwhelmingly approved a constitutional amendment requiring juries to be unanimous in their verdict or declare themselves deadlocked.
Until now a verdict could be given if 10 of 12 jurors agreed. Oregon is the only other state that allows for split juries, although not for murder cases.