Pittsburgh shooting: Survivors relive synagogue ordeal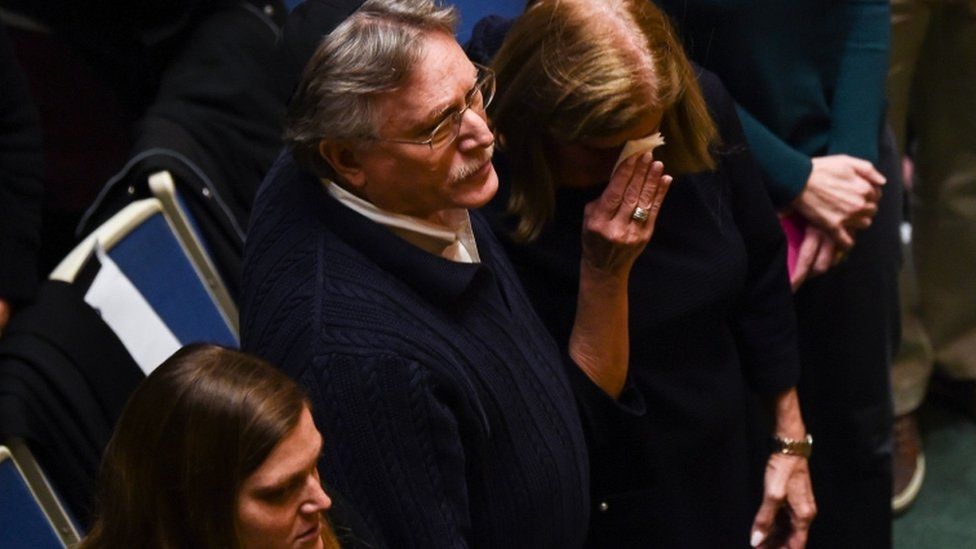 Survivors of the deadly gun attack on a Pittsburgh synagogue have recalled how they took refuge and hid in storage rooms to avoid the roaming attacker.
One congregation leader said their training in active-shooter situations had helped save lives.
When the suspect was detained after a shootout, he reportedly told Swat officers he wanted "all Jews to die".
The 11 victims were named on Sunday and included a husband and wife, and a woman aged 97.
Another six people were injured, including four policemen.
Mayor Bill Peduto said that this was the "darkest day of Pittsburgh's history".
The suspect, Robert Bowers, 46, faces 29 criminal charges over what is thought to be the worst anti-Semitic attack in recent US history. He is still in hospital being treated for multiple gunshot wounds but is scheduled to appear in court on Monday.
What have the survivors said?
Three congregations were reportedly meeting at the Tree of Life synagogue in the Squirrel Hill district of Pittsburgh on Saturday morning.
Richard Gottfried, 65, and Daniel Stein, 71, were in the kitchen and both were shot dead. Congregation co-president Stephen Cohen told the paper there was "no place to hide" there.
He said Rabbi Jonathan Perlman had shepherded two other people into a storage room, although one, Melvin Wax, 88, chose to later open the door and was shot dead.
Mr Cohen said "everyone froze but Rabbi Perlman". He told the Associated Press news agency that leaders had taken part in active-shooter drills "and I think that's what ultimately saved the people who were saved".
Who were the other victims?
They were named on Sunday as Joyce Fienberg, 75; Rose Mallinger, 97; Jerry Rabinowitz, 66; Cecil Rosenthal, 59, and his brother David, 54; married couple Bernice Simon, 84, and Sylvan Simon, 86; and Irving Younger, 69.
Tributes have been pouring in from those who knew the victims. Myron Snider described his friend Melvin Wax as a "sweet, sweet guy" and unfailingly generous.
Ben Schmitt, a patient of Jerry Rabinowitz, said the family medical practitioner was "kind and funny... [he] completely personified the term 'bedside manner'".
Cecil and David Rosenthal were described as "kind, good people with a strong faith and respect for everyone around".
One injured officer was released from hospital on Saturday, another was due to be released on Sunday, with the other two needing more treatment.
'Light will defeat darkness'
By Hugo Bachega in Pittsburgh
All day during a cold, grey Sunday, residents and others brought flowers and candles to the entrance of the synagogue in Squirrel Hill, the heart of Jewish life in Pittsburgh.
There were words of disbelief and a common determination that they would not allow this tragedy to change such a vibrant place.
"You're going to see an outpouring of love and support and a strengthened community. Not just the Jewish community but Pittsburgh as a whole," said 34-year-old Molly Butler, who came with her children, Mikey and Lily, aged nine and six.
At an evening vigil at a local hall, hundreds gathered inside, dozens more outside in the light rain, to say this was an attack not only on one community but on their entire city. The message: "Love will defeat hatred, light will defeat darkness."
How was the gunman apprehended?
He was armed with three Glock handguns and an AR-15 semi-automatic rifle. He owned them legally, a law enforcement officer told the Associated Press.
Officers arrived after receiving calls about an active shooter at 09:54 local time (13:54 GMT) on Saturday and encountered the suspect as he was trying to leave.
The gunman fired at them and ran upstairs. As Swat officers searched for victims, the gunman opened fire on them and injured two. The suspect was detained after being wounded in an exchange of fire with officers.
Officials said the gunman had made statements regarding genocide as well as a desire to kill Jewish people.
What is known about the suspect?
There are few details about Robert Bowers but there is a trail of anti-Semitic comments on social media.
His neighbour, Chris Hall, told AP: "The most terrifying thing is just how normal he seemed."
Officials said there was nothing to indicate he had any accomplices.
FBI special agent Robert Jones told a press conference that Mr Bowers did not appear to be known to authorities prior to the attack.
Eleven counts of obstruction of exercise of religious beliefs resulting in death and 11 counts of use of a firearm to commit murder during and in relation to a crime of violence. These can carry the death penalty
Four counts of obstruction of exercise of religious beliefs resulting in bodily injury to a public safety officer
Three counts of use and discharge of a firearm during and in relation to a crime of violence
What has been President Trump's reaction?
He described the gunman as a "maniac" and suggested the US should "stiffen up our laws of the death penalty".
"These people should pay the ultimate price. This has to stop," he said.
Mr Trump said he would visit Pittsburgh soon and had ordered US flags at government buildings to be flown at half-mast until 31 October.
He added that the shooting had "little to do" with US gun laws. "If they had protection inside, maybe it could have been a different situation."
But Mayor Peduto, a Democrat, said: "I think the approach that we need to be looking at is how we take the guns, which is the common denominator of every mass shooting in America, out of the hands of those that are looking to express hatred through murder."