Pittsburgh shooting: Who were the victims?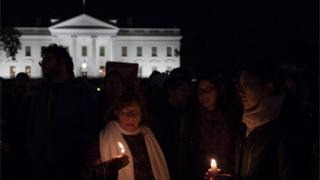 Pennsylvania authorities have named the eight men and three women who were killed at a synagogue on Saturday.
Suspect Robert Bowers, 46, is in custody and faces 29 criminal counts for what is thought to be the worst anti-Semitic attack in recent US history.
Allegheny County chief medical examiner Dr Karl Williams said two brothers, and a husband and wife are among the dead.
The victims ranged in age from 54 to 97 years old.
The 11 victims
Joyce Fienberg, 75
Richard Gottfried, 65
Rose Mallinger, 97
Jerry Rabinowitz, 66
Cecil Rosenthal, 59
David Rosenthal, 54, brother of Cecil
Bernice Simon, 84
Sylvan Simon, 86, husband of Bernice
Daniel Stein, 71
Melvin Wax, 88
Irving Younger, 69
Joyce Fienberg
Ms Fienberg was originally from Canada.
She was the widow of Stephen Fienberg, a statistics professor at Carnegie Mellon University.
According to his obituary on the university's website, Prof Fienberg died in 2016 and his funeral service was held at the Tree of Life synagogue that December.
Ms Fienberg was active at the synagogue for years, but even more so after her husband's death.
The couple had two sons and six grandchildren.
Ms Fienberg reportedly lived in Oakland, a district west of the university where her husband worked.
Richard Gottfried
Mr Gottfried was a dentist who set up a practice in north Pittsburgh with his wife, Peg Durachko, in 1984.
He regularly participated in Pittsburgh's Great Race, a 10km (6.2 mile) foot race.
His nephew posted about him on Twitter.
Rose Mallinger
Ms Mallinger, the oldest victim, had been attending the synagogue for decades.
"She was a synagogue-goer, and not everybody is," former Tree of Life rabbi Chuck Diamond told the Washington Post. "She's gone to the synagogue for a lifetime, no matter how many people are there."
Her daughter took Ms Mallinger to the congregation every week, and she was reportedly shot in the arm during the attack.
Jerry Rabinowitz
Dr Rabinowitz ran a family medical practice in Bloomfield, a short drive north-west from the Tree of Life synagogue.
An article written by a patient, Ben Schmitt, has appeared on the Pittsburgh Tribune website, praising Dr Rabinowitz for his kindness and his care.
"Kind and funny, Dr Rabinowitz completely personified the term 'bedside manner'," the article reads.
Another former patient told Buzzfeed News he was a hero to the city's LGBT community at the height of the Aids epidemic in the 1980s.
Cecil and David Rosenthal
The brothers, 59 and 54 respectively, were both reportedly from Squirrel Hill.
According to the Washington Post, both had learning disabilities and had been attending the synagogue since they were young children.
Cecil and David served as honorary chairs when Tree of Life held special services for adults with disabilities, the piece says.
Tributes have appeared on Twitter to the siblings.
Bernice and Sylvan Simon
The married couple reportedly lived in Wilkinsburg, a Pittsburgh district east of the synagogue.
Daniel Stein
According to a Pittsburgh Tribune article, Mr Stein served as president of the New Light Congregation, a conservative Jewish synagogue in Squirrel Hill which holds services at the Tree of Life.
"He was very active and he did everything," nephew Steven Halle told the paper. "He was there every Saturday for services."
Mr Stein was reportedly a new grandfather.
Melvin Wax
Mr Wax was also reportedly an active and well-known New Light congregant.
A friend, Myron Snider, described the retired accountant as a "sweet, sweet guy" and unfailingly generous.
"When my daughters were younger, they would go to him, and he would help them with their federal income tax every year," Mr Snider was quoted by the Associated Press as saying. "Never charged them."
Irving Younger
Mr Younger was a former small business owner and youth baseball coach, according to the Pittsburgh Tribune.
His neighbour, Tina Prizner, told the newspaper that he was "the most wonderful dad and grandpa".
"He was a beautiful person, a beautiful soul."
He was also a devout congregant at Tree of Life.
Chuck Diamond told the Washington Post that Mr Younger would probably have been walking into the synagogue or handing out prayer books at the back when the shooting began.