Kavanaugh case: Graffiti at Yale supports Blasey Ford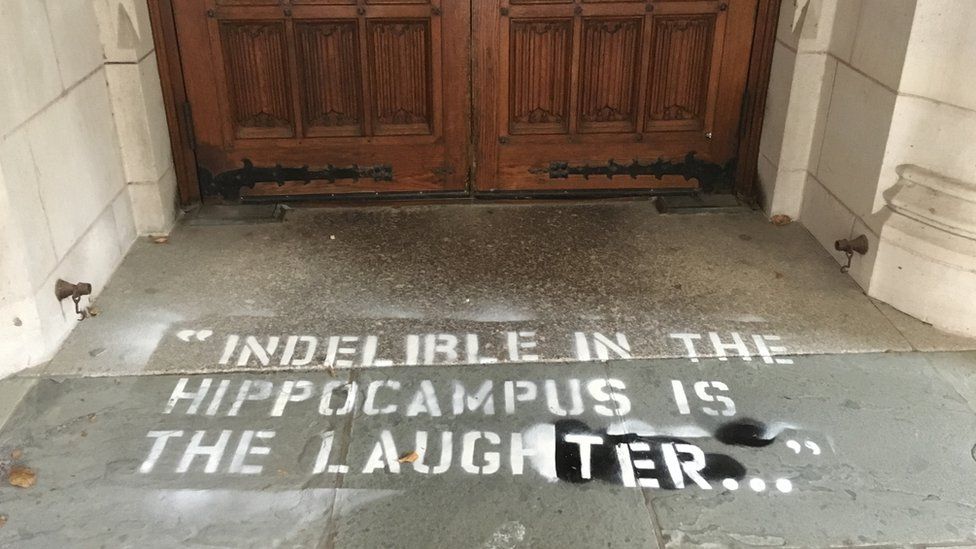 Quotes from the testimony of Christine Blasey Ford, who accused US Supreme Court Justice Brett Kavanaugh of sexually assaulting her, have appeared on the campus of Yale University.
Locals noticed the spray-painted graffiti at parts of the New Haven campus, including outside the university's law school, on Monday.
Mr Kavanaugh, who denied the claims, is an alumnus of Yale Law School.
His nomination has deeply divided US public opinion. Many of those who believe Ms Ford see her case as a test of whether the #MeToo movement has changed the US.
Supporters of Judge Kavanaugh have seen the case as politically motivated to bar the conservative judge from joining the Supreme Court.
In public testimony ahead of the confirmation, Prof Blasey Ford said she had been assaulted by Judge Kavanaugh when they were both teenagers in 1982.
Fellow Yale University classmate Deborah Ramirez then accused the judge of exposing himself to her at a party.
A third woman, Julie Swetnick, alleged she was the victim of a gang rape in 1982 at a party the judge attended.
Judge Kavanaugh denies all the claims - and allegations that he used to drink to the point of memory loss in his youth.
Supreme Court judges hold the position for life and the nine-member court has the final say on US law, including on contentious social issues and challenges to government policy.
According to media reports, the spay-painted quotes were washed off later in the day.
The graffiti isn't the first time Yale Law School students have protested against Judge Kavanaugh.
In late September, bulletin boards across the campus were plastered with notes saying "We believe Dr Christine Blasey Ford."