Jayme Closs: Nationwide search for 13-year-old after parents murdered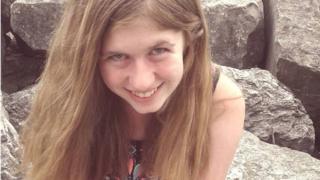 The FBI has expanded nationwide its search for a missing 13-year-old girl whose parents were found murdered in the US state of Wisconsin.
Officials believe Jayme Closs was in the house in the Barron County when her parents were shot dead on Monday.
Information about the girl, who is believed to be "endangered", has been posted on digital billboards in the US.
A search in Wisconsin involving more than 200 FBI agents and volunteers has so far failed to find the girl.
The FBI and police have already received more than 800 tips on the phone hotline.
Jayme Closs' parents - 46-year-old Denise and 56-year-old James - were found shot dead in their family home at about 01:00 local time (06:00 GMT) on Monday.
Police say a 911 call and evidence from the address suggests she was in the house when the disturbance took place.
On Tuesday, Barron County Sheriff Chris Fitzgerald said emergency services received a call from a mobile phone and heard a disturbance in the background, but no-one spoke to them directly.
When police arrived four minutes later, no gun or suspects were found at the scene and there was no sign of Jayme.
On Wednesday, the deaths of James and Denise Closs were officially ruled as homicide by a medical examiner.
The missing teenager has been described as being approximately 5ft (1.5m) tall and 100lb (45kg) with green eyes and strawberry blonde hair.
Local authorities have said investigators do not believe she ran away and they don't consider her a suspect.
"Our number one goal is to bring Jayme home, and no amount of information will be given out unless we feel it's appropriate to help," Sherriff Fitzgerald said earlier this week.
Jayme and her mother attended a family birthday party together on Sunday afternoon while James Closs was at work, Jayme's grandfather told the Associated Press.
Robert Naiberg said that nothing seemed amiss at the gathering, and that Jayme was "quiet as always".