Was Bill Clinton's Lewinsky affair an 'abuse of power'?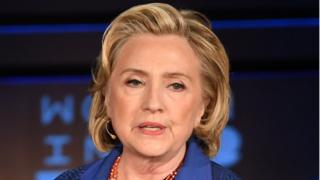 After Hillary Clinton said on Sunday that her husband's affair in 1998 with 22-year-old intern Monica Lewinsky was not "an abuse of power", many online have been debating her view.
The 2016 Presidential candidate made the comments in an interview with CBS that also discussed the confirmation of Supreme Court Judge Brett Kavanaugh who was accused of sexual harassment.
Mrs Clinton also told CBS that she believes it was right that her husband, who was 49 at the time, did not resign from office, and that Ms Lewinsky "was an adult".
The frank remarks on the scandal are being interpreted in the context of the year-old #MeToo movement that caused numerous high-profile men to resign after accusations of sexual assault and harassment.
Former President Bill Clinton was impeached for perjury and later acquitted by Congress in 1998 after lying about his relationship with Ms Lewinsky.
Mrs Clinton's comments contradict Ms Lewinsky's characterisation of the relationship.
Many on social media disagree with Mrs Clinton, suggesting instead that her husband's position as President and Ms Lewinsky's role as young White House intern define an abuse of power.
"She was a 22-year-old intern and he was the President of the United States. It's honestly hard to think of a dynamic that is *more* clearly an egregious abuse of power," wrote lawyer Lindsey Barrett on Twitter.
American columnist Kristen Powers tweeted, "This actually shouldn't be so hard. Hillary isn't responsible for what her husband did, but she should be able to recognise it as an abuse of power."
In March, Monica Lewinsky wrote in Vanity Fair that she considered the affair "a gross abuse of power", adding "he was my boss. He was the most powerful man on the planet".
She had previously described their relationship as "consensual" and said any abuse came from the aftermath of the political scandal.
Others online commented that Mrs Clinton's remarks undermine progress made by the #MeToo movement in which claims of sexual assault and harassment are taken more seriously.
"In one statement she undercut the abuse of power and position against almost all sexual harassment in the workplace," tweeted author David Rothkopf..
However others defended Mrs Clinton's view, highlighting Ms Lewinsky's consent to the relationship.
"Why is it abuse of power if the intern is a willing participant? I can think of many more obvious examples of abuse of power," wrote one Twitter user, while another added "A 22-year-old is perfectly capable of making their own decisions."
The debate highlights a key fault line in the #MeToo movement about whether young women in consensual relationships with powerful men are being "victimised" and "infantilised" by describing their relations as abusive.
Others questioned why Mrs Clinton is being held accountable for her husband's behaviour, suggesting it was sexist.
"I wish the media would spend more time pressing Bill Clinton for answers on his own actions than they spend asking Hillary Clinton," wrote another Twitter user @_celia_bedelia.
"She had nothing to do with it, it was his affair. It was TWENTY years ago. Why keep bringing up an affair from 20 years ago? (We know why but ugh)," added another.
Some drew attention to Mrs Clinton's response to the CBS journalist that asked why there isn't more investigation into allegations of sexual misconduct against President Donald Trump.
Mrs Clinton's comments come less than a month before the midterm elections in the US.
By Georgina Rannard, UGC & Social News