Kavanaugh hearing: Five things you may have missed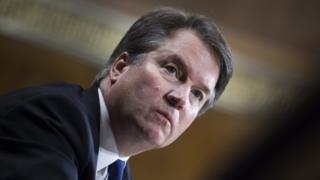 It was an emotional day of testimony in which the balance of power on America's highest court was at stake.
On Thursday, President Donald Trump's Supreme Court nominee Brett Kavanaugh told the Senate that he was the victim of an "orchestrated political hit" and denied allegations of sexual misconduct.
It followed testimony from Doctor Christine Blasey Ford who said she was "100%" sure he had sexually assaulted her 36 years ago.
The hearing gripped much of the country, but with so many questions and a wave of media coverage in response it can be difficult to keep track of all the developments.
Here are some key moments you may have missed.
1) Kavanaugh's calendar
Dr Ford claims Judge Kavanaugh tried to force himself on her at a party in 1982.
The incident allegedly happened at a gathering of teenagers at a house, when Judge Kavanaugh and his friend were both drunk.
Mr Kavanaugh shared his high school calendar with the Senate committee as supporting evidence that he did not attend a party or drink on weekdays during that time.
"If the party... happened in the summer of 1982 on a weekend night, my calendar shows all but definitively that I was not there," he told the hearing.
But one entry - on Thursday 1 July - indicates that he may have drunk beer at a social event.
It reads 'Go to Timmy's for Skis', which Mr Kavanaugh said likely meant beers.
2) 'Devil's triangle'
As well as his calendar, Mr Kavanaugh's high school yearbook came under close scrutiny.
He was asked about the use of the phrase "Devil's triangle" which he said was a type of drinking game.
But some people were sceptical, instead believing the term was a sexual reference.
The Senate Judiciary Committee also sought clarification on the meaning of the word "boof", with some suggesting that too was a sexual term.
"That refers to flatulence," Mr Kavanaugh told the hearing to some muffled laughter. "We were 16."
3) A furious senator
Republican Senator Lindsey Graham was forthright in his assessment of proceedings.
"This is the most unethical sham since I've been in politics," he declared furiously.
He then took aim at the Democrats: "What you want to do is destroy this guy's life, hold this seat open and hope you win in 2020."
His comments were noticed by the White House, with Press Secretary Sarah Sanders praising his "decency and courage".
But many Democrats stood firm and expressed their continued support for Dr Ford, including Senator Elizabeth Warren who later tweeted "We believe her."
4) C-SPAN calls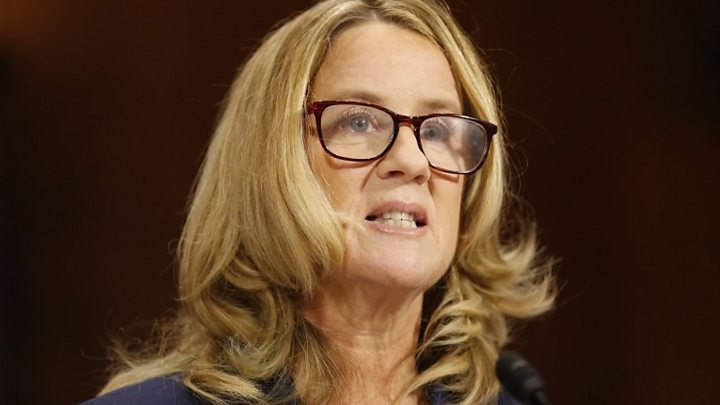 Dr Ford's testimony had an instant effect, prompting a number of victims of sexual violence to share their experiences.
As her hearing unfolded, people inspired by the research psychologist phoned in to the TV network C-SPAN to recount their own trauma.
Brenda, 76, spoke emotionally about being assaulted as a child. "You get confused, and you don't understand it," she said, according to the New Yorker magazine.
"But you never forget what happened to you."
The flurry of individual stories had echoes of the hashtag #WhyIDidntReport, which has been used by women to share why they did not talk about sexual violence.
5) Kavanaugh's beer confusion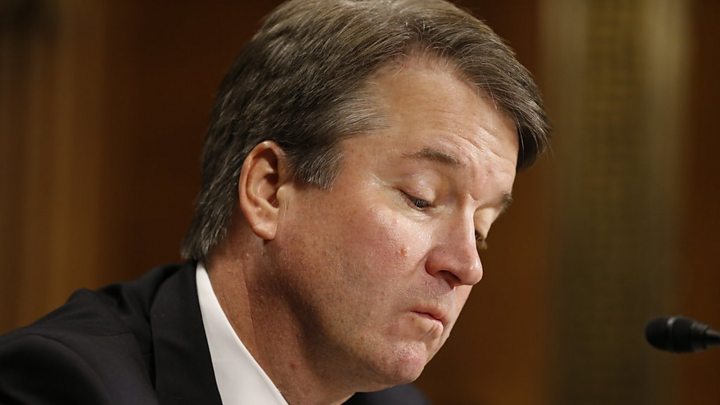 Dr Ford has claimed Mr Kavanaugh was drunk when the alleged incident happened, which meant there were a number of questions about his drinking habits.
"What do you consider to be too many beers?" Republican prosecutor Rachel Mitchell said.
"I don't know. You know... whatever the chart says, a blood-alcohol chart," he responded.
He also said that he was legally allowed to drink beer while at school in Maryland.
In fact, the state's drinking age increased to 21 when he was 17.