McDonald's pranksters hail 'dream' $50,000 reward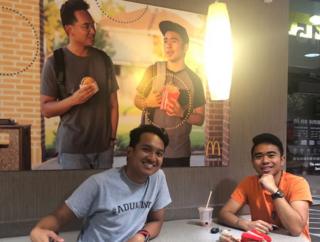 One of the two friends who caught the attention of millions when they pranked their local McDonald's has told the BBC that he "wants to push Asian representation further" in "TV and Hollywood".
Jevh Maravilla, 21, added that "the past few weeks have felt like a dream."
On the Ellen DeGeneres Show last week the men were each presented with cheques for $25,000 (about £19,000) from the company and told they would be starring in a marketing campaign.
Frustrated by the lack of Asian people on the marketing posters covering the restaurant, Jevh Maravilla and Christian Toledo took matters into their own hands.
The pair took a photo of themselves, added the McDonald's branding and hung it on a bare wall in their local restaurant in Houston, Texas.
Their fake poster went undetected for two months.
Jevh's tweet on 2 September revealing their stunt was quickly shared hundreds of thousands of times and several news outlets, including the BBC, covered their story.
But the question remained over how McDonald's would respond to the poster.
Appropriately, on 4 September, Jevh discovered its fate whilst eating at the very same restaurant.
"I got a call from Chris Stanley at McDonald's corporate while I was eating with my friends," he told the BBC.
"My first thought was that I was in trouble."
Far from being in trouble, Mr Stanley told Jevh that they loved it. He invited Jevh and Christian to an event at the restaurant where they signed their poster before it was removed to be auctioned for charity.
"They had to take it down as they had renovations for the restaurant planned from months back," Jevh says.
According to Jevh, the walls of the renovated restaurant will have pictures only of food and no people.
At the same time, Jevh and Christian were invited onto the Ellen DeGeneres Show.
"Meeting Ellen was insane," Jevh said.
Being on the show may have been reward enough, but DeGeneres and McDonald's conspired to give Jevh and Christian another surprise.
"McDonald's loves customers like you," the TV host told the pair.
"They are committed to diversity and want to represent all their customers, so they are going to use the two of you in a marketing campaign.
"Since you're in a campaign, they need to pay you, right? So you're each getting a cheque for $25,000."
The BBC has approached McDonald's to ask for more information on the marketing campaign but has had no response.
"It still feels so unreal," Jevh told the BBC.
"These past few weeks have felt like a dream. On Friday I went to the bank and put the $25,000 in my savings account. I never thought I would ever see a cheque for me that big."
Jevh plans to donate part of his money to a church in the Philippines.
Neither he nor Christian have had much information from McDonald's about what the marketing campaign will consist of, but he says they would love to star in a Super Bowl advert.
Jevh also says he wants to keep pushing for Asian representation.
"I feel I've made my mark with McDonald's but I'd love to see more representation on TV and in Hollywood."