Brett Kavanaugh accuser offers to testify to Senate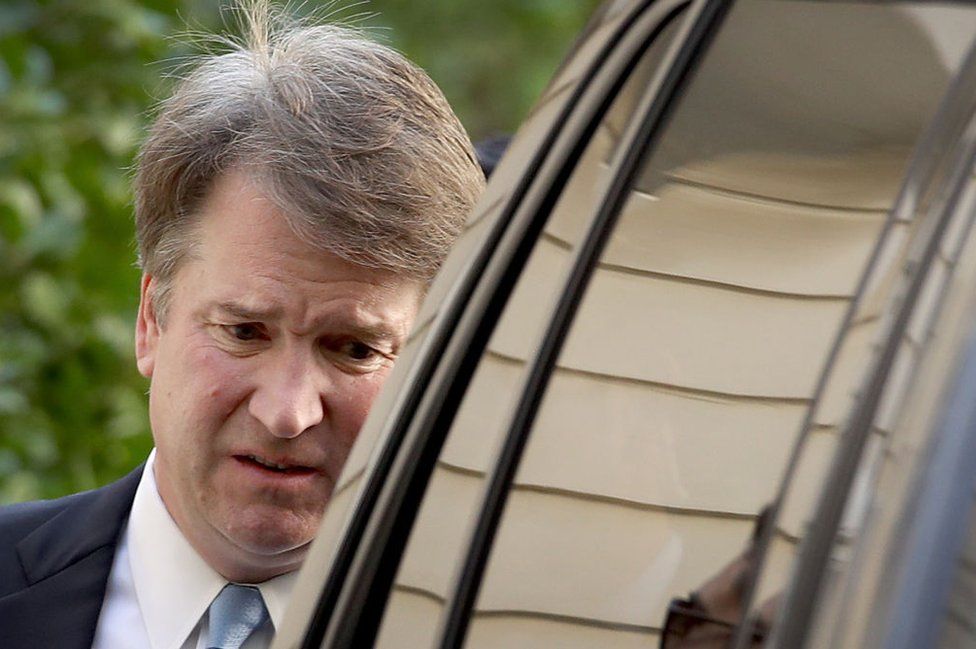 A woman who accuses Supreme Court pick Brett Kavanaugh of trying to rape her in 1982 has offered to testify to the Senate if it can "ensure her safety".
Christine Blasey Ford's lawyer says her client will not appear on Monday, as senators proposed, but might do so next week on "terms that are fair".
Republicans had vowed to press ahead with the confirmation amid uncertainty over whether the accuser would testify.
Judge Kavanaugh has issued a fresh rebuttal of the allegation.
Senate Judiciary Committee chairman Chuck Grassley welcomed Prof Ford's offer.
"We are happy that Dr Ford's attorneys are now engaging with the Committee," his spokesperson told US media.
Judge Kavanaugh, 53, has agreed to testify to the judiciary committee, which vets Supreme Court nominees, on Monday.
"Since the moment I first heard the allegation," he said in a statement on Thursday, "I have categorically and unequivocally denied it. I remain committed to defending my integrity."
What did Dr Ford's lawyer say?
The California psychology lecturer's legal team emailed the panel's staff on Thursday.
Debra Katz, the lawyer, wrote that she wished to "discuss the conditions under which [Prof Ford] would be prepared to testify next week".
"As you are aware, she's been receiving death threats which have been reported to the FBI and she and her family have been forced out of their home."
She continued: "She wishes to testify, provided that we can agree on terms that are fair and which ensure her safety."
But she ruled out any testimony next Monday, calling the date "arbitrary".
The attorney said her client would prefer to wait for the FBI to investigate the accusation before agreeing to testify.
But US President Donald Trump and congressional Republicans have already ruled that out.
The FBI investigated a sexual harassment claim against a Supreme Court nominee in 1991 at the behest of the White House, finishing that inquiry in three days.
What are members of Congress saying?
Senior Republican Senator John Cornyn of Texas told CNN: "If she doesn't want to participate and tell her story, there's no reason for us to delay."
Senator Dean Heller, a Nevada Republican, sounded bullish about the prospects of confirming the nominee, who would be expected to bring a more conservative tilt to America's highest court.
"We got a little hiccup here with the Kavanaugh nomination, we'll get through this and we'll get off to the races," he said in a call with fellow Republicans, the Nevada Independent reports.
A petition backing Prof Ford, signed by more than 1,000 alumnae from Holton-Arms, her former Maryland high school, was delivered on Thursday to two Democratic women senators.
Senator Kirsten Gillibrand, a New York Democrat, said at the event: "Someone who is lying does not ask the FBI to investigate their claims.
"Judge Kavanaugh has not asked to have the FBI investigate these claims. Is that the reaction of an innocent person? It is not."
What are the other developments?
On Thursday, 56 people were arrested while attending anti-Kavanaugh protests on Capitol Hill.
The mostly female demonstrators wore pins reading: "I believe Christine Blasey Ford."
Twelve of Prof Ford's family members have written an open letter, posted on Twitter, in which they call her "highly ethical", adding that "her honesty is above reproach".
"Chrissy is not someone who chooses to be in the spotlight," the letter said.
Prof Ford has accused Judge Kavanaugh of drunkenly pinning her to a bed and trying to remove her clothing at a house party in a Washington DC suburb when they were both teenagers 36 years ago.