Florence: Two patients dead after van swept away in floods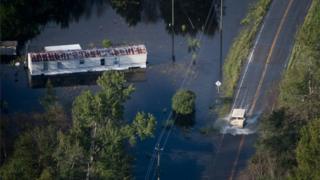 Two mental health patients have died when the police van they were being transported in got caught in floodwaters in the US, police say.
The two officers escorting the pair were eventually rescued. The patients' deaths bring the death toll from Storm Florence to 37.
Thousands of homes and roadways in the region remain underwater less than a week after the storm made landfall.
President Donald Trump arrived in North Carolina on Wednesday to survey damage.
Mr Trump praised the response to the "devastating" storm by federal and local disaster officials at a news conference in North Carolina on Wednesday morning.
"Unfortunately, the money will be a lot, but it's going to come as fast as you need it," Mr Trump said. "We're going to take care of everybody."
Mr Trump will be heading to South Carolina next.
The storm's latest victims in South Carolina were identified as Wendy Wenton, 45, and Nicolette Green, 43, by the Marion County Coroner, US media report.
The Horry County Sheriff's Department said in a statement that when the waters overtook the van, they rose too quickly for the pair to be saved.
A high water team eventually rescued the two deputies who were escorting them. The deputies were able to climb atop the van as waters inundated the vehicle.
"Despite persistent and ongoing efforts, floodwater rose rapidly and the deputies were unable to open the doors to reach the individuals inside the van," the police statement said, according to the Greenville News.
"At this time, the recovery effort is ongoing, and the transportation vehicle cannot be removed due to rising waters and dangerous conditions."
The detainees were women being transported from Waccamaw Mental Health and Loris Hospital to a behavioural health hospital in Darlington, South Carolina, according to the Associated Press.
"Tonight's incident is a tragedy," Sheriff Phillip Thompson told the Greenville News.
"Just like you, we have questions we want answered. We are fully co-operating with the State Law Enforcement Division to support their investigation of this event."
The tragic incident occurred near the Little Pee Dee River, which continues to rise as water from upriver North Carolina makes its way into South Carolina's waterways.
The Little Pee Dee has crested in some regions at over 46ft (14m) and its flooding has impacted town water supplies, officials say.
Florence has claimed eight lives in South Carolina thus far, and flooding is expected to worsen later this week and into next.
A long road to recovery
Thousands of homes are still underwater in the Carolinas and thousands of families have had to be rescued from the floods.
As of Wednesday, more than 3,000 people had been rescued in North Carolina and 20,000 federal and military personnel are supporting state efforts.
North Carolina Governor Roy Cooper called Florence "a storm like no other" during a news conference with Mr Trump and federal officials on Wednesday.
"We are a beacon in the South and we have weathered storms before in our state. But Mr President, we have never seen one like this. This one has been epic. It has been disastrous. It has been widespread."
Interactive
Slide to see flooding in North Carolina as a result of Hurricane Florence
After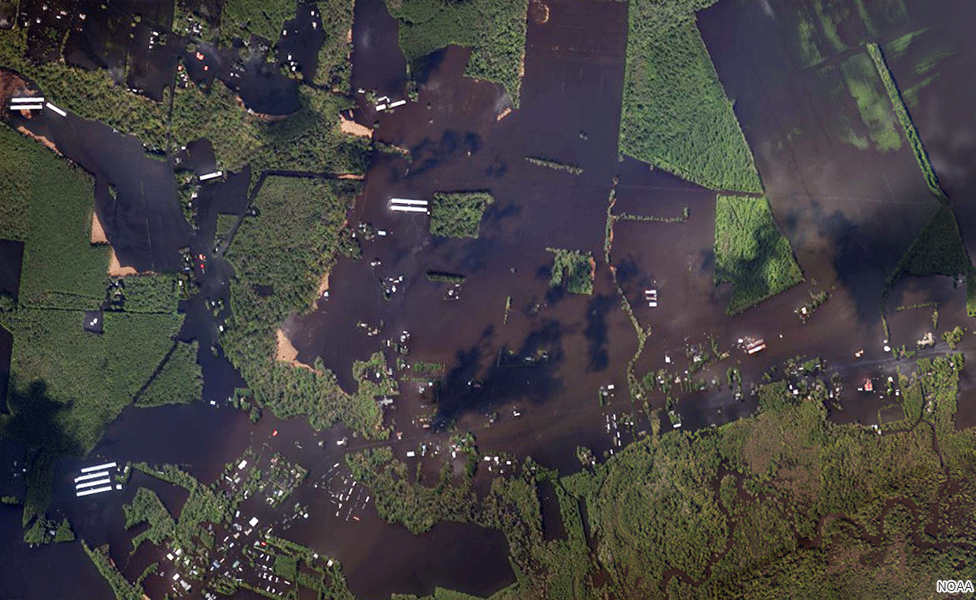 Before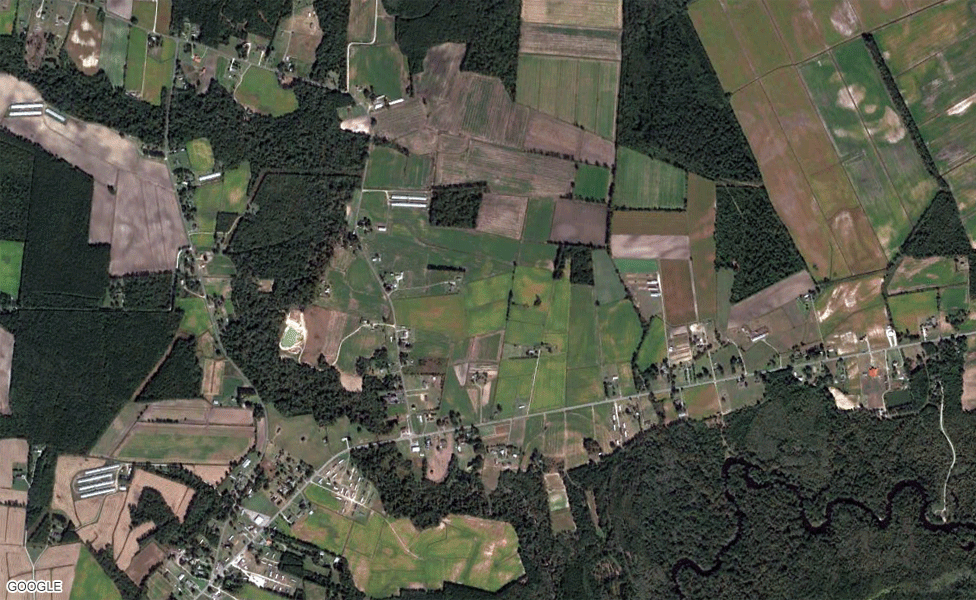 Brock Long, administrator of the Federal Emergency Management Agency (Fema), said the government is pushing disaster survivor assistance teams into the Carolinas.
"A disaster response like this takes all of us working together, not just the federal government," he said. "This event's not over. The rivers are still cresting we still have a lot of work to do."
The president has promised to completely support the Carolinas' recovery efforts.
"We will be there 100%," he said. "That's why we started early, and we'll be here late."