Storm Florence: Residents warned 'not to return home'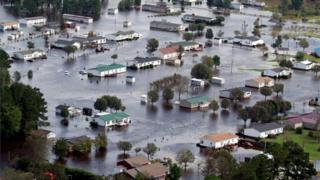 North Carolina Governor Roy Cooper has urged residents to remain in shelters as the floodwaters from Storm Florence continue to rise across the state.
"I know it was hard to leave home and it's even harder to wait," he said on Tuesday. "But please, for your safety, do not try to return home yet."
The plea comes a day before President Donald Trump is expected to visit the Carolinas to survey the storm damage.
Florence dropped over eight trillion gallons of rain and claimed 35 lives.
The rivers keep rising. Sixteen rivers have flooded already, and three more could crest by Thursday, Governor Cooper said on Tuesday.
Over 4,000 homes are underwater in the coastal city of New Bern alone.
Economically, Moody's Analytics says Florence could cost as much as $22bn (£16bn), mostly from property damage.
Governor Cooper added that for many residents the storm and its aftermath feel like "a nightmare that just won't end".
An estimated 10,000 people are being housed in shelters across North Carolina and about 314,000 are without power.
At least 1.7m chickens have also drowned due to Florence's floodwaters as of Tuesday, according to one of the nation's biggest poultry companies, Sanderson Farms.
The news comes as state officials closely monitor hog farms and waste lagoons across the state for breaches due to rising water levels.
At least 26 people have been killed as a result of the storm in North Carolina, including in Union County, where Dazia Lee is mourning the death of her one-year-old son, Kaiden.
Her son was found dead, 15ft (4.5m) beneath the floodwaters, on Monday.
On Sunday night, the worst of the storm seemed to have passed, Ms Lee told US media, and she decided to drive out to visit family.
The main roadways were fine, even full of cars.
When she reached a country road marked with two orange hazard signs, she pulled over and considered whether to continue. But she saw cars pass in the opposite direction, and decided to go ahead.
The road was fine, until she went around a curve. The water came suddenly. Her car began to hydroplane, and then began to sink.
"Oh my God, not like this," she kept saying aloud as the water began to fill the car, she told the Washington Post.
She managed to free herself and her son, carrying him out of the car through the windows, when she fell.
The torrent of floodwater clouded her vision. She felt the force of the water pulling at her baby until she felt his fingers slip away.
"I was holding his hand, trying to hold him," Ms Lee told CBS News.
"It got to a point I couldn't hold on anymore and he let go."
Sixty-eight miles (109km) away in the town of Dallas, another North Carolina family is also grappling with the loss of their three-month-old child.
Kade Gill was killed on Sunday when a tree fell on his family's mobile home, cutting it in half, authorities said. Tammy Gill, Kade's mother, was pinned by the tree.
His parents were able to get him out of the trailer through a window, but the boy later died in hospital.
"We were watching the trees in the back that were leaning, but I guess the whole time we were watching the wrong ones," Olen Gill, his father, told WBTV.
'I never thought I'd lose my home'
In Newport, North Carolina, just a short drive from the coast, Renee Askew told the News & Observer how she had to swim out of her trailer home with her three dogs.
The water rose to chest-height, Ms Askew said, and within three hours, everything was inundated. She had no mobile phone service and was preparing to climb on to her roof when she was finally rescued.
"Twenty years I've lived in it - it's a total loss," she told the newspaper, standing in her still-flooded neighbourhood. "Nothing's salvageable. I have no place to go."
Ms Askew said she has "never seen it like this".
"I never thought I'd lose my home. I've never left for a hurricane. I didn't have any idea this would happen."
Interactive
Slide to see flooding in North Carolina as a result of Hurricane Florence
After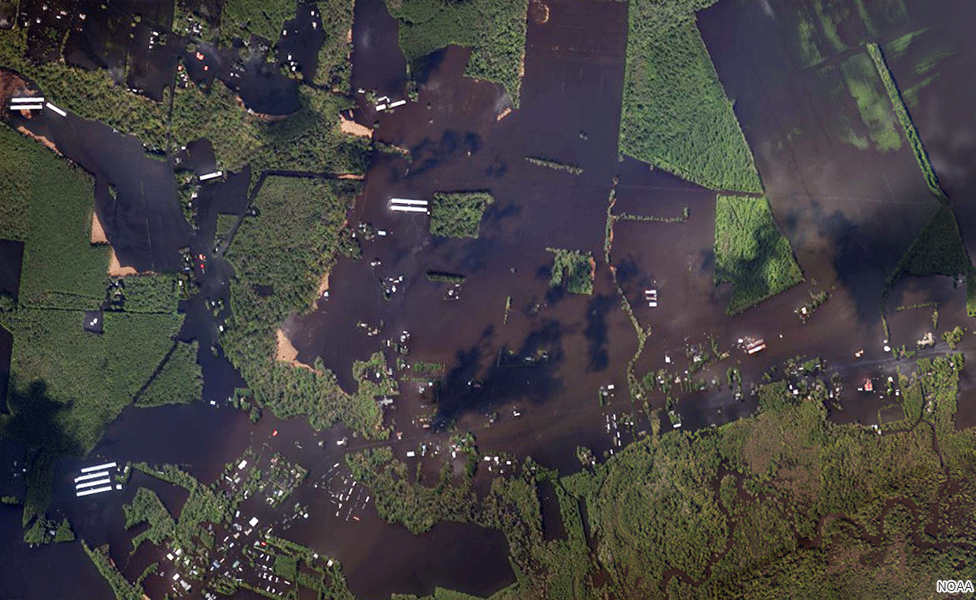 Before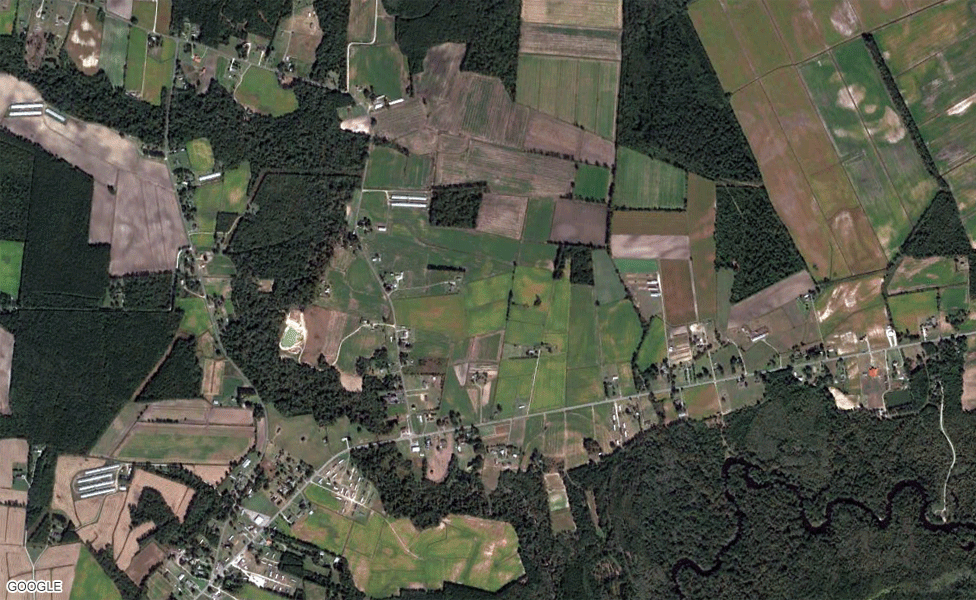 ---
More on Hurricane Florence:
---
'Risking our lives is worth it'
Amid the destruction and death, a group of volunteers called the Cajun Navy continues to put their own lives in danger to save people from the stormwater.
These recreational boaters-turned-rescuers made headlines after Hurricanes Katrina in 2005 and Harvey in 2017. In North Carolina, they have been using their private boats to navigate flooded communities and save stranded families.
"We are risking our lives, but this is worth it," one of the volunteers, Chris Russell, told CBS News.
The Cajun Navy has saved close to 10,000 people from floodwaters in recent years.
"I think what we were able to accomplish tonight, was to give these people some dignity," another volunteer, Allen Lenard, said.
"As much as I believe were were a blessing to those people, I know as a matter of fact, that they were a blessing to me tonight."