Hurricane Florence: Where is being hit?
US officials are warning Hurricane Florence could kill "a lot of people" with risks of "catastrophic" flooding as the storm begins to lash the country's East Coast.
Florence made landfall on Friday, with the centre of the storm striking Wrightsville Beach in North Carolina, with gales of up to 90mph (150 km/h).
The National Hurricane Center says that despite the gradual lowering in wind strength, the storm remains extremely dangerous because of the high volume of rainfall and storm surges predicted.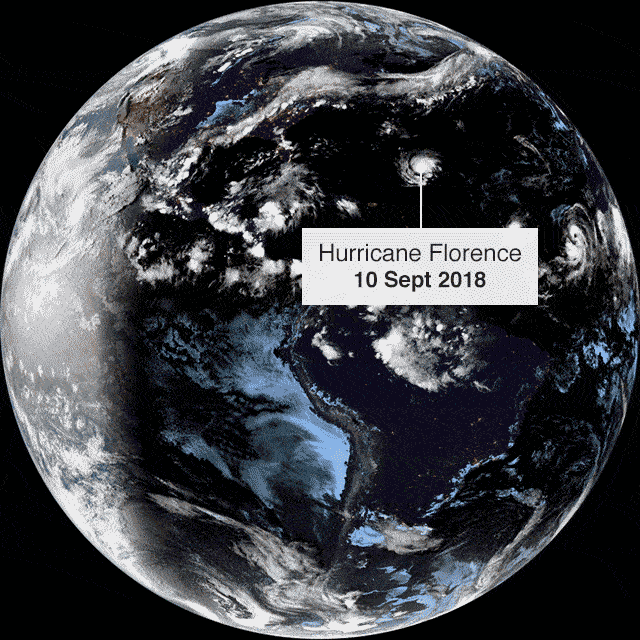 Storm will hit east coast
Georgia, North and South Carolina, Virginia and Maryland have declared a state of emergency as forecasts showed Florence dumping historic amounts of rain on the area.
Tens of thousands of homes are already without power and rains and surging seas have inundated coastal areas.
The Federal Emergency Management Agency (Fema) said people living near rivers, streams and lowland areas in the region were most at risk.
"Inland flooding kills a lot of people, unfortunately, and that's what we're about to see," said Brock Long, head of Fema.
Evacuation warnings are in place for 1.7 million people.
More than 1,400 flights have been cancelled, according to FlightAware.com, with most of the coastal region's airports closed.
The weather system that became Hurricane Florence has been travelling west from Africa toward the US since 29 August. Its wind speeds reached hurricane levels in the mid-Atlantic.
Storm surges could be devastating
The biggest danger to life could be from storm surges, which are still predicted to be as high as 13ft (4m) between Cape Fear and Cape Lookout in North Carolina.
Meteorologists have warned some rivers may see their flows "reversed".
Storm surges are caused when huge volumes of water are pushed by hurricane-force winds. When they meet land, the water surges inshore at levels far exceeding normal tides.
Storm could dump record rainfall
Florence is forecast to dump up to 40in (one metre) of rain in some areas after it makes landfall.
By Friday morning, the North Carolina coastal town of Atlantic Beach had already received 30in (76cm) of rain, the US Geological Service said.
The torrential rainfall could last for significant periods and cause catastrophic flooding, including in inland areas such as Alabama, Tennessee, Kentucky and West Virginia.
National Weather Service forecaster Brandon Locklear said North Carolina is likely to see eight months' worth of rain in two to three days.
Florence's winds are still strong
The hurricane's wind speeds have fallen from a category two level of 96-110mph to a category one level of 74-95mph.
There will be hurricane-force winds up to 80 miles from the centre of the storm, meteorologists say.
Florence was being followed in the Atlantic by two other storms - Hurricane Helene and Tropical Storm Isaac.
But Helene is now moving north east towards the UK and Isaac is moving west across the Caribbean.
How hurricanes happen