Judge orders accused Russian agent Maria Butina to remain jailed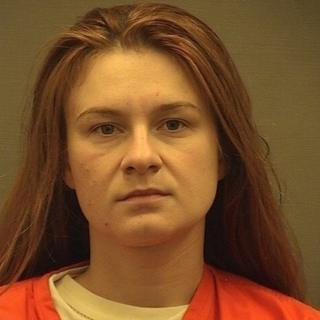 Maria Butina, a Russian woman who is accused in the US of working as a foreign agent for the Kremlin, has been ordered to remain jailed pending trial.
District Judge Tanya Chutkan also placed gag orders on both prosecutors and Ms Butina's lawyers, ordering them to not speak publicly about the case.
The rulings on Monday came days after US government lawyers withdrew one of their most explosive allegations.
On Friday, prosecutors admitted that Ms Butina had not offered sex for a job.
A lawyer for the 29-year-old Russian gun rights activist accused the government of seeking to brand his client as "some type of Kremlin-trained seductress, or spy-novel honeypot," after they made the salacious claim in July.
"The only evidence the government relied on for its explosive claim was an excerpt from an innocuous three-year-old text exchange sent in Russian between Ms Butina and... her long-time friend, assistant, and public relations man," lawyer Robert Driscoll said in court filings after the government withdrew the allegation late on Friday night.
Prosecutors told the court that they had been been "mistaken" when they read a text conversation between two friends.
On Monday, the judge scolded prosecutors for their "rather salacious" claim, when she said, the conversation could easily be interpreted as a joke.
Federal prosecutors claim that Ms Butina was directed by a senior Russian official to infiltrate conservative political groups, including an unnamed pro-gun lobbying organisation that is presumed to be the powerful National Rifle Association (NRA), whose conferences she frequently attended.
Ms Butina appeared in a Washington DC courtroom on Monday, where Judge Chutkan ordered her to remain jailed without bail, due to the risk she may flee to her native Russia.
The Siberian woman, a former American University student, has been jailed in Virginia for nearly two months, since her high-profile arrest in July.
Prosecutors had claimed that she had entered into a "duplicitous relationship" with a Republican political operative in order to "advance the agenda of the Russian Federation".
The man, who is described as her boyfriend in court documents, has been identified in US media as Paul Erickson, a South Dakota-based conservative political activist, who is listed in public records as being 56 years old.
The case is not part of the US inquiry into alleged Russian election meddling.