Donald Trump condemns Bob Woodward book as 'con'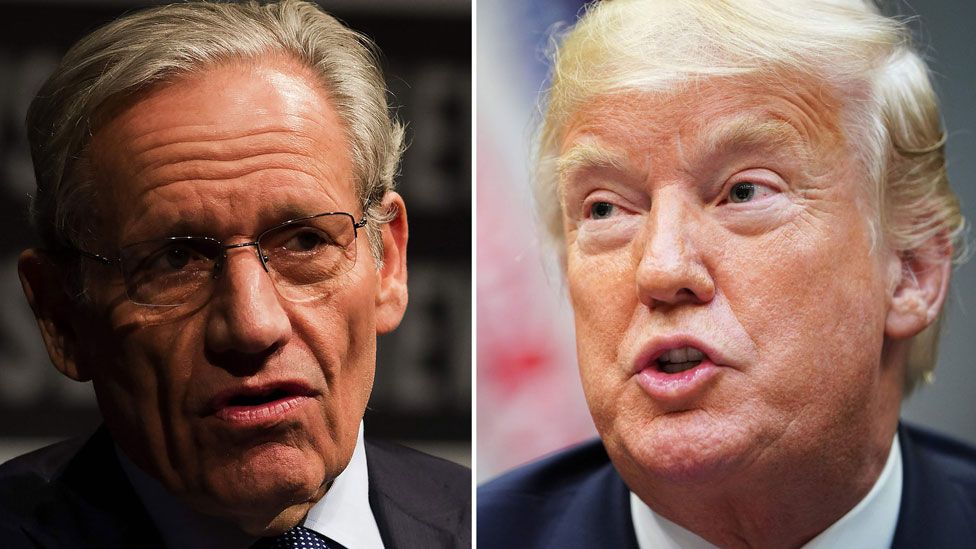 US President Donald Trump has condemned a book on his White House by renowned Watergate journalist Bob Woodward as a "con on the public".
Mr Trump's chief of staff and defence secretary, in responses posted by the president on Twitter, described the book as "pathetic" and "fiction".
In the book, senior aides are quoted as saying they hid sensitive documents to prevent Mr Trump signing them.
They are quoted as calling him an "idiot" and a "liar".
The book - Fear: Trump in the White House, scheduled for release on 11 September - reveals a chaotic administration having a "nervous breakdown of executive power".
Woodward is a widely respected and veteran journalist who helped expose President Richard Nixon's role in the Watergate scandal in the 1970s.
How has the president responded?
He sent out a series of tweets carrying his own views, along with statements from Defence Secretary Jim Mattis, chief of staff John Kelly and White House spokeswoman Sarah Huckabee Sanders.
The Woodward book has already been refuted and discredited by General (Secretary of Defense) James Mattis and General (Chief of Staff) John Kelly. Their quotes were made up frauds, a con on the public. Likewise other stories and quotes. Woodward is a Dem operative? Notice timing?

— Donald J. Trump (@realDonaldTrump) September 4, 2018
Mr Trump says quotes attributed to Mr Mattis and Mr Kelly were "made up frauds, a con on the public. Likewise other stories and quotes".
He says the book is "already discredited" with "so many lies and phony sources", rejecting an allegation that he had used the terms "mentally retarded" and "dumb Southerner" to describe Attorney General Jeff Sessions.
The statement from Mr Mattis describes the book as "a product of someone's rich imagination" and adds: "The contemptuous words about the president attributed to me in Woodward's book were never uttered by me or in my presence."
The statement from Mr Kelly says: "The idea I ever called the president an idiot is not true... He always knows where I stand and he and I both know this story is total BS... This is a pathetic attempt to smear people close to President Trump."
Ms Sanders said the book was "nothing more than fabricated stories, many by former disgruntled employees, told to make the president look bad".
In an interview with the Daily Caller, Mr Trump said that "it's just another bad book", adding that Woodward "has a lot of credibility problems".
The president resumed his attack on the book in a tweet on Wednesday morning:
Isn't it a shame that someone can write an article or book, totally make up stories and form a picture of a person that is literally the exact opposite of the fact, and get away with it without retribution or cost. Don't know why Washington politicians don't change libel laws?

— Donald J. Trump (@realDonaldTrump) September 5, 2018
What are the allegations in the book?
One of the main claims is that current and former aides kept sensitive documents off his desk to prevent him from signing them, or took different actions to those demanded by the president.
This amounts to an "administrative coup d'état", Woodward says.
The book says Mr Trump had ordered the Pentagon to arrange the assassination of Syrian President Bashar al-Assad.
"Let's [expletive] kill him! Let's go in. Let's kill the [expletive] lot of them," Mr Trump is reported to have told Mr Mattis.
The book says Mr Mattis acknowledged Mr Trump's request but then, after the conversation, told an aide he would not do "any of that".
Mr Mattis is also quoted as saying Mr Trump had the understanding of "a fifth- or sixth-grader" - the age of 10 or 11 - in understanding foreign affairs.
Woodward says chief economic adviser Gary Cohn and White House staff secretary Rob Porter removed documents from the president's desk to keep Mr Trump from signing them.
The documents would have allowed the president to withdraw from the North American Free Trade Agreement and a trade deal with South Korea.
"It felt like we were walking along the edge of the cliff perpetually," Mr Porter is quoted as saying.
The book quotes Mr Kelly as saying: "We're in Crazytown... This is the worst job I've ever had"
Ex-Trump lawyer John Dowd calls the president "a [expletive] liar"
Mr Trump compares his first chief of staff, Reince Priebus, to a rat. "He just scurries around"
Mr Trump tells Commerce Secretary Wilbur Ross he does not trust him, saying: "I don't want you doing any more negotiations. You're past your prime"
Mr Trump's relationship with Rex Tillerson never recovered after reports the ex-secretary of state had called the president "an [expletive] moron"
Is Bob Woodward credible?
It would be hard to find a journalist with greater credentials. After all, his investigations with Washington Post colleague Carl Bernstein helped bring down Richard Nixon and he has written books on many leaders, including George W Bush and Barack Obama.
He is certainly one of the most respected and well-informed political analysts.
The BBC's North America reporter Anthony Zurcher says that Woodward has unrivalled access to the corridors of power, and the general Washington consensus is that it is better to talk to him than not, since colleagues - and enemies - are certainly giving him their side of the story.
Back in 2013, Mr Trump had responded to a row between Woodward and the Obama administration with a tweet saying: "Only the Obama WH can get away with attacking Bob Woodward."
Did the president speak to Woodward?
In it, the president says to the reporter "I think you've always been fair" and claims he was never contacted for an interview or informed of Woodward's soon-to-be-published work.
The assertion is rebutted by the reporter, and the transcript suggests White House aides, including adviser Kellyanne Conway, were aware of requests for Trump-Woodward talks.
Woodward says he has "gained a lot of insight and documentation" and that his book will be a "tough look at the world and your administration and you".
"I assume that means it's going to be a negative book," the president replies. "So I have another bad book coming out. Big deal."
Woodward says: "I believe in our country, and because you're our president, I wish you good luck."