Student loan watchdog: US 'turned its back' on students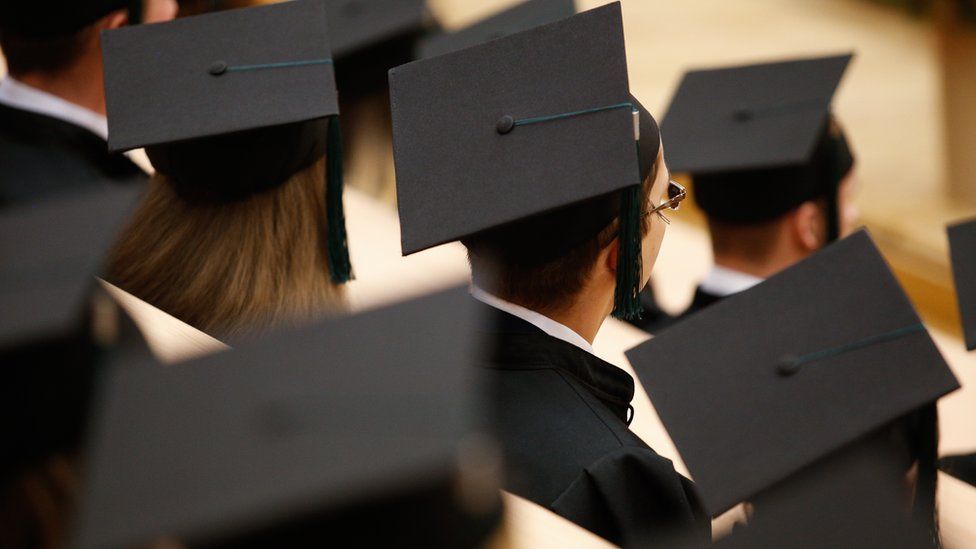 The top US official overseeing student loan complaints has resigned, alleging that the government has abandoned borrowers, US media report.
Seth Frotman, who served as Student Loan Ombudsman at the Consumer Financial Protection Bureau (CFPB) for three years, is due to leave by Friday.
His resignation letter reportedly said the CFPB "silenced warnings" and favoured companies over students.
The CFPB has declined to comment on "personnel matters".
The CFPB's Student Loan Ombudsman position was created by Congress in 2010 after the financial crisis, with the directive to handle issues in America's $1.5t (£1.1t) student loan market.
Mr Frotman was responsible for reviewing thousands of complaints from students about private lenders and debt collectors. His office is one of the only sectors of the government to handle these loan issues.
In a letter addressed to CFPB acting director Mick Mulvaney, published in full by NPR, Mr Frotman said the CFPB was now "shield[ing] student loan companies from accountability for widespread abuses".
"For nearly seven years I was proud to be part of an agency that served no party and no administration; the Consumer Bureau focused solely on doing what was right for American consumers. Unfortunately, that is no longer the case."
"At every turn your political appointees have silenced warnings by those of us tasked with standing up for servicemembers and students."
Mr Frotman's letter outlined three broad ways in which the CFPB "made sweeping changes" that ultimately hurt families: undercutting law enforcement, undermining the CFPB's political independence and shielding "bad actors" from scrutiny, according to US media.
"For seven years, the Consumer Financial Protection Bureau fought to ensure these families received a fair shake as they strived for the American Dream," Mr Frotman wrote.
"Sadly, the damage you have done to the Bureau betrays these families and sacrifices the financial futures of millions of Americans in communities across the country."
Mr Frotman has worked with the CFPB for seven years and has been the ombudsman since 2015.
In a statement to US media, the CFPB said it "does not comment on specific personnel matters".
Why is his resignation controversial?
The ombudsman's office works with CFPB enforcement officials to call out any questionable behaviour in the market and serve as an advocate for borrowers within the government.
Since 2011, Mr Frotman's non-partisan office has played a key role in returning over $750m to borrowers.
His office was also at the centre of recent lawsuits against loan companies and for-profit colleges.
According to a 2017 CFPB report, student complaints "have served as the critical link in a process through which government agencies and market participants have repeatedly taken action to improve the student loan system for millions of Americans".
Under US President Donald Trump, the justice and education departments have favoured practices protecting debt collectors from state regulations.
Mr Mulvaney, a Republican from South Carolina, had been a fierce critic of the CFPB before he was appointed as its director.
Over the summer he directed the student loan office to be moved under consumer education rather than enforcement.
And this month, US Education Secretary Betsy DeVos announced her department would end an Obama-era rule that mandated for-profit colleges show their students could obtain jobs that paid decent salaries.
"This administration is working to ensure students have transparent, meaningful information about all colleges and all programmes," Ms DeVos said.
"Our new approach will aid students across all sectors of higher education and improve accountability."
But Julie Margetta Morgan, a fellow at the Roosevelt Institute think-tank and a higher education scholar, told the BBC that these changes within the CFPB are particularly significant because the bureau - under Mr Frotman - made sure to support populations that may not always make it into mainstream conversations about student loans: veterans, lower-income families and older Americans.
These groups have been most vulnerable to predatory industry behaviours like deceptive marketing strategies aimed to get students into loans they may not even need, she adds.
"When the agency is very obviously catering to the needs of those who are the most powerful and wealthy in the industry, it's hard to see how the needs of average Americans are going to get represented adequately," she says.