New York luxury high-rise gunman turns himself in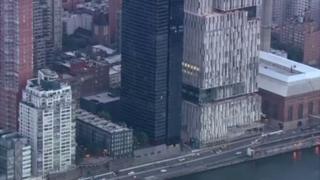 A man suspected of being the mystery shooter who fired twice at a luxury Manhattan apartment building has turned himself in, police say.
Farris Koroma, 22, walked into the police station with his attorney early on Friday morning and said he was the suspect caught on surveillance footage.
Police say the suspect fired in both incidents from across the East River on Roosevelt Island.
Windows on two floors were shattered but no injuries were reported.
Mr Koroma faces criminal possession of a weapon, reckless endangerment and criminal mischief charges.
He is not believed to have a criminal record, local news outlet Pix 11 reported.
The two shootings, which began on 14 August, happened in the span of less than 48 hours.
In both incidents, victims were awoken to the sound of bullets crashing through the windows of their apartments at One East River Place, police told the BBC.
During a weeklong manhunt, the New York Police Department (NYPD) released footage of the suspected gunman and a woman walking along the river.
Police said the woman is just a witness and will not be arrested.
Mr Koroma was moved to a central booking office on Friday. He is scheduled to appear before a judge later on Friday, according to ABC 7.
In both incidents, the victims were awoken by the sound of their glass windows breaking.
Police later recovered bullet fragments from the flats, which are on the 14th and 32nd floors of the 50-storey rental building.