Jeff Sessions: US attorney general hits back at Trump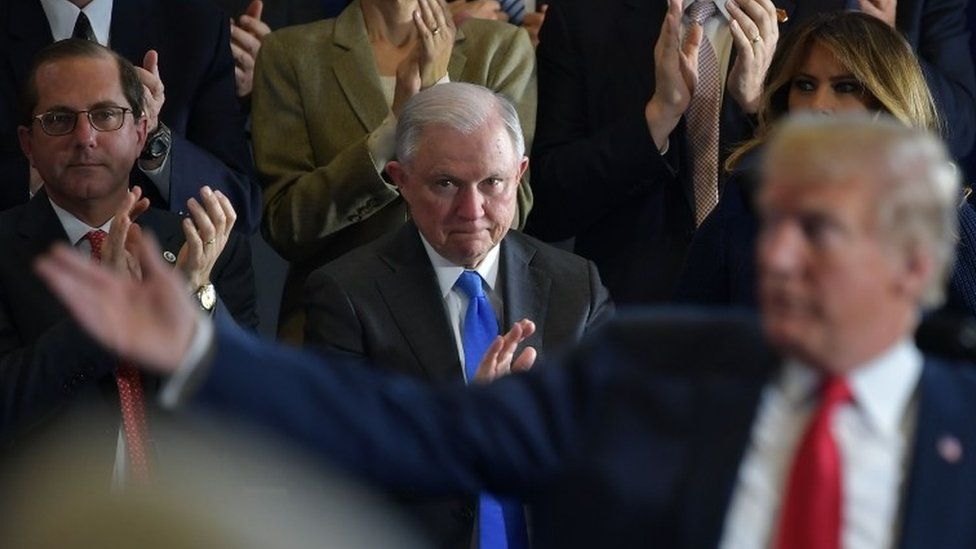 US Attorney General Jeff Sessions has responded to Donald Trump's latest attack on him by insisting that the justice department he heads will not bend to political pressure.
The apparent rebuke of Mr Trump came after the president said Mr Sessions was not in control of his department.
Mr Trump has been vociferous in his criticism of the Department of Justice.
He has been particularly riled by its handling of the inquiry into Russian interference in the 2016 election.
Mr Sessions, an early supporter of Mr Trump's campaign, has stepped aside from that inquiry to avoid a potential conflict of interest and handed control to his deputy, Rod Rosenstein.
That decision by Mr Sessions, and the ongoing progress of the inquiry under special counsel Robert Mueller - which is also reportedly now looking into whether Mr Trump has attempted to obstruct justice - have provoked frequent outbursts from the president, both in person and on his Twitter feed.
The president remains insistent that there was no collusion between his campaign and the Russian government, and denies he has attempted to obstruct justice.
After the latest exchanges, two key Republican senators signalled that they would support Mr Trump if he were to fire Mr Sessions after the November mid-term elections.
"I took control of the Department of Justice the day I was sworn in," the attorney general said in a statement.
"While I am attorney general, the actions of the Department of Justice will not be improperly influenced by political considerations.
"I demand the highest standards, and where they are not met, I take action."
He added: "No nation has a more talented, more dedicated group of law enforcement investigators and prosecutors than the United States.
"I am proud to serve with them and proud of the work we have done in successfully advancing the rule of law."
Previously, Mr Sessions had been largely non-committal following criticism of him by the president, who appears to believe that Mr Sessions should have shown him greater loyalty instead of recusing himself from the Russia inquiry.
What did Trump say about Sessions?
In an earlier interview with the Fox and Friends programme, Mr Trump said: "I put in an attorney general that never took control of the justice department. Jeff Sessions never took control of the justice department and it's a sort of an incredible thing."
Turning to the Russia inquiry, the president said: "Jeff Sessions recused himself, which he shouldn't have done. Or he should have told me [before I appointed him].
"Even my enemies say that Jeff Sessions should have told you that he was going to recuse himself, and then you wouldn't have put him in. He took the job and then he said I'm going to recuse myself. I said: 'What kind of a man is this?'
"You know the only reason I gave him the job? Because I felt loyalty, he was an original supporter. He was on the campaign. He knows there was no collusion."
By Tara McKelvey, White House reporter
Jeff Sessions was originally brought into the Trump campaign because of his hardline views on immigration.
A stubborn man, Mr Sessions fought for decades for anti-immigration policies. Still, he has a gentle manner. I've seen him greeting colleagues with a shy smile at White House events.
Mr Trump prides himself on never giving up, and he admires grit and determination in others - and found those traits in Mr Sessions.
But now he is driving President Trump crazy. Mr Sessions is just as determined as Mr Trump is - and also refuses to back down. Only Mr Sessions is guided by a set of bedrock conservative principles, rather than the egotism and quicksilver impulses that fuel Mr Trump's tweets and, increasingly, his TV interviews.
For these reasons Mr Sessions is a formidable enemy, and the battle between these two men could be long.
Mr Sessions made his statement during a fraught week for the White House.
Two days ago, in the most dramatic developments yet linked to the Russia inquiry, former Trump campaign manager Paul Manafort was found guilty of tax and bank fraud and Mr Trump's former personal lawyer Michael Cohen pleaded guilty to crimes including tax evasion, bank fraud and campaign finance violations.
Under oath, Cohen said he had been directed by Mr Trump to organise secret payments to silence two women who claimed they had affairs with the then Republican presidential candidate, violating campaign finance laws. Mr Trump has denied he broke the law.
The sense that the president's legal troubles are growing were not dampened by Thursday's US media reports that prosecutors in the Cohen case had granted immunity from prosecution to the chairman of the company that publishes the National Enquirer, David Pecker, a friend of Mr Trump.
In the lead-up to the 2016 presidential election, Playboy model Karen McDougal sold her story of her alleged affair with Mr Trump to the Enquirer.
The contract she signed gave the tabloid exclusive story rights and banned her from talking publicly about the alleged affair. The story was never published.
Despite the sense of crisis, it is generally believed that the Department of Justice is very unlikely to bring charges against a sitting president.
And correspondents say it is unlikely Mr Trump's opponents would try to impeach him before the mid-term elections.
Mr Trump's most fervent supporters, what he refers to as his "base" outside the political cauldron of Washington DC, seem unfazed by the latest developments.
What else did Trump say in his interview?
During the Fox News interview that was aired on Thursday, the president:
Responded to speculation that he might be impeached by warning that any such move would damage the economy
Insisted that payments to two women alleging they had affairs with him had not broken election campaign rules
Attacked the "flipping" process - whereby prosecutors promise a suspect a short sentence in exchange for co-operation - as "not fair" and something that "almost ought to be outlawed"
Claimed that Cohen avoided up to 20 years in jail because "if you can say something bad about Donald Trump... you'll go down to two years or three years, which is the deal he made"
Said he would award himself an "A-plus" grade for his work as president so far.