'After 37 years I caught my brother's killer on Facebook'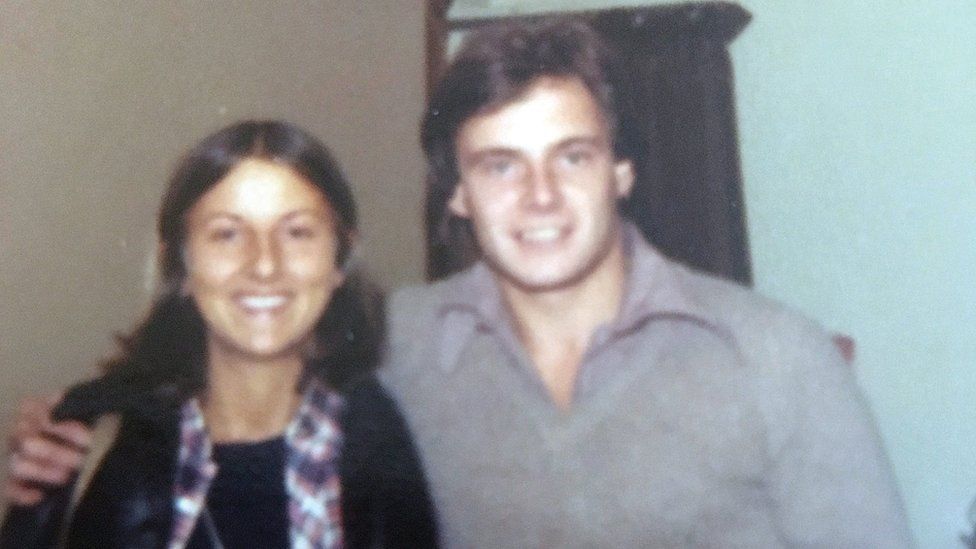 Nearly 40 years after the tortured corpses of a young British couple were discovered in Caribbean waters, and the trail for the killer went cold, a breakthrough came from an unlikely source on the other side of the world, writes Ben Dirs.
You can find anything on the internet. An old schoolmate, a long-lost cousin, an ex-girlfriend. A dog that ran away.
If they're not on there, someone will be who knows how to find them. In the age of social media, there is no escape.
On the afternoon of 2 October 2015, Penny Farmer returned from a walk in the Oxfordshire countryside, flipped open her laptop, fired up Facebook and typed in the name of the man she suspected of murdering her brother, back when the world was a bigger place.
And there he was. Grey beard. Baseball cap. Sunglasses. Denim shirt. Looking, Penny thought, just like a serial killer.
"Heaven knows why I didn't look earlier," says Penny, a cheerfully frank woman who tells her story without indulging in self-pity.
"I suppose I thought he was lost to us. He just seemed so remote and hidden. But thank God I did."
In July 1978, the bodies of Penny's brother Chris and his girlfriend Peta Frampton were found floating off the coast of Guatemala. They had been tortured, bound and weighed down with engine parts. The doctor who carried out the autopsy stated that "the aspects of [both corpses] were monstrous".
In Manchester, Penny's parents awaited Chris' next letter. Chris, a 25-year-old doctor, and Peta, a 24-year-old lawyer, were childhood sweethearts on an exotic adventure. Both wrote regularly, but in that pre-digital age, especially in Central America, communication was haphazard. Lapses were to be expected.
But when days turned into weeks, turned into months, the families of both Chris and Peta began to fret. Government authorities and police were notified, searches were carried out, appeals were made, sightings were reported.
Peta's letters to her parents had revealed that she and Chris had met an American and his two young sons in Belize, shelved their original plan to catch a bus to Mexico and decided to sail on the American's small fishing boat to Honduras instead. In the last letter she sent, Peta signed off with: "Nothing much happens on a boat."
Penny's father contacted the harbour master in Belize, who revealed that the Justin B had set sail with Chris and Peta on board but returned without them.
Stories you may also be interested in:
The American, one Silas Boston, was traced to Sacramento, California, and questioned by the British Consulate General. Though convinced of Boston's involvement in Chris and Peta's disappearance, they could garner no proof.
Remarkably, Greater Manchester Police allowed Penny's father to telephone Boston. Boston was arrogant and evasive and denied knowing anything.
On 1 February, the Farmer family received the call they had been dreading. When Penny walked into the front room, having been called home by her weeping mother, the first thing she saw was Chris' graduation photograph.
"The thought flickered through my head - there will be no more photographs."
Soon, the case was cold. There had been no crime scene investigation, no story in the Guatemalan newspapers, no assistance from the Guatemalan police.
Boston's story was full of holes, he had a rap sheet that included assault, carrying a concealed firearm and rape, and the third of his seven wives had disappeared 10 years earlier. But the Sacramento Police Department could make no headway.
Most remarkable of all, Boston's two sons were never interviewed and there was no suggestion that anyone had tried to trace them.
"It's difficult to imagine just how difficult it was back then, with no computers or mobile phones," says Penny.
"Guatemala was a third-world country, and there wasn't really a Guatemalan police force. There was no communication with Britain, because they laid claim to Belize, which was a British territory.
"The American police weren't very helpful. The Greater Manchester Police handed the case back to my dad. And something happened in the 1980s, which we don't know the full extent of, that made the case fall off a cliff completely.
"I could see the effect it had on my parents, but they didn't buckle. My mum took one day off work, not because she didn't love Chris, but because she thought she couldn't give into it. There was no counselling or medication, Mum and Dad just knew they had to cope. I find that really admirable."
Penny, who was 17 when her brother was murdered, went off to university, became a journalist, got married and had three children. She found happiness again, as, she thinks, did her parents. But they remained plagued by questions.
"You develop ways of coping with it but scratch the surface and not far beneath remains huge hurt. I know my parents were haunted by the thought, 'Why did they end up as they did?'
"A lot of people have sadness in their lives, but Chris and Peta's deaths were particularly tragic. They were so innocent, lambs to the slaughter, and they would have had fulfilling, worthwhile lives."
With the advent of the internet, Penny's father attempted to breathe new life into the case. His email to the Sacramento Police Department is heart-breaking in its lack of bitterness or rancour.
Penny's father died in 2013, knowing that something terrible happened to his son, but neither how or why.
That might have been that, had Penny not had her lightbulb moment, out with her mum in the Oxfordshire countryside.
Not only did Penny find Silas Boston on Facebook, she found his two sons, Russell and Vince, as well as his fifth wife. She messaged them all but got no immediate reply.
Undeterred, Penny contacted Greater Manchester Police, which contacted the Sacramento Police Department, which, it just so happened, had just reopened the case into the disappearance of Boston's third wife. Renewed hope, at last.
Astonishingly, Boston's sons had told the police that it was an open family secret that their father had killed their mother.
Even more astonishingly, they had spent the best part of three decades trying to convince the police that they had witnessed their father murdering Chris Farmer and Peta Frampton in Guatemala.
The Sacramento Police Department, the Royal Canadian Mounted Police, the FBI, Interpol, Scotland Yard, the Serious Organised Crime Agency (which in 2013 was replaced by the UK's National Crime Agency) - all are believed to have been informed. None of them acted. Meanwhile, Boston, his body failing after a debauched life on the run, had returned home to California.
In March 2016, six months after her initial Facebook enquiries, Penny, her mother and her older brother Nigel gathered at Greater Manchester Police offices in Ashton-under-Lyne. Officers had brought along witness statements from Boston's two sons. Penny's mother wanted them to spare no detail.
"It's quite incredible how much I know about what happened that day," says Penny.
"Boston was a rapist. My brother was in a very bad way, tied-up on the top deck. Peta was down in the cabin. I don't really need to say any more. I hope people can join the dots without me being too graphic.
"The really heart-warming thing was that even though Chris had a fractured skull and other broken bones, and there was blood all over the deck, he was still trying to comfort Peta, telling her it was all going to be alright. Even when they were trussed-up like turkeys, waiting to be thrown overboard."
Russell also claimed his father murdered two more tourists, possibly from Scandinavia, only a fortnight later. Penny discovered that attempts had been made by the FBI to trace them at the time, to no avail again.
Boston was eventually tracked down to a nursing home in Eureka, California. A couple of years earlier, having complained of having no friends, a carer set up a Facebook page for him. The carer could be forgiven for thinking, 'Who would be looking for this sad old man anyway?' Boston thought the same.
Thinking Boston might be the so-called Golden State Killer, who terrorised California in the 1970s and 80s, police took a swab. A DNA test came back negative. (Joseph DeAngelo, the man police think is the Golden State Killer, was arrested in April and is accused of 13 murders and dozens of rapes).
However, the FBI had tracked down various witnesses from Belize and Guatemala, including one of the ambulancemen who had retrieved Chris and Peta's bodies from the sea and who was now living in New York. They had also traced the doctor who wrote the autopsy, who was now in his 90s, as well as the harbour master from Belize, who had corresponded with Penny's father.
Penny also visited Boston's son Russell in America. When the woman sitting next to her on the plane asked what she planned to do in California, Penny replied, "I'm going to meet the guy who saw my brother murdered".
Penny was surprised by how normal Russell seemed, despite having lived his entire life in fear of a psychopathic father.
Boston had confided in Russell that he had killed 33 people. If true, that would make Boston one of the most prolific serial killers in American history. He even threatened to kill Russell and his brother, immediately after killing Chris and Peta, to keep his secret safe.
Russell described life on the boat, which sounded almost idyllic. They sailed the Caribbean Sea for hours in glorious sunshine, fishing over the side. Even Russell's father loved listening to Chris's music on his beloved 'boombox'. Supertramp's Crime of the Century was a favourite.
Russell described how Chris had defended him from his father and how his father had sought revenge.
And he described how his father would grow agitated, after Chris and Peta were dead, when Pink Floyd's Dogs came on: "When they turn their backs on you, you'll get the chance to put the knife in…"
On 1 December 2016, 14 months after Penny had located him on Facebook and 38 years after his despicable crime off the coast of Guatemala, Boston was arrested and charged with the murders of Chris Farmer and Peta Frampton.
However, Boston had a few more tricks up his sleeve. Strapped to a hospital bed, his organs failing, he exercised his right to withdraw medical treatment.
On 24 April 2017, Penny received the news that Boston was dead.
"He took the coward's way out," says Penny. "I felt cheated. I would have relished seeing him in court and telling him how he'd devastated both our families. Bringing him down had become an all-consuming passion. But he exited on his terms. That was him sticking two fingers up at the world.
"Closure is a lovely term, and I do believe that closure only comes when the truth is known. My mother is 93 and now has all the answers to the questions that haunted her for 38 years. But just because you've found answers doesn't mean you stop hurting. I'm not quite there yet."
A statement from Greater Manchester Police said the case went cold because of a lack of evidence but was never closed.
"As with all cases, when new information came up, we started looking back into it. The Farmer family were very positive about our investigation when more evidence came to light."
Penny has written a book, Dead in the Water, about Chris and Peta's murders and her attempt to bring Boston to justice. She hopes it will stand as a lasting memorial to a beloved brother who had so much more to give.
It is also, Penny happily concedes, simply a remarkable story, almost too mad to make up, too good not to tell and which one day, no doubt, will be a film.
But Penny suspects the story is not over yet. Most of all, she would like to know why the case was closed, allowing a psychopath to roam free and kill again.
So while Penny's work on the case is at an end, she hopes others will delve deeper.
Because, as Penny well knows, the world got smaller.