Over 175 ex-US spy officials join Brennan clearance outcry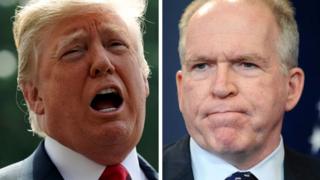 More than 175 former US intelligence leaders have backed ex-CIA chief John Brennan since the president revoked his security clearance.
In the third bi-partisan letter of its kind, the former top security officials noted their opposition to President Donald Trump's threats and actions.
CIA, State Department and Navy alumni, as well as US ambassadors and US attorneys signed the letter on Monday.
The White House has defended Mr Trump's decision to revoke security clearances.
"All of us believe it is critical to protect classified information from unauthorised disclosure," reads the letter, published online by Axios on Monday.
"But we believe equally strongly that former government officials have the right to express their unclassified views on what they see as critical national security issues without fear of being punished for doing so."
Former National Security Adviser Anthony Lake and former Nasa administrator and Navy secretary Sean O'Keefe have signed the letter, along with more than 20 former US attorneys and 10 former ambassadors.
The letter notes that the signatures do not mean these officials necessarily agree with Mr Brennan's views or actions, but they represent "our firm belief that the country will be weakened if there is a political litmus test applied before seasoned experts are allowed to share their views".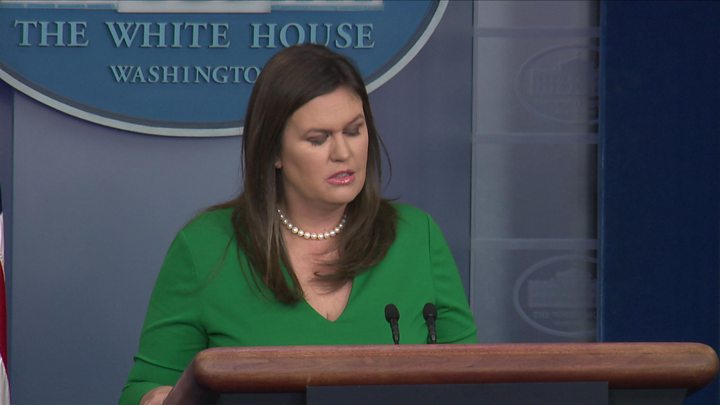 Mr Brennan, a vocal critic of Mr Trump, has been locked in a war of words with the president after arguing the Russia investigation was "well-founded".
He had described Mr Trump's controversial news conference with Russian President Vladimir Putin as "nothing short of treasonous".
During an interview on Sunday for NBC's Meet the Press, Mr Brennan said he is considering taking legal action against Mr Trump.
"I am going to do whatever I can personally to try to prevent these abuses in the future. And if it means going to court, I will do that."
Mr Brennan said his reputation was "a small price to pay" to "prevent Donald Trump from doing this against other people".
Mr Trump responded on Monday, tweeting: "I hope John Brennan, the worst CIA Director in our country's history, brings a lawsuit."
Mr Trump added that people were only supporting Mr Brennan because they wanted to keep their own clearances, which are worth "big dollars".
Rudy Giuliani, one of the president's personal lawyers, also tweeted about the row, daring Mr Brennan to go ahead with legal action.
Mr Trump revoked Mr Brennan's clearance on 16 August.
The White House has said that Mr Brennan's access to sensitive government information was revoked due to his "erratic conduct" and "outrageous allegations".
Last week, more than a dozen former intelligence officials signed a similar statement criticising the removal of Mr Brennan's security clearance. Sixty former CIA officials later added their names to the statement.
The joint statement called Mr Trump's actions "an attempt to stifle free speech".
Former top intelligence officials typically retain their clearances for a time, often advising successors.
Mr Trump told reporters on Friday that he "never respected" Mr Brennan and that he has "had a tremendous response" for revoking his security clearance.
The president has also said he is reviewing security clearances for nine other high-ranking officials.
The nine people currently on a review list have all criticised the president.
Many have also been involved in the investigation into whether anyone on the Trump 2016 election campaign colluded with Russia.