How a pink hair challenge aided dyslexic girl's reading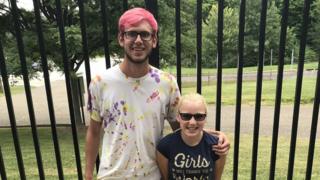 When 11-year-old Samyra from Ohio, US was diagnosed with dyslexia, she lost her motivation to read.
"She felt very bad about herself," her mum Kris explained. "She was almost embarrassed. She thought there was something wrong with her."
So when Samyra told summer camp counsellor Oliver about her diagnosis, he wanted to help.
"It started almost as a joke," Oliver said. "I told her that if she could read 10 books [in five weeks], she could dye my hair another colour.
"She got really into it and we made it official. She picked the books, and we made a chart that her parents would sign off on so she couldn't cheat."
Oliver gave Samyra a day to decide what colour he should dye his hair if she completed the challenge. She did not have to think about it for long.
"I told him right away," said Samyra, "I told him hot pink. His favourite colour is purple, but I knew he'd look good in pink.
"I honestly did not think I could read it all. That's a lot for me to read."
Five weeks, 10 books, 1,796 pages
Samyra had exactly five weeks to read 10 books - a daunting task for even the most ardent reader - but she had a secret weapon.
"I went home and I started reading," she said. "It takes me a really long time to read, but I have a programme that helps dyslexic kids."
Samyra was using Learning Ally, a computer programme that combines an audiobook with the written word itself - so you can "read along" with a book being read aloud.
So at first, two books a week seemed possible, but she quickly ran into a snag.
"I read this book, I Even Funnier," she said. "But it took me all week... I was freaking out."
Oliver explained that Samyra quickly figured out her mistake.
"That first book she read was 345 pages," he said. "Then each of the next books were about 170 pages.
"I thought it was funny. She realised she couldn't do that pace, so she figured she'd read shorter books.
"She was reading them so quickly, I had to look them up and check to make sure I wasn't getting swindled!
"She read lots of books from the Whatever After series. They're like modern-day fairy-tales. But they're all real books, lots of words, lots of pages."
When the reading gets tough, the tough get reading
By the halfway point, Samyra had read a whopping 849 pages, which amounted to four books.
"She got a little behind as the month went on," Oliver said. "But the entire time she was saying, 'you're gonna have pink hair, you're gonna have pink hair'.
"Honestly, I had faith she would do it. After a few weeks, first thing every day she would come to me, pull her folder out and show me her chart signed off by her parents.
"I realised she really wanted to do it."
He was right. At this point, Samyra was focusing on reading "more than anything else".
"I kept reading," she said. "I stayed home because I had to read the books. I wanted him to have pink hair.
"It got where there were four days left and I stayed home reading all day. Every day, I read a book.
"It was really late at night when I finally finished... I almost started crying.
"The next day I went to camp and told him I'd done it. He was going to be hot pink."
When all was said and done, Samyra had read 1,796 pages in five weeks.
In the pink
Oliver kept his word. It took him a few days, but he soon turned up to camp with bright pink hair.
"I can't take him seriously any more!" Samyra said. "Every time I look at him I keep laughing.
"It helped me lots. So much. I feel like he was happy for me. I think he was proud of me."
Oliver agreed - but explained that he was not the only one feeling a sense of pride.
"You should see just how proud she is," he said. "Having her see that even with dyslexia, she could still read and read at a high level, that was really something.
"It's close to 50 pages a day. I presented her a challenge and she overcame it - it showed her she can accomplish these things.
"But it's not a one-man show at camp. Other people work so hard to make the camp amazing."
A mother's perspective
Kris, Samyra's mother, explained how much Oliver's challenge meant to her.
"I told him how great I thought it was," she said. "It really got Samyra back into reading. She came home and she was ready.
"Even now that the challenge is over, she was up late reading her book before bed.
"She's reading it herself now, too. It's made her realise she can do it.
"When I saw him with the pink hair, he was just smiling. He is so great. I just can't thank him enough."
She also explained that the challenge has encouraged Samyra with her volunteering work - though the 11-year-old cut her off before she could finish.
Samyra listed a variety of charitable foundations she has been involved in, including raising money for the American Society for the Prevention of Cruelty to Animals and local animal shelters.
"Every weekend we have to come up with new ways to help people," Kris said. "She's going to definitely change the world for sure, somehow."
---
Samyra's book club
I Even Funnier
Fairest of All
If the Shoe Fits
Sink or Swim
Bad Hair Day
Dream On
Cold as Ice
Beauty Queen
Genie in a Bottle
Once Upon a Frog
---
By Tom Gerken, BBC UGC & Social News