Colorado father denied bail as wife and daughters' bodies are 'found'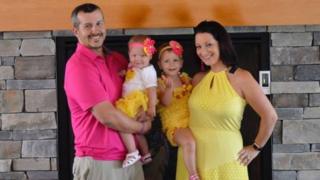 Investigators in Colorado believe they have found the bodies of a missing pregnant woman and her two daughters, as the husband appeared in court.
Chris Watts, 33, was denied bail in Thursday's hearing when he said nothing other than to acknowledge his rights.
Shanann Watts, 34, who was 15 weeks pregnant, and the couple's daughters Celeste, three, and Bella, four, were reported missing on Monday.
No indictment has yet been filed in the case.
But Mr Watts could face murder charges and three counts of tampering with evidence, Weld County Jail officials say.
Judge Marcelo Kopcow reportedly told prosecutors to file formal charges next Monday, and set a hearing date for Tuesday.
Colorado Bureau of Investigation Director John Camper told a news conference on Thursday: "At this point we have been able to recover a body that we're quite certain is Shanann Watts' body.
"We have strong reason to believe that we know where the bodies of the children are and recovery efforts are in process on that."
Mrs Watts' body was found on the premises of Anadarko Petroleum Company, according to local media.
Mr Watts worked for the company until Wednesday when he was fired following his arrest, reports the Denver Post.
The FBI was also called in to help the search, and released descriptions of the family so they could be more easily identified.
Police launched an investigation after a close friend of Mrs Watts said she was not answering her phone.
On Facebook, a friend posted that she had vanished without taking her phone, children's car seats, purse or children's medicine.
Chris Watts spoke to reporters about the hunt, telling local ABC affiliate Denver7 that he wanted "everybody to come home".
"I hope that she's somewhere safe right now and with the kids," he told the station.
"If somebody has her and they're not safe, I want them back now," he said.
Police passed out missing person fliers on Wednesday.
But late on Wednesday officials announced that Mr Watts had been arrested and was being held in the Weld County Jail.
"The Frederick Police Department, in conjunction with the FBI and the Colorado Bureau of Investigation, has made an arrest in connection to the missing person's case," an update posted on the town's Facebook page read.
"Chris Watts, the husband of Shanann, has been placed into custody and is awaiting charges."
Warning: Some viewers may find this video disturbing
According to CBS News, he agreed to bring officers to the location of the bodies.
Shanann Watts' family provided a statement to the network saying: "It is with deep hurt, confusion and anger to confirm our beautiful cousin Shanann Watts, her unborn child, and her two angelic daughters, Bella (4), Celeste (3) were viciously murdered by husband Chris Watts; who confessed to the killings."
"Please keep Shanann's parents and brother in your prayers."
Mrs Watts had posted a number of pictures of her husband and daughters on Facebook.
One was captioned: "Without these 3, I wouldn't be a mom! I couldn't imagine my life without them!"