Canadians rescued from flooding elevator describe ordeal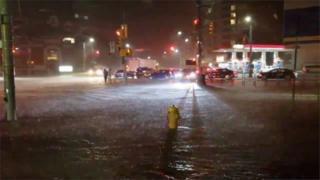 Two Canadians say they are happy to be alive after they were trapped in a rapidly flooding elevator in Toronto during a torrential downpour.
Klever Freire and Gabriel Otrin spoke to media about what it was like to fight the rising water in the moments before police rescued them.
By the time police officers arrived, there was just one foot (30cm) of air space left in the elevator.
"I'm not sure how much time we had left in there," Mr Freire said.
Toronto was hit by tropical-like storms on Tuesday evening, with nearly 60 millilitres of rain pouring down in some parts in a matter of hours.
Mr Friere said he had heard the garage of his office building was flooding, so he took the elevator to check on his car. Mr Otrin joined him.
But when they approached the lower level the elevator began to fill with putrid-smelling water. The water quickly reached their waists, covering the emergency speaker and shorting the electricity so the buttons would not work.
"I prayed about it," Mr Otrin told CBC on Wednesday. "I was able to remain calm as a result because I knew God would save us."
With no cell reception in the cramped compartment, Mr Otrin and Mr Friere began punching the hard ceiling of the elevator to open the shaft.
It took so much effort that both men suffered cuts and bruises on their knuckles, but they were able to hold an arm into the shaft to use Mr Otrin's cell phone and dial emergency services.
"We climbed the handrails, but then we actually ended up breaking them off because in order to get enough leverage to start forcing the panel up we broke the handrails off," Mr Friere told CTV News.
"So that became a little bit more dangerous to keep the phone above water so that we could continue trying to get reception."
By the time Const Ryan Barnett and Const Josh McSweeney arrived minutes later, the basement was filled water and police had to swim to the elevator, where they pried the doors open with a crowbar.
Const McSweeney said the men "might have had about five or 10 more minutes" left, as there was only about one foot left of air left in the elevator.
"I went to bed, I couldn't sleep. I was very excited and happy. You get to save a couple of people's' lives. It's what we do this job for," Const. Barnett told CTV.
"I'm sure any other officers who got the call would've done the exact same thing."