Ontario Premier Doug Ford promises 'a buck a beer'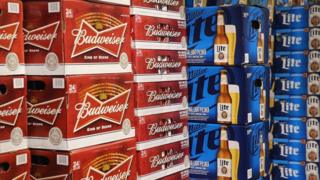 Ontario Premier Doug Ford won June's election with a populist platform that, amongst other things, promised to reduce the cost of beer in the province to just one dollar a can. So what's the catch?
When Herbert Hoover ran for the US presidency in 1928, he promised voters that if he was elected, there would be "a chicken in every pot and a car in every garage".
Flash-forward 90 years later, and politicians are still promising citizens all kinds of stuff.
In India, politicians have promised to give voters everything from sandals and eyeglasses to smartphones and televisions.
In Argentina, President Cristina Fernandez shored up popular support by making broadcasts of Argentine first division football free.
And now in Canada, one politician is promising a "buck-a-beer".
As leader of the Progressive Conservative Party of Ontario, Mr Ford ran a populist campaign last spring, promising to cut taxes, freeze spending, and slash the cost of things like electricity and beer.
Specifically, he swore to reduce the minimum cost of beer from C$1.25 (¢96, 74p) a beer to just C$1.
Now that he's in power, he says that "buck-a-beer" will be implemented 27 August.
"The day you've been waiting for is finally here. We're bringing back buck-a-beer to Ontario," he announced to applause at a brewery in Picton, Ontario, on Tuesday.
Mr Ford says he will introduce "non-financial incentives" such as prime spots in provincially run liquor store shelves, or advertising in flyers or inserts.
What is minimum pricing?
The province of Ontario sets a minimum price that a retailer can charge a consumer for alcohol.
The idea is that the more expensive beer, wine or spirits are, the less people will drink. Ontario has had minimum pricing since 1993, as part of the provincial liquor board's "social responsibility" mandate. Today, the minimum cost of a 24-pack of lager is C$30.
Ontario is not the only other jurisdiction in the world to regulate the cost of alcohol in order to discourage excessive drinking. Most Canadian provinces have some kind of price regulation. In May, Scotland implemented a law that set a floor price on booze depending on how many units of alcohol they contain. Wales passed a similar law in June.
Other countries with minimum alcohol pricing include Belarus, Kyrgyzstan, the Republic of Moldova, the Russian Federation and Ukraine, according to an article published in the British Medical Journal.
Do people like it?
Access to alcohol has long been on the list of Ontarians' chief complaints. The liquor control board holds a monopoly on the wholesale of spirits in the province, and strictly regulates the sale of beer and wine - who can sell it, when it can be sold, and for how much.
It wasn't until late 2015 that beer, wine and cider could be sold in grocery stores, and availability is still limited.
Alcohol also tends to be more expensive in Ontario than in neighbouring provinces or in the US, which irks many Ontarians.
In fact, the price of beer - and the right for individuals to bring cheaper beer in from other provinces - went all the way to Canada's Supreme Court. In April, the court upheld a New Brunswick law that limited the amount of cheaper beer that residents could bring in from Quebec.
So it's no wonder that Mr Ford is courting favour by making beer more available. In addition to lowering the price of beer, he has also promised to roll out beer in corner stores and big-box stores like Costco.
"I believe in doing what's convenient for the people, and not what's convenient for the government," he announced in May.
So will buck-a-beer make beer cheaper?
Maybe not. Lowering the minimum price breweries must charge does not automatically lower the price breweries choose to charge.
Many craft breweries have spoken out against the decision, saying it is impossible to charge C$1 per beer and maintain the same quality and pay their staff.
"We will not be adjusting our prices - because we can't afford to. It's as simple as that. It's very expensive to do what we do," Matt Johnston, co-founder of Collective Arts, told CBC News.
"We like to pay all of our staff really well, and we want to continue to invest in this city and this province.
"I don't see any benefit in us trying to compete on price. We think that will not only undermine our drinkers, but it will undermine our communities as well."
Others have been inspired by Mr Ford's "challenge". Barley Days Brewery, where Mr Ford made his announcement in Picton, Ontario, said it will begin to brew a dollar-lager.
"We're making our lager the same as we always have, and we're very confident that we can produce a high-quality beer for a great price," he told CTV News.
Still, some criticise Mr Ford's priorities. His "non-financial" incentives have a monetary value, argued NDP leader Andrea Horwath, and yet Mr Ford has cut welfare spending and cancelled Ontario's basic income pilot project.
"Here we have a premier that's cutting income to the very poorest amongst us as a priority and at the same time subsidising buck a beer,'' she said.