US beachgoers may have killed hundreds of protected birds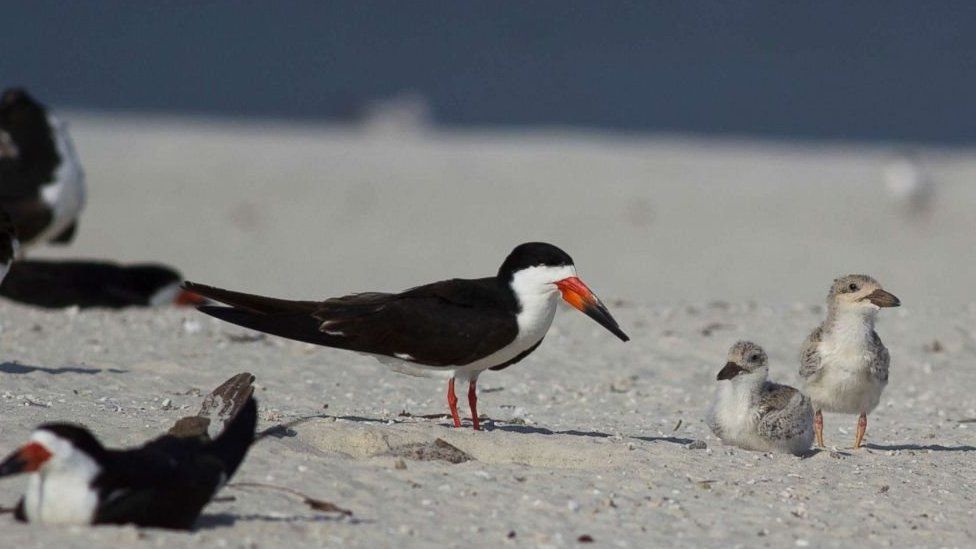 Alabama beachgoers may have killed hundreds of protected birds after playing volleyball on an island where the species lay eggs, experts say.
The Birmingham Audubon conservation group found tampered eggs as well as discarded volleyball posts and netting near the birds' nests after 4 July.
The group appeared to move the eggs and scare off birds who had been shielding their young from the sun.
The birds - called least terns - are listed as a threatened species.
The bird colony inhabits a two-acre barrier island in Mobile Bay, near Dauphin Island, that is referred to as Sand Island.
Sarah Randolph, the outreach and communications director for Audubon, told the BBC that the region is home to 11 species of protected coast birds.
She added that the Sand Island colony is the largest found in Alabama for least terns.
On 10 July, two Audubon researchers went to inspect the island after noticing more than a dozen boats landing there during the US Fourth of July holiday.
Emma Rhodes and Andrew Haffenden found that more than 30 eggs had been moved from their nests, which are made from shallow depressions in the sand.
Katie Barnes, chief biologist for Birmingham Audubon's Coastal Program, told ABC News that the eggs had probably been moved for the volleyball game.
Many more unhatched chicks were left to overheat in the sun after their parents fled the nests where they had been standing to shade the grape-sized eggs.
The volleyball players "actually made a little dome of sand and placed the eggs around it to decorate it," Mr Haffenden told the Associated Press.
After discovering the damage, the Audubon took immediate action to protect the remaining birds.
The conservation group says that signs and ropes telling people about the rookery have been successful, and have so far kept away any other human visitors.
Ms Randolph said that the incident should be taken as "as an opportunity to educate the public about sensitive shore birds", adding that the group is using the hashtag "#ShareTheShore" on social media.
She added that the bird conservation organisation is not seeking to publicly shame the beachgoers, who may have not known of the damage they were causing.
Ms Barnes said that the conservation effort has so far yielded a positive outcome in the area, where coastal birds had been hit especially hard by the 2010 BP oil spill.
"Even with all the eggs that were lost, this site has still been a huge success for the birds," she said.