Killer whale spotted pushing dead calf for two days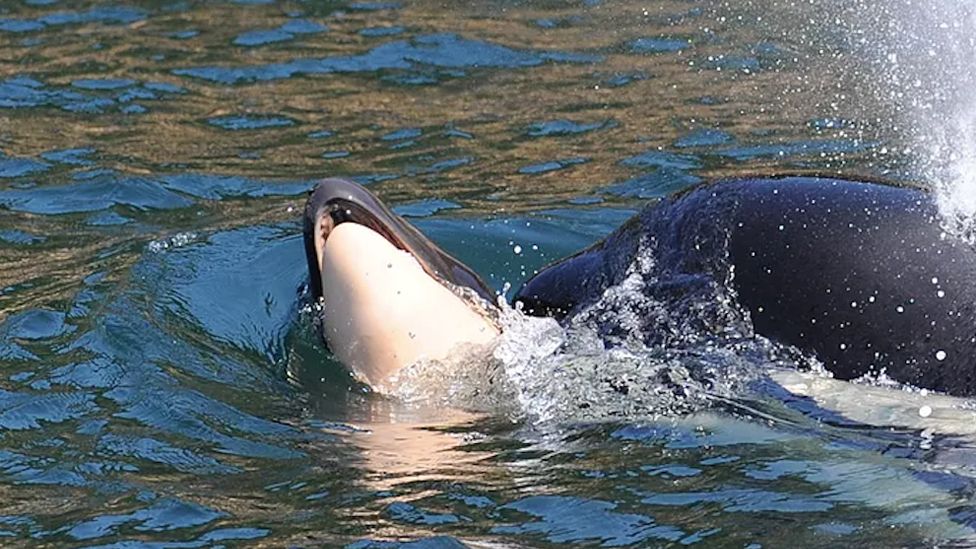 A killer whale whose calf died on Tuesday shortly after birth has been spotted pushing its body in waters off the west coast of the US and Canada.
The mother was last seen with the deceased calf at 7:00 pm local time on Thursday (2:00 Friday GMT).
The newborn died on Tuesday off the shores of Victoria, British Columbia.
Killer whales have been known to transport and support their dead calves for as long as a week.
The baby's carcass was sinking and being repeatedly retrieved by the female whale, according to the Center for Whale Research, which studies the Southern Resident killer whale and works on its conservation.
A team member with the research centre first spotted the newborn calf swimming with its mother, a whale dubbed "J35", and other members of the pod on Tuesday.
But the calf appeared to die after about a half hour when a team of researchers arrived, the US-based centre said.
The calf's mother was seen carrying the newborn on her forehead and pushing it towards San Juan Island in the Pacific Northwest near Washington state, according to the centre.
The whales can travel an average of 120km (75 miles) a day.
A resident of San Juan Island, quoted in a release by the centre, said she spotted a group of five or six female killer whales at sunset with the deceased calf.
They "gathered at the mouth of the cove in a close, tight-knit circle, staying at the surface in a harmonious circular motion for nearly two hours", she said.
"As the light dimmed, I was able to watch them continue what seemed to be a ritual or ceremony. They stayed directly centred in the moonbeam, even as it moved."
Both Canada and the US list the Southern Resident killer whales as endangered. The whales depend on Chinook salmon - which have been in dramatic decline in recent years - for food.
The community of three pods, made up of some 75 whales, is frequently encountered off the southern end of Vancouver Island in Canada and in inland marine waters of Washington State in the US.
Research indicates that only about a third of the Southern Resident killer whales that have been born in the last 20 years survive. No pregnancies in the last three years have successfully produced viable offspring, the centre says.