Trump-Putin: Top US spy retracts 'awkward response'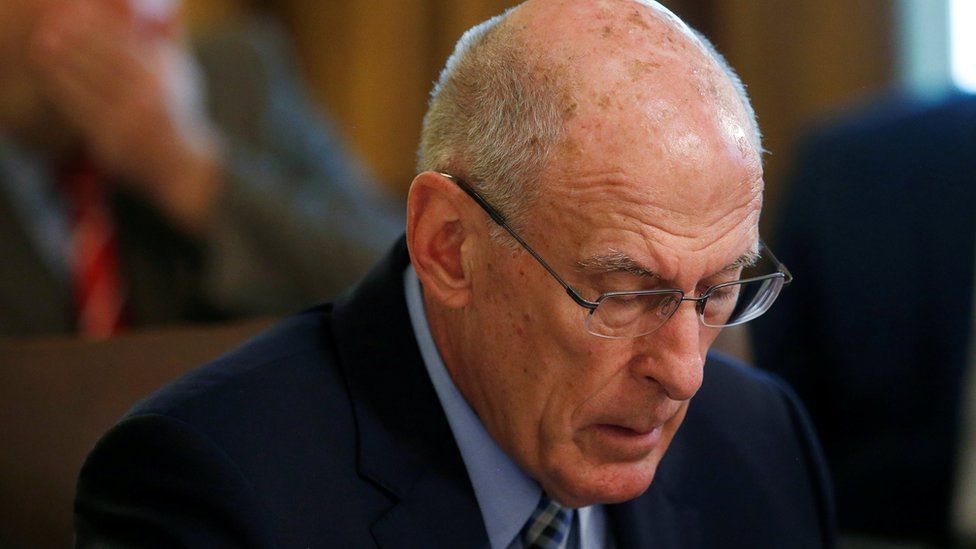 The head of US intelligence has said that he did not mean to disrespect President Donald Trump with his "awkward response" on hearing the news that he had invited Russian leader Vladimir Putin to visit Washington.
The invitation came after Mr Trump's first summit with Mr Putin in Finland.
Mr Coats has previously said Russia has attempted to undermine US democracy.
The intelligence chief was speaking at the Aspen Security Forum in Colorado on Thursday when news of a possible second Trump-Putin summit later this year broke. He asked his interviewer, "Say that again, did I hear you?"
Then following surprised laughter, Mr Coats said: "Okay, that's going to be special."
Mr Coats downplayed his public reaction two days later in a statement, saying: "Some press coverage has mischaracterised my intentions in responding to breaking news presented to me during a live interview."
"My admittedly awkward response was in no way meant to be disrespectful or criticise the actions of the president," he said on Saturday.
He went on to say that he and the intelligence community were committed to supporting President Trump's "ongoing efforts to prevent Russian meddling in our upcoming elections".
The White House, which has not commented on the statement, was reportedly furious about Mr Coats' initial remarks, with one senior official telling the Washington Post, "Coats has gone rogue".
Confusion followed after his return to the US, where he has since said that he misspoke at a joint news conference in Helsinki with Mr Putin and does hold the Russian leader personally responsible.