Man scalped by grizzly bear says he's 'lucky' to be alive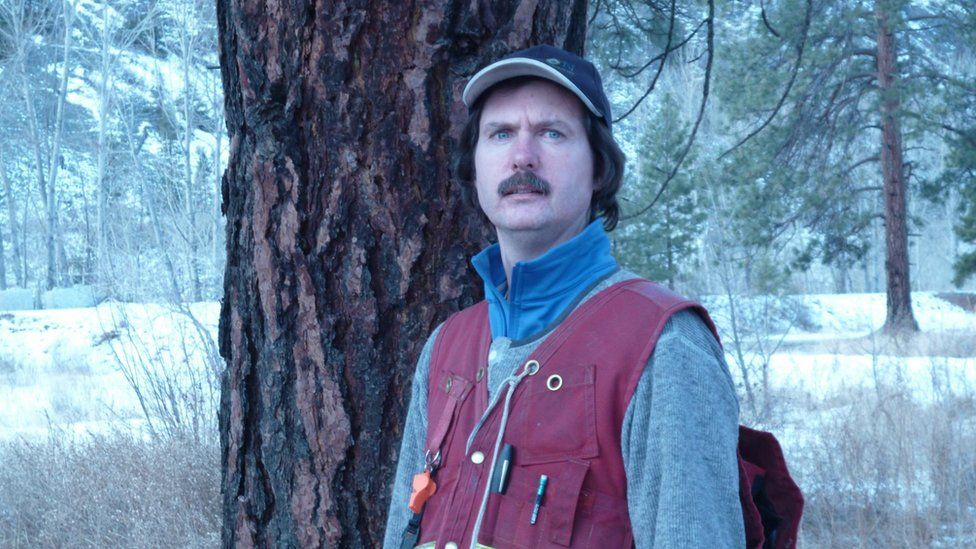 Two weeks ago, Canadian Jordan Carbery was scalped by a grizzly bear in his own backyard, but it could be worse.
He managed to drive himself to hospital after an angry mother bear ripped off part of his scalp and bit his abdomen.
The park ranger, from Bella Coola, British Columbia, says he is the "luckiest son of a gun" to have survived to tell the gripping tale.
He says he was to blame for trying to photograph the mother bear.
Mr Carbery is used to coming across bears in the wild in rural British Columbia, and has taken photos in the past.
When he saw two bears near a cherry tree on his property, he approached to take a photograph. But what he thought were two adult bears appeared to be a mother and a cub - a deadly combination.
When the cub broke a branch in the tree and fell to the ground, the other bear charged at Mr Carbery.
"When you see them run like that ... they are so much faster than we give them credit for," he told the CBC.
Mr Carbery ran to his home, about 12 metres (36 feet) away but the bear caught up with him at the door, picked him up by the skull and tossed him to the ground, he says.
He fought back, kicking the bear and punching its face. The bear released him and he ran inside. The bear had bit his abdomen and torn away part of his scalp and his ear, and he was bleeding profusely.
"There's a lot of blood I'm sure up and down the stairs," he said.
Without cell reception or a landline to call for help, Mr Carbery ran to his car as the bear chased him and drove himself to the nearest hospital.
There, he was airlifted to Vancouver General Hospital, where he underwent surgery.
He is expected to be released Wednesday, but is missing part of an ear and is still healing from several wounds, including damage to his abdominal wall.
Bears that attack humans unprovoked can be put down, but officials determined the bear was acting in self-defence, and Mr Carbery agrees. He said he "takes full responsibility" for the attack.
"She got me good. She taught me my lesson, so I appreciate that," Mr Carbery told CTV. "I feel like the most fortunate man on earth because not everybody gets to mess with a grizzly bear and come out of it."