Puerto Rico flag row prompts hate crime case for Illinois man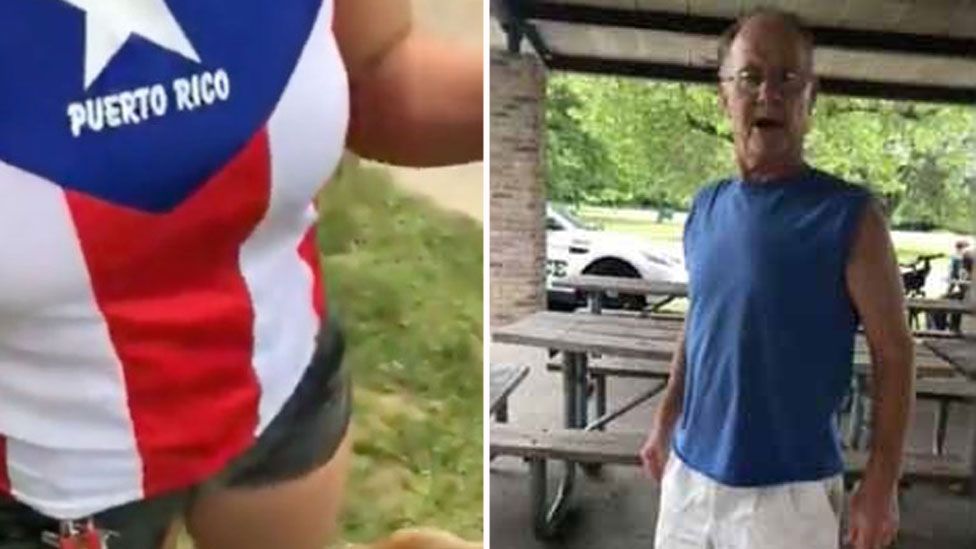 A man who was recorded haranguing a woman for wearing a Puerto Rico flag shirt at an Illinois park has been charged with a hate crime.
Timothy Trybus, 62, was previously charged with disorderly conduct and assault.
He allegedly demanded to know if a Latina picnicker was a US citizen in last month's incident.
A police officer who was filmed standing by as Mia Irizarry, 24, pleaded for his help has quit.
Effective today, Officer Patrick Connor no longer serves in the police department of the Forest Preserves of Cook County. He resigned late today. But that isn't where our work ends.

— Forest Preserves (@FPDCC) July 12, 2018
Mr Trybus faces a bail hearing on Friday on two counts of felony hate crime.
Ms Irizarry used her mobile phone to film the confrontation, which unfolded on 14 June as she set up a picnic for her birthday at Caldwell Woods in the Chicago suburbs.
In the viral clip a white man approaches her and demands to know why she is wearing her shirt, which had "Puerto Rico" written on it.
"You should not be wearing that in the United States of America," he shouts, repeatedly jabbing his finger at her.
"Are you a citizen? Are you a United States citizen?"
Ms Irizarry calls on a nearby park police officer for help.
But the officer, Patrick Connor, turns his back and walks towards his patrol car.
The suspect continued to harangue Ms Irizarry for about 10 minutes before other officers arrived and arrested him.
The Forest Preserve District of Cook County Police Department - where Mr Connor worked for 12 years - announced he had resigned late on Wednesday.
At a press conference on Thursday, Superintendent Arnold Randall said Mr Connor was "very remorseful" when he resigned.
But he said the officer considered it "an unfortunate incident" and felt he was not "given a fair shake".
Mr Randall added that Mr Connor's personnel file will say that he did not leave "in good standing", and will include a note that he left "with discipline pending".
He added that officials will review the mandatory diversity training that officers are required to take. Mr Connor had taken the course a year ago, officials say.
In an earlier statement, the police said that an investigation had been launched and the officer had been placed on desk duty.
In the unedited video, Mr Connor is seen trying to reassure the victim that Mr Trybus does not pose a threat to her safety.
Supt Randall said that Ms Irizarry deserved to be praised for her response amid a national trend of "racially charged, abusive incidents we're seeing throughout the country".
"We might start with the fine example presented by Mia Irizarry and her family, who handled this ugly incident with great composure, never stooping to the level of the man who attacked her," he said in a written statement.
He added that the park staff had apologised directly to Ms Irizarry and refunded the money she paid for her permit.
The video had angered public officials in the state of Illinois, as well as the governor of Puerto Rico.
The island of Puerto Rico is a US territory.
Meanwhile, a 30-year-old woman has been charged with attempted murder after allegedly using a brick to bludgeon a 92-year-old man near Los Angeles.
Laquisha Jones was also charged with elder abuse over the 4 July attack.
A witness said Ms Jones told the victim, Rodolfo Rodriguez: "Go back to your country."
Los Angeles County Sheriff's Department said the assault may have been triggered by Mr Rodriguez bumping into a young girl who was with Ms Jones.
He suffered a broken jaw, broken cheekbones, two broken ribs and bruises on his face, back and abdomen, US media report.