Up to 54 deaths linked to southern Quebec heat wave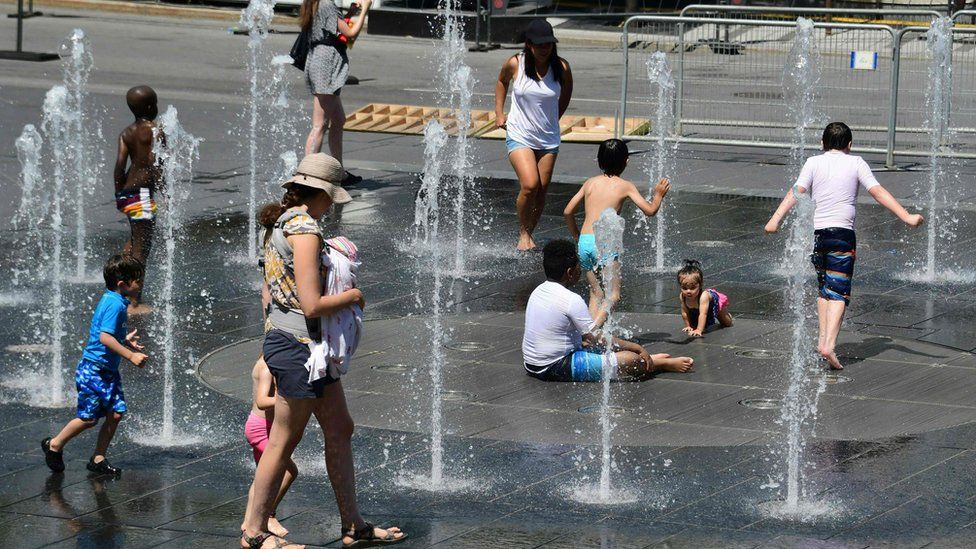 A heat wave in the southern part of the Canadian province of Quebec has been linked to 54 deaths, officials say.
The sweltering weather began last Friday with temperatures hitting 35C (95F), high humidity and, on the last day, a smog advisory.
The death toll climbed every day this week, with most of the victims between the ages of 50 to 85.
This summer's heat wave was among worst the province has seen in decades, officials say.
It lasted two days longer than a similar five-day period of extreme heat in 2010, but heat warnings were lifted overnight on Friday as temperatures began to cool.
Temperatures are expected to be seasonal and stay at 30C or below over the next few days, with no humidity.
Public health officials said on Friday that coroner investigations will be completed to confirm that the reported fatalities are all heat related.
Health officials in Quebec this week urged people to drink plenty of water, reduce physical activity, seek out air conditioning, and stay in the shade.
They also asked people to check on elderly or infirm friends and neighbours who may have been vulnerable.
The neighbouring province of Ontario was also under heat warnings over the last few days and may too have seen a rise in heat-related fatalities.
But Ontario does not track heat related deaths in the same way as Quebec and does not report on potential causes of death without a coroner's investigation.
The 2010 heat wave was one of the hottest on record in over 60 years and was linked to some 280 deaths over a period in July.
Europe and the US have also experienced the fatal effects of heat in the past.
In a lengthy 2003 heat wave, between 20,000 and 35,000 deaths across eight European countries were linked to the extreme weather conditions.
In California in 2006, a 10-day heat wave was linked to 140 deaths.