Second civil war letters: Alex Jones conspiracy ignites a parody conflict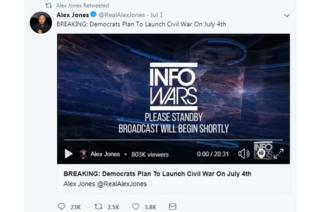 The US did not descend into a second civil war on 4 July.
Why is this news? Because right-wing US broadcaster and conspiracy theorist Alex Jones told his 830,000 Twitter followers to expect exactly that, with a dire warning issued three days before: "BREAKING: Democrats Plan To Launch Civil War On July 4th".
According to Jones, anti-Republican elements were massing to overthrow President Trump on Independence Day.
The Democratic Party did not comment, but on Twitter Jones' claim inspired an explosion of parody letters from the front, using the hashtag #SecondCivilWarLetters.
"My Dear John," began Twitter user Amanda Blount, "the war isn't going as planned. Our supply trucks are limited. I'm out of wine and sunscreen. The enemy burned all the books and there is no place to recharge my Kindle. The only music is an old CD of Justin Bieber. - All is lost."
Others followed with reports of the (imaginary) action.
"My love, I'm unsure you will ever read this," rued tweeter @Tschudi_Davai. "I was captured at the battle of Starbucks and have been forced to watch the Dukes of Hazard for what feels like eternity. When I asked for water, I was given Budweiser, when I asked for bread I was given KFC."
"Dear heart, today we took a captive. We forced him to do hard labor. So far he has baked 75 gay wedding cakes," wrote @amandadeibert.
While many tweets preserved the brave-but-dolorous tone of real letters from America's civil war, others imagined a better fate for the Democrats.
"General Rodham, we have gained on the enemy by building a wall of your emails, which they can't get over," crowed @LHannich, in a nod to the Clinton email saga.
For @TruthArrmy, toilets were the way to break the enemy's spirits.
"What time's the war?" enquired US model and regular Trump baiter Chrissy Teigen, keen to avoid a scheduling conflict.
Col Morris Davis, a former chief prosecutor at Guantanamo Bay, issued a plea for supplies, writing: "Dear Alexa, we are pinned down and in urgent need of ammunition. Please send ASAP... but only if it qualifies for Amazon Prime's free shipping."
By the evening of 4 July, rumours of an end were nigh.
"Some people are saying that the war is over. Can this be true?" enquired @KuiperBelle. "Those of us in Texas remain sceptical, recalling the end of the first war, when the declaration of surrender got lost in the spam filter for two years."
At time of writing, it appeared that Jones' fears of an anti-Trump insurrection had not come to pass. The online war, however, raged on.