Capital Gazette shooting: Remembering the victims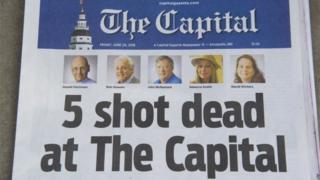 Robert Hiaasen was a veteran editor and columnist who believed in the importance of community journalism. He was a towering figure in the Capital Gazette newsroom, both in stature and in his craft, according to his brother.
"He was killed while he was doing what he loved to do, which was to put out this newspaper for the people of Annapolis," his brother, author and Miami Herald columnist Carl Hiaasen, told CNN.
"We've written about this sort of thing very, very often and now it touches desperately close to home," Mr Hiaasen said. "It's a grimly predictable tragedy".
"It's the nightmare of nightmares."
Here is what we know about the five victims who were killed by a gunman with an alleged grudge in Annapolis, Maryland, on Thursday.
Rob Hiaasen
Robert Hiaasen, 59, was assistant managing editor and a columnist for the newspaper, according to the Capital Gazette website.
He was a native of Fort Lauderdale, Florida, and lived in the Maryland suburb of Timonium, the Baltimore Sun reports.
Hiaasen worked as a reporter for the Palm Beach Post in Florida before he moved to the Baltimore Sun, where he was a reporter for 15 years. He joined the Gazette in 2010 as an assistant editor.
"Big Rob", as he was affectionately known, recently celebrated his 33rd wedding anniversary with his wife, Maria Hiaasen, according to his brother.
Maria Hiaasen celebrated her 58th birthday on the day of his death, he told CNN on Friday. The couple have three children.
"He was a tall man, 6ft 5in, but he was a giant not just in stature but in character," she told the Baltimore Sun. "He was just the best husband."
Former Gazette reporter Binghui Huang recalled nervously losing her keys on her first day on the education beat for the paper.
"Hiaasen bounced out of his chair and offered to drive me," she wrote on Twitter.
"He waited in my car as I did my interviews, like a dad waiting for his kid's dance lesson to end.
"I felt embarrassed, like I had brought my dad to a party. But also proud, that I had someone who had my back like that."
Carl Hiaasen said on Facebook his brother was "one of the most gentle and funny people I've ever known".
John McNamara
John McNamara, 56, spent nearly 24 years as a sports reporter at the Capital Gazette, according to the Baltimore Sun.
He was remembered for "his flexibility, concise writing and extensive knowledge of region sports," the paper said.
"He had a razor wit that came in bursts like a social media post," a Capital reporter told the Sun.
Washington Post sports columnist Barry Svrluga posted that McNamara, known as Mac, was one of the first people he met in sports media in Washington DC, describing him as "relentlessly kind" and "incredibly understated".
He authored two books about the University of Maryland's football and basketball teams, and was reportedly working on a third book about baseball players who were raised in the Washington area, according to the Sun.
Before his tenure at the Gazette, McNamara worked at The Herald-Mail in Hagerstown and the Prince George's Journal, according to his LinkedIn profile.
Wendi Winters
Wendi Winters, 65, spent her early career in fashion and public relations in New York City before she moved to Maryland 20 years ago, according the Sun.
The mother of four worked as a freelance reporter for more than a decade before joining the Gazette as full-time staff in 2013. She was the editor of special publications, a community news reporter and columnist for the newspaper.
Winters Geimer, daughter of Wendi Winters, spoke to the Baltimore Sun and described her mother as "a gift to everyone who knew her".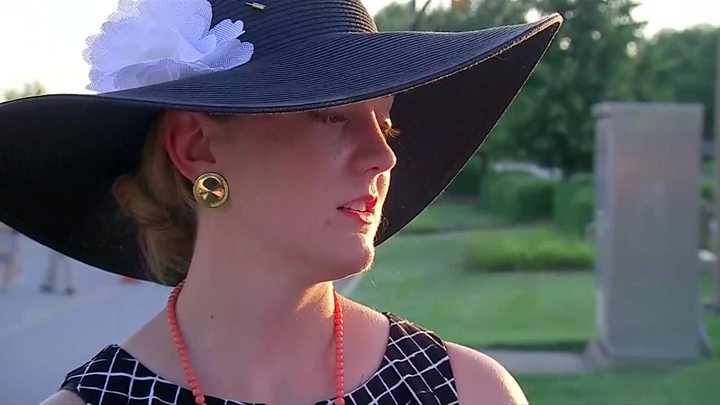 Leslie Hunt, a former Capital Gazette community news editor, said she was "dedicated and loved the work".
"She loves the news business," she added.
Gazette editor Kathryn Flynn said: "When we had something that needed to be covered on the weekends, when we only had a few people to call on, you could always call on Wendi.
"She would good-naturedly crank out three or four stories in a weekend."
Gerald Fischman
Gerald Fischman, 61, had been at the paper since 1992, and Maryland House speaker Michael Busch told the Baltimore Sun he was a "respected writer" who captured "the feelings within the community".
His colleagues praised his "brilliant mind, wry wit and 'wicked pen'".
The editorial page editor "had an encyclopaedia knowledge of everything from philosophy to who knows what," said retired editor Brian Henley.
''It didn't matter if you were working late at night or early on a Saturday, he was there,'' Elisha Sauers, a former Capital reporter who worked with Fischman for eight years, told the Washington Post.
In May he won first- and second-place awards for editorial writing from the Maryland, Delaware, District of Columbia Press Association for his pieces about a noose left hanging outside a school and a council member accused of censoring public comments at council meetings, according to the paper.
"He had a much louder voice in his writing, than he did in person,'' Ms Sauers said.
''He was so shy and avoided eye contact, but he was a lot more confident in his writing voice.''
Rebecca Smith
Rebecca Smith, 34, was a recent hire, joining the paper in November 2017, but colleagues said she had already proved herself "a valuable asset".
The Gazette's advertising director Marty Padden told Time magazine described the sales assistant as "a very thoughtful person", adding she was "kind and considerate, and willing to help when needed".
The Baltimore native described herself on her Facebook page as an "Endo Warrior", a reference to being a survivor of endometriosis, and a "Dog Mom. Softball Fiance. Bonus Mom to the best kid ever".
Smith lived in eastern Baltimore County with her fiance, DJ Poling, who has a daughter from a previous relationship.
Kelli Peleska, a friend of Mr Poling, said she was very close with her fiance's daughter.
"They had such an amazing relationship. Can't even imagine her pain when she hears of this."
"This cant be real," Smith's fiance, DJ Poling, wrote on his Facebook page.
"No one ever put up with or attempted to make me a better person like you did. I will love you forever."