California scientist shot dead while camping with daughters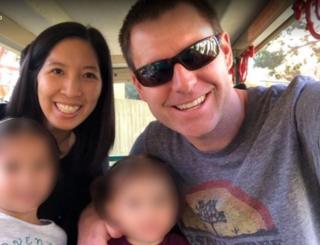 California police are still searching for a suspect in the fatal shooting of a scientist who was camping with his two daughters when he was killed.
Tristan Beaudette, 35, was inside his tent with his young daughters when he was shot in the chest around 05:00 local time on Friday, authorities say.
The Los Angeles County Sheriff's Department have closed the Malibu Creek State Park in search of the killer.
Police have yet to identify a motive in the fatal shooting.
The girls, ages two and four, were not injured in the apparent homicide, police say.
Los Angeles County Sheriff's Lieutenant Rodney Moore said on Sunday that detectives are currently sifting through evidence at the popular hiking destination.
"We are working this as a homicide at this point," Mr Moore said. "We are gathering evidence... It will take some time," he told the Los Angeles Times.
"The theory we are working with is he was shot inside the tent," Lieutenant Moore said. "The children were inside the tent, too."
In a statement on Sunday, Mr Beaudette's family called him a "supportive and generous husband" and a "scientist who loved cooking and microbrews".
"Tristan was happiest out in nature, and spent every chance he could hiking, biking, snowboarding and camping with his family," the statement said, adding that he had married his high school sweetheart.
According to a LinkedIn profile, Beaudette worked as a pharmaceutical scientist.
By Monday, an online fundraiser had raised over $90,000 (£67,000) for his family - more than triple the original goal of $25,000.
The post, which was written by a friend, says that he took the children camping to give his wife, Erica, a break to study for an upcoming exam.
"Tristan was out doing something he adored in life, being in the outdoors with his two young girls."
The post adds that the family was about to move to the San Francisco area for work, and "about to embark on a new chapter in their lives".
"And then it was all taken away, by a fatal gun shot in the middle of the night, in front of his two young daughters.
"Not a second goes by that we aren't grappling with the senselessness of this crime."
Police say that the campground was at nearly full capacity at the time, due to the summer holiday.
Officials have recently received other reports of gunfire in the park, according to CBS News in Los Angeles.
A Facebook video from last year shows a camper who claimed to have found a bullet lodged in her car after hearing a loud sound around 05:00 local time.
Police have not confirmed that that shooting occurred, or that it is linked to the shooting on Friday morning.
The shooting happened in a popular recreation area about 35 miles (55km) west of Los Angeles.
Malibu Creek State Park, which was previously owned by 20th Century Fox, has been used a backdrop for popular movies and TV series.
Planet of the Apes, Butch Cassidy and the Sundance Kid, and films featuring Elvis Presley and Marilyn Monroe were shot there, according to the park's website.
You may also be interested in: