Former WWE wrestler star Vader dies at 63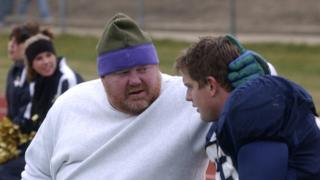 Former US professional wrestling superstar Leon White - better known as Vader by his fans - has died aged 63.
His son tweeted: "Around a month ago my father was diagnosed with a severe case of pneumonia. He fought extremely hard and clinically was making progress. Unfortunately, on Monday night his heart had enough and it was his time."
For years he performed at the World Wrestling Entertainment (WWE).
The 1.93m (6.3ft) athlete was known for his physicality and aerial manoeuvres.
His career somewhat faded in recent years, although he continued making sporadic appearances in different promotions.
He also made appearances in TV shows Baywatch and Boy Meets World.
The WWE said it "is saddened to learn" that Leon White passed away.
Vader's wrestling colleagues and fans also paid tributes to the wrestling legend.