Migrant children: Who said what about US border crisis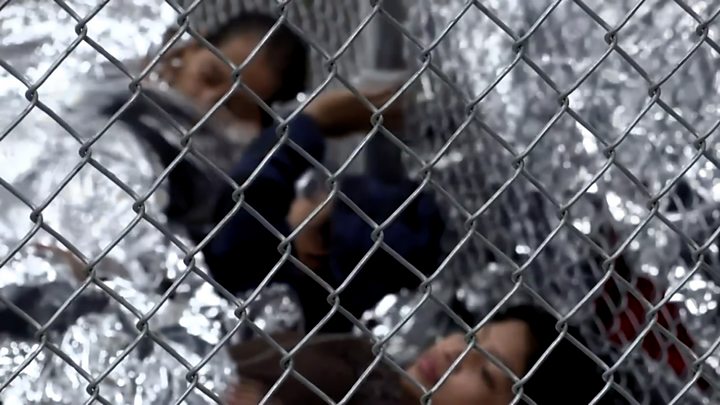 US President Donald Trump has signed an order to "keep families together" after a barrage of international condemnation over his policy separating migrant children from their parents at the border with Mexico.
Images and footage of children being held in caged areas in detention centres in the state of Texas led to an outpouring of criticism not just from politicians but from celebrities, business leaders and many others.
Here are some of the reactions from those who spoke out against the implementation of the controversial border policy - and those defending the actions of the Trump administration.
Celebrities talk of 'horror'
US talk show host Ellen DeGeneres said the pictures captured the "heartbreaking truth", adding that one in particular "haunts me". She later posted information linking to groups fighting against the separation of families at the border.
Fellow TV host, actress and philanthropist Oprah Winfrey tweeted: "Babies torn from their parents... Can't stand it!"
Actress Reese Witherspoon said the news was "horrifying" and that the "atrocity must end", while retweeting former US First Lady Laura Bush, who said the zero-tolerance policy "breaks my heart".
Donald Trump's wife Melania also surprised many by criticising the action, issuing a statement via her spokeswoman that said she "hates to see children separated from their families".
Musician John Legend and his model wife Christine Teigen vowed to work towards "ending juvenile incarceration" and urged people to donate funds to the American Civil Liberties Union.
Lin-Manuel Miranda, creator of hit hip-hop musical Hamilton, said pictures of children in tears made him "sick to my stomach and heartbroken".
Former Star Trek actor George Takei said that what appeared to be happening in Texas was worse than Japanese-American internment camps. "At least during the internment of Japanese-Americans, I and other children were not stripped from our parents," Takei wrote in Foreign Policy magazine.
Other celebrities to speak out against the border issue include the actresses Mindy Kaling and Alyssa Milano, Star Wars actor Mark Hamill, film director Judd Apatow and rapper Common.
Politicians and commentators clash
US Attorney General Jeff Sessions earlier defended the measures, saying that the process protected the weak, adding: "Consistent, fair application of law is in itself a good and moral thing."
House Minority Leader Nancy Pelosi led a Democrat protest against the policy, calling it "barbaric".
Conservative commentators on Fox News spoke out in support of it and some even questioned the authenticity of the distressing images being shared.
On Monday, Laura Ingraham described the detention centres used to house the children "as essentially summer camps".
Ann Coulter said earlier that young people pictured crying at the border after being separated from parents were "child actors". "Do not fall for it, Mr President," she told Fox News.
However French far-right leader Marine Le Pen, who in the past has praised Mr Trump's policy of curbing immigration, told French TV that she disagreed with splitting children from parents, adding: "This is not what I would do."
UK Prime Minister Theresa May said on Wednesday that the issue was "deeply disturbing", and that holding children in what appear to be cages was "wrong".
Canadian Prime Minister Justin Trudeau also called it wrong, adding that "this is not the way we do things in Canada".
Mexican Foreign Minister Luis Videgaray Caso said the practice was "cruel and inhuman" and clearly violated human rights.
A Quinnipiac poll published on Monday suggested that 55% of Republicans supported the measures taken at the US-Mexico border.
A later Reuters/Ipsos opinion poll suggested that most Americans overall, however, opposed the policy, with just 28% supporting it.
Business leaders slam US move
Facebook founder Mark Zuckerberg said the policy needed to be stopped "right now". Mr Zuckerberg and fellow company executive Sheryl Sandberg have both donated funds to a campaign aimed at helping to reunite children separated from their parents.
Apple's chief executive, Tim Cook, described the separation of children from parents at the US-Mexico border as "inhumane" and promised to be a "constructive voice" in seeking to end the issue.
Google's Sundar Pichai has described the stories and images being shared as a result of the policy as "gut-wrenching".
Tesla chief executive Elon Musk tweeted that he "couldn't even keep the US in the Paris Accord, but if there is some way for me to help these kids I will do so", adding: "I hope the kids are ok."