Mechanic 'posed as general with helicopter to impress date'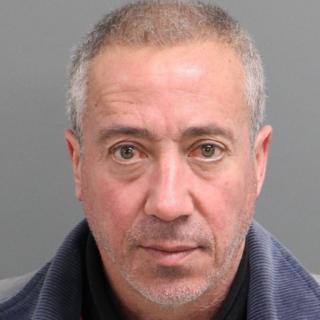 A car mechanic has been indicted on charges of posing as a three-star US army general in order to land a helicopter, officials say.
Christian Gerald Desgroux, 58, had the chartered helicopter land at an office in Cary, North Carolina - all apparently to impress a woman.
While wearing a full army uniform, he told office security guards he was acting on orders of the US president.
Mr Desgroux now faces up to three years in jail and a $250,000 (£189,000) fine.
Tony Bell, a special agent with the Department of Homeland Security, testified on Monday that Mr Desgroux had a chartered helicopter land at a technology company office campus on 6 November 2017.
He wore a military uniform at the time, despite having never served in the military.
Mr Desgroux told the helicopter pilot and company security guards that he had the requisite authorisation to land on the Sas Institute campus in Cary.
He even saluted the officers, Agent Bell said, and they saluted him back.
Mr Desgroux then said he was there to transport a female employee to a classified briefing on the orders of President Donald Trump.
Agent Bell said the woman had told him during an interview that she believed Mr Desgroux was trying to impress her and pursue a romantic relationship.
She said she had known Mr Desgroux for 20 years.
Once in the helicopter, the woman said they had done nothing except fly around the area for 30 minutes.
Judge Robert Numbers ordered Mr Desgroux detained on Monday after his hearing.
Mr Desgroux's lawyer, Andrew McCoppin, wrote that he intended to plead guilty, the Associated Press reports.
Court records show that Mr Desgroux had a mental evaluation conducted and a report filed in May.
According to the Press, his lawyer said last Thursday that his client would not deny being legally sane at the time of the incident.
You may also be interested in:
This is not the first time Mr Desgroux has got on the wrong side of the law.
He has multiple pending charges including stalking, assaulting a woman, fleeing from arrest and misusing emergency systems last year, the News & Observer reports.
Nor was it Mr Desgroux's first time chartering a helicopter to impress a woman, according to the paper: he chartered a helicopter while wearing an army uniform to meet another woman last year.
According to Agent Bell's testimony, Mr Desgroux's girlfriend and roommate said he would flee the country if facing serious time behind bars.
Mr McCoppin has asked for his client's release before sentencing as Mr Desgroux has been in federal custody for five months already, according to the Press.
Mr Desgroux is a native of Chile and became a US citizen in 2016.
He worked as a car mechanic in north Raleigh.
Per a statement by the US Attorney's Office, Mr Desgroux could see "maximum penalties of 3 years imprisonment, a $250,000 fine, and a term of supervised release following any term of imprisonment".