US immigration: Five die after high-speed chase by border agents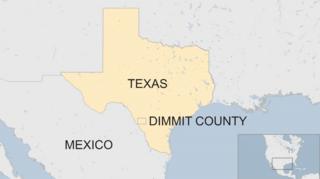 Five immigrants died and several were wounded in a crash in Texas on Sunday after a high-speed chase by US Border Patrol agents, local media reported.
Some of the wounded were thrown from a car packed with 14 people that was travelling at 100mph (160km/h), County Sheriff Marion Boyd told KFDM News TV.
The vehicle rolled over several times as it ran out of control, Ms Boyd said.
The chase began after agents attempted to stop three vehicles about 90 miles (145km) north of the Mexican border.
One of the drivers attempted to flee the scene and was chased by agents, US Border Patrol said in a statement. A local police officer who was part of the chase later attempted to force the car to stop, the statement said.
The deaths come amid heightened tension over immigration policy at the US-Mexico border, after the Trump administration began forced separations of migrant children from their parents.
The separations, and subsequent detention of young children in tent camps, have drawn condemnation from across the political spectrum.
More on US immigration